Leisure Bowl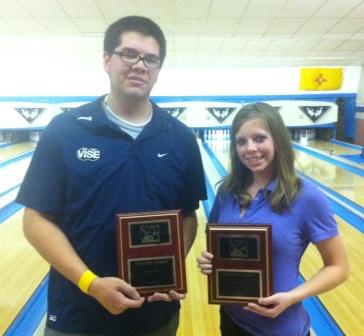 champs Nick Lee & Amber Eddington
Nick Lee and Amber Eddington both put on a show, then kept it up 'on the show', en route to JBT titles in exciting New Mexico-West Texas Conference action at Albuquerque's Leisure Bowl.
An extremely difficult lane condition challenged the bowlers all day long, putting the emphasis on shotmaking and filling frames. A pair of West Texas A&M bowlers squared off in the first match of the scratch stepladder finals, with Dylan Macon getting by Chris Brown 178-136. Dylan then threw one of the best games of the day in a 246-170 win over Tim Baribeau. Paul Carper then stopped Macon 199-160 to reach the title match.
Over in the handicap division, Katie McNeil defeated Micayla Scheer 199-164 to open up the handicap stepladder finals. Tylor MacPhee then defeated Katie 179-171. Tylor's reward for that was to play Katie's sister Kelly, and he made it a McNeil family sweep with a 190-168 win to advance to the title game.
The title matches were filmed by a professional multi-camera film crew, in a trial run for what we may see more of in the future. The intimidating environment was no problem for top seeds Nick Lee and Amber Eddington, who both dominated their respective divisions all day long. Eddington continued to be unstoppable, beating MacPhee 245-140 for the championship, the first of her JBT career. The scratch division match, however, was a well-bowled thriller, ending with Nick just barely sparing a 6-pin on his fill ball for a 209-208 squeaker over Carper for the 7th title of his excellent JBT career.
Wendy Shelton won the day's Women's Series event with a 197-136 win over Kelly McNeil. It's the second of three wins she needs to qualify for the 2012 Girls TPC this summer.
Thanks as always to the terrific crew at Leisure for being great hosts of our Tour. Over $1,400 in scholarships were earned by bowlers of all ages and averages. Want in on the fun? Check out our schedule and come on down, that's all there is to it!
Leisure Bowl- final results and optional scholarship winners
11/13/2011
Scratch Division
rank
name
prize
1
Nick Lee
$245
2
Paul Carper
$130
3
Dylan Macon
$120
4
Tim Baribeau
$50
5
Chris Brown
$45
6
Wendy Shelton
$30
7
Dusten Moore
8
Brandon Gill
9
Ryan Scheer
10
Aaron Johnston
$30
11
Ahkeen Williams
12
Marcus Ortiz
13
Jonathan Lawson
$15
14
Timmy Crites
15
Tommy Crites
16
Jeremiah Cruz
$10
17
Roger Johnson
$15
18
Michael Call
19
Jacob Gill
20
Zak Egerton
21
Nick Sanchez
22
Sabrina Vargas
23
Janeyl Carper
24
Amber Robinson
25
Mike Conway
26
Olivia Stedman
27
Ryan Gose
28
Josh Helmick
29
Amanda Johnson
30
Ryan Fast
31
William Yoder
32
Joseph Trujillo
33
Scott Wiley
34
Billy Read
35
Jeremiah Martin
36
Marcos Armijo
$5
Handicap Division
rank
name
prize
1
Amber Eddington
$200
2
Tylor MacPhee
$153
3
Kelly McNeil
$75
4
Katie McNeil
$60
5
Micayla Scheer
$50
6
Gerilynn Delagarito
$40
7
Priscilla Red
$30
8
Alyssa Williams
$20
9
Dylan Marsh
10
Josh Demick
$38
11
Zach Wojociechowski
$30
12
Olivia Silva
13
Joey Balistreri
$15
14
Brad Harvey
$30
15
Elizabeth Romero
$15
16
Nathaniel Pena
17
Taylor Herson
18
Jennifer Valenzuela
19
Zach Harvey
$15
20
Toby C'Debaca
21
Cerra Strickland
22
Dale Coffee
23
Josie Herson
24
Zac Frias
25
Jacob Lang
26
Shawna Bellman
27
Brittany Leiby
$15
28
Lindsey Sanchez
29
Montana C'Debaca
30
Martinez, Linzi
31
Nick Lloyd
32
Jake Helmick
33
Brandyn MacPhee
34
Kallista Fritts
35
RJ Bellman
36
Jacqueline Valenzuela
37
Audrey Campbell
38
Lacey Shelton
39
Kory Hetmer
40
Ben Stedman
41
Robbie Trujillo
42
Jonah Seawright
43
Kyler Duggins
44
Adel Wahner
45
Allie May
Scratch High Games
Robinson 257
Baribeau 255
Baribeau 246
Williams 231
Shelton 229
Handicap High Games
Demick 259
Williams 254
MacPhee 253
Eddington 245
Balistreri 241
Round Leaders
Scratch
Handicap
Robinson
MacPhee
Robinson
Eddington
Lee
Eddington
Lee
Eddington
Lee
Eddington
Lee
Eddington
Lee
Eddington
Lee
Eddington
Women's Series
W Shelton -141*
Kelly McNeil -163
Red -168
Silva -174
Vargas -189
TOTAL AWARDED THIS EVENT: $1,471