AMF TEMPE VILLAGE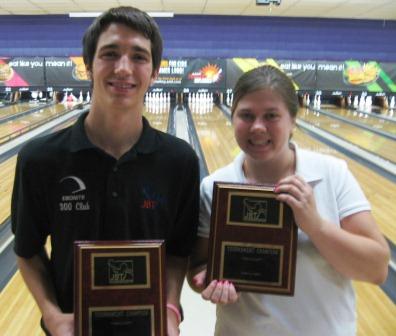 champs Derek Acuff & Cassie Collins
Derek Acuff dominated, while Cassie Collins needed overtime to win, in exciting JBT Arizona Conference action at AMF Tempe Village.
The exciting 'survivor' action features low-bowler out tension on each pair as qualifiers are knocked out until one remains. Twenty scratch survivors were carved down to four, and in those semifinal matches, Derek Acuff trounced all-time JBT titles leader Kyle King 268-236, while Danny Varholdt got exactly the 20-fill in the tenth he needed to get past Cameron Smith (#4 in all-time titles) 224-223. In the resulting title match, Acuff, who averaged nearly 250 since a game four ball change, stayed red-hot, beating Varholdt 247-183 for the win, the 12th of his career (good for 13th on the all-time list).
In the handicap division, twenty-four survivors were whittled down to four, and in those semifinals, Cassie Collins stopped Stan Bunce 202-174, while in a high scoring battle, Shelby Dempsey beat Jake Hilton 273-245. The ensuing all-female title match remained neck and neck, and Shelby's 18-fill in the tenth resulted in a 187 tie, forcing a two-frame rolloff. Visibly nervous, Collins still came through with the shots she needed to win the rolloff 48-45 and earn her first career JBT title.
Jory Koizumi defeated Marina Stever 246-187 to win the day's Impact Bowling JBT Women's Series match. It was Jory's fourth Women's Series win, while Stever picks up more valuable points in the Girls Bowler of the Year race.
Thanks to the crew at Tempe Village for hosting our event, which awarded over $1,900 in scholarships to bowlers of all averages and ages.
empe Village- final results and scholarship winners
5/5/2012
Scratch Division
rank
bowler

prize

1
Derek Acuff
$225
2
Danny Varholdt
$100
3
Cameron Smith
$70
4
Kyle King
$75
5
Jory Koizumi
$40
6
Shane Valleau
$30
7
Curtis Lindeman
$20
8
Tim Jacob
9
Lanndyn Carnate
$75
10
Jakub Butturff
11
Anthony Tripi
12
Kyle Karpovich
$30
13
Aaron Munyon
14
Nick Lee
$15
15
Aaron Foshie
$120
16
Deven Johnston
17
Jordan Ferrer
18
Riley Dempsey
19
Myles Hamilton
20
Andrew Corrao
21
Ben Canfield
$15
22
Marina Stever
$15
23
Jarrod Davenport
24
Tim Crosswhite
25
Mark Myers
26
Matt Zweig
27
Kyle Duster
28
Catherine Rawsthorne
29
Aaron Yamamoto
30
Sven Majeske
31
Joe Lewandosski
32
Cortez Schenck
33
Robert Douglas
34
Courtney Dutton
35
Daniel Barrs
36
Holden Luke
37
Jordan Hastings
38
Kirk Chui
39
Michael Conway
40
Tyler Satter
Handicap Division
1
Cassie Collins
$260
2
Shelby Dempsey
$100
3
Stan BUnce
$120
4
Jake Hilton
$60
5
Jake Bryan
$50
6
Steven Acuff
$40
7
Marguerite Evans
$75
8
Katelyn Corwin
$35
9
Alex Pellegrino
$15
10
Megan Carlson
$155
11
Kimmie Satter
12
KJ Martinez
13
Corbin Hirsch
$15
14
Linzi Martinez
15
Michael Chamot
16
Jerod Walker
$5
17
Carter O'Neal
18
Keith Fung
19
Kristen Lee
20
Ashley Lamb
$15
21
Lauren Douglas
22
Savannah Carr
$60
23
Jozef Corwin
$30
24
Brooke Martinez
$30
25
Austin Thompson
$30
26
Zachary Rapp
$15
27
Alexis Atkin
28
Morgan Rapp
29
Jacob DiGiacomo
30
Zach Lewandowski
31
Dominic Luna
32
Kristen O'Neal
33
Rashaad Jordan
34
Andrew Dorsey
35
Shauna Schultz
36
Cierra Chamot
37
Trevor Thompson
38
Krista Day
39
Dakota Thompson
40
Joey Sorce
41
Nathan Faust
42
Stacey Lamb
43
Gillian Coyle
44
Blake Kalaf
45
Jerry Moreno
46
Ryan Rhoades
High Games
Scratch
Handicap
1
Jacob 279
Acuff 277
2
Smith 279
KJ Martinez 274
3
Myers 279
K Corwin 272
4
Acuff 275
J Corwin 265
5
Acuff 269
L Douglas 262
High Female
1
Koizumi +161*
2
Stever +17
3
Carlson -14
4
Lee -30
5
Rawsthorne -45
Round Leaders
Scratch
Handicap
1
Koizumi
S Bunce
2
Butturff
S Bunce
3
Koizumi
S Bunce
4
Koizumi
Bryan
5
Butturff
Dempsey
TOTAL AWARDED THIS EVENT: $1,940