AMF TEMPE VILLAGE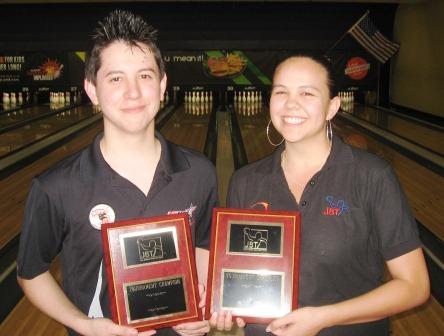 champs Jakob Butturff & Kristen Lee
Jakob Butturff and Kristen Lee provided an appropriate bookend to the 2011-12 Arizona Conference regular season, earning JBT titles in exciting action at AMF Tempe Village Lanes.
Tim Jacob, having an excellent spring, opened up the scratch division finals with a 257-164 win over Joe Lewandowski. Jacob stayed hot in match two, defeating previous day's champ Derek Acuff 256-187. All-time titles leader Kyle King then lofted his way to a 243-222 win over Tim to reach the title match.
Top seed Butturff took over the event in game three and never looked back. He has had a knack in his young career at beating some of our top veteran stars, and he showed no fear here either, beating King 227-214 for the win, the fourth of his JBT career.
Jake Hilton opened the handicap division stepladder finals with a 210-194 win over Kyle Bunce. Jake then got by Ryan Rhoades 217-169, and followed with a 224-222 thriller over his cousin KJ Martinez to climb the ladder to the title match.
Top seed Kristen Lee, already the points leader coming into the weekend, took an enormous step towards Bowler of the Year by leading the event here, and solidified that claim with a powerful 244-203 win over Hilton for the third title of her JBT career. Jakob and Kristen both won at Cliff Castle to start the year, and amazingly pulled off the double-win here again to finish the year.
Lee also won the day's Impact Bowling Women's Series event with a 210-192 win over Jory Koizumi, her fourth Women's Series win of the season.
As exciting as those wins all were, they were just part of the fun on the day, as Dominic Luna broke the nearly nine-month PowerBowl dry spell by correctly predicting 10-7-5 on his three shots, capturing the $1,000 PowerBowl jackpot! The backup jackpot was already at $1,000, so you can still win a grand just for showing up at JBT events!
Ninety-eight bowlers now advance to the Arizona Invitational, featuring a $1,000 top prize in each division. Thanks to the whole crew at Tempe Village for hosting us for the first time in four years. Nearly $5,000 in scholarships were earned over the weekend!
Tempe Village- final results and scholarship winners
5/6/2012
Scratch Division
rank
bowler

prize

1
Jakub Butturff
$270
2
Kyle King
$110
3
Tim Jacob
$50
4
Derek Acuff
$40
5
Joe Lewandosski
$60
6
Joshua Tajiri
$20
7
Aaron Foshie
$45
8
Cameron Smith
9
Jory Koizumi
10
Kyle Duster
11
Jordan Hastings
12
Marcus Stanley
13
Shane Valleau
14
Ben Canfield
$15
15
Kirk Chui
16
Cortez Schenck
$30
17
Curtis Lindeman
18
Danny Varholdt
19
Marina Stever
$45
20
Mark Myers
21
Jordan Ferrer
22
Kyle Karpovich
$30
23
Deven Johnston
24
Myles Hamilton
25
Nick Lee
$15
26
Andrew Corrao
27
Aaron Munyon
28
Catherine Rawsthorne
29
Jarrod Davenport
30
Courtney Dutton
31
Lesiann Katsura
32
Tim Crosswhite
33
Matt Zweig
34
Daniel Barrs
35
Tyler Satter
36
Michael Conway
37
Kayla Goad
38
Holden Luke
39
Anthony Tripi
Handicap Division
1
Kristen Lee
$225
2
Jake Hilton
$100
3
KJ Martinez
$100
4
Ryan Rhoades
$50
5
Kyle Bunce
$85
6
Ashley Lamb
$50
7
Dominic Luna
$1,020
8
Danielle Stewart'
$30
9
Troy Dennis
10
Andrew Dorsey
11
Justice Lynch
12
Gillian Coyle
13
Marguerite Evans
$45
14
Joey Sorce
15
Shauna Schultz
$15
16
Corbin Hirsch
17
Kimmie Satter
18
Carter O'Neal
19
Alex Pellegrino
20
Alexis Atkin
21
Zach Lewandowski
22
Jerry Moreno
23
Keith Fung
24
Linzi Martinez
25
Trevor Thompson
$50
26
Candace Gardner
27
Kristen O'Neal
28
Jazmyn Eubanks
29
Jake Bryan
30
Rashaad Jordan
31
Megan Carlson
32
Stephen Haanpaa
33
Austin Thompson
34
Dakota Thompson
$15
35
Brooke Martinez
$15
36
Steven Acuff
37
Jerod Walker
38
Blake Kalaf
39
Cassie Collins
40
Stan Bunce
41
Savannah Carr
42
Stacey Lamb
High Games
Scratch
Handicap
1
Jacob 278
Lewandowski 265
2
Acuff 259
Bryan 252
3
Butturff 259
Lee 250
4
Jacob 257
Fung 246
5
Tajiri 257
Eubanks, Bunce 245
High Female
1
Koizumi +62
2
Lee +30*
3
Stever -50
4
Stewart -60
5
Rawsthorne -80
Round Leaders
Scratch
Handicap
1
King
Bryan
2
Duster
K Bunce
3
Butturff
K Bunce
4
Butturff
K Bunce
5
Butturff
K Lee
6
Butturff
K Lee
7
Butturff
K Lee
8
Butturff
K Lee
TOTAL AWARDED THIS EVENT: $2,835