MIRA MESA BOWL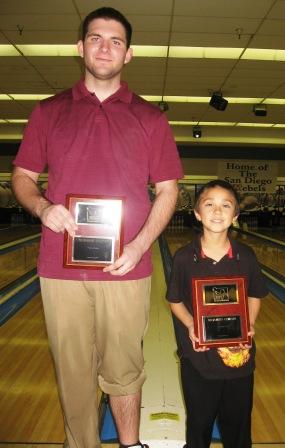 champs Ronnie Fujita (with the 'rally cuff') and Glenn Alan Teal
Ronnie Fujita summoned the 'rally cuff', while Glenn Alan Teal had to rally back from injuries, and both ended up winners in exciting JBT Southern California Conference action at San Diego's Mira Mesa Bowl.
In our March Madness format, the top 16 bowlers in each division after five games advanced to matchplay, starting of course with the 'sweet sixteen' round. The highest ranked players on a season-long basis, not on the day's totals, received the highest seed, meaning the 'all-stars' weren't scheduled to meet up until the end. As often happens, though, the other bowlers had a lot to say about that, as none of the #1 seeds reached the final four. Instead, three #2 seeds joined #3 DeeRonn Booker in the last four. In those semifinal games, Fujita beat 'dirty' Dan Hansen 197-181, while Booker was truly dealt the dirty break, leaving a brutal solid-8 to lose to Manier 170-169, advancing Steven to the title match.
Fujita is having a great JBT season despite the tough travel from Northern California to bowl our events, while Steven has long been one of our best 'under the radar' bowlers, with a ton of talent but not a ton of titles. When in doubt, Fujita goes to the 'rally cuff' (pictured above), and it didn't let him down this time, as he rolled to a 204-183 win, good for the second title of his JBT career.
#1 overall handicap seed Alexis Atkin avoided the top seed jinx by winning two games to reach the final four, but there she fell to #4 Kylie Shishima in a grindout 174-165, sending Kylie, the almost-birthday girl, to the final game. In the other semifinal, two #4 seeds faced off, and the result was a big 234-178 win for Glenn alan Teal over Jenny Phandanouvong, advancing Glenn to the title match.
Teal had banged up his chin and ankle in accidents earlier in the day, but once he recovered he seemed to be better than ever, and the 9 year-old remained unstoppable in the title match, making a bunch of spares to cruise to a 218-183 win and the first title of his JBT career.
Savannah Carr defeated top seed Megan Carlson 188-169 to win the day's Impact Bowling JBT Women's Series event, the second of three wins Carr needs to qualify for the Girls TPC this July!
Thanks as always to the crew at Mira Mesa for hosting our events. Over $1,600 in scholarships were earned by bowlers of all ages and averages- want in on the fun? Come on down to the next JBT event, it's that simple!
Mira Mesa Bowl- final results and optional scholarship winners
3/3/2012
Scratch Division
rank
name
prize
1
Ronnie Fujita
$215
2
Steven Manier
$100
3
DeeRonn Booker
$60
4
Dan Hansen
$50
5
Jon Dukes
$40
6
Cameron Smith
$30
7
Riley Dempsey
8
Curtis Lindeman
9
Derek Acuff
$30
10
Raheem Johnson
11
Wesley Low
$15
12
Kirk Chui
$30
13
Kyle Duster
14
Chris Tucker
15
Vinny Bravo
$120
16
Joshua Tajiri
17
Cortez Schenck
$15
18
Shane Peck
$30
19
Bryan Rondeau
20
Jordan Ferrer
21
Eric Hatchett
22
Harley Sweigart
$15
23
Mark Myers
24
Kyle Karpovich
25
Justin Sims
26
Bobby Hornacek
27
Mark Hugelmaier
28
Luke Holley
29
Michael Ma
30
Mark Idzerda
31
Billy Dacanay
32
Matt Zweig
33
Ashley Dunn
34
Melissa Reed
35
Brittany Kolatzny
36
Mark Curtis
37
Courtney Brown
38
Brett Hirsch
39
Oscar Chan
40
Marina Stever
Handicap Division
rank
name
prize
1
Glenn Alan Teal
$200
2
Kylie Shishima
$100
3
Alexis Atkin
$60
4
Jenny Phandanouvong
$110
5
Megan Carlson
$55
6
Julian Zavala
$30
7
Shauna Schultz
$20
8
Savannah Carr
$60
9
Steven Acuff
10
Kyle Andrews
$30
11
Nick Condon
12
Leah Zweig
$75
13
Ricardo Mendoza
14
Jake Bryan
15
KJ Martinez
$45
16
Alyssa Tucker
17
Randi Speiler
18
Trenton Romleski
$60
19
Austin Thompson
$15
20
Peter Hugelmaier
21
Nick Daniels
22
Tyler Hatfield
23
Kyli Selley
24
Matthew Green
25
Carol Chui
26
Eric Ruger
27
Kyle DeCew
28
Valry Swaim
29
Kennison Andrews
30
Ryan Miller
31
Brooke Martinez
32
Stephanie Zavala
33
Marguerite Evans
34
Austin Hopkins
35
Javier Zavala
36
Rance Dvorak
37
Trevor Thompson
Scratch High Games
Booker 279
Dukes 276
Dempsey 245
Tucker 244
Low, Booker 241
Handicap High Games
Acuff 249
Carlson 248
Schultz 247
Carlson 247
Acuff 245
Round Leaders
Scratch
Handicap
Low
Carlson
Low
Phandanouvong
Low
Phandanouvong
Dukes
Phandanouvong
Dukes
Phandanouvong
Women's Series
Carlson -26
Carr -163*
Atkin -167
Zavala -191
Speiler -192
TOTAL AWARDED THIS EVENT: $1,620