MIRA MESA BOWL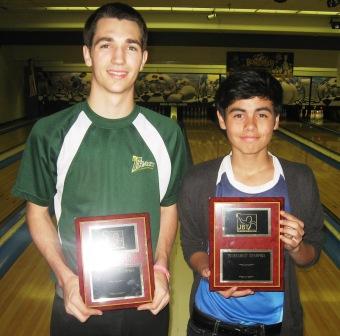 champs Derek Acuff & Kyle Punzalan
Derek Acuff made JBT history with the first 300 game in the title match in nearly eleven years, while Kyle Punzalan hung on to win his first title, in exciting JBT So Cal Conference action at San Diego's Mira Mesa Bowl.
Peter Rantins opened up the handicap stepladder finals with a 220-199 win over fellow first-time finalist Eric Ruger. Leah Zweig then defeated Rantins 200-187. Punzalan, who is Rantins' brother, then avenged the family with a 210-190 win over Zweig to advance to the title game.
Top seed Kennison Andrews destroyed the pins mid-tournament to build up a solid lead which he held on to the rest of the day, but he struggled in the first half of the title game, giving Puzalan a big early lead. Kyle returned the favor in the second half though, opening in four of the last five frames to give Andrews a chance to double for the win. When Kennison was unable to get the first strike, a relieved Punzalan claimed the 198-191 win and the first title of his JBT career.
13 year-old Cortez Schenck opened up the scratch division stepladder finals with a 237-228 win over previous day's champion Ronnie Fujita. Harley Sweigart, who made the switch from handicap to scratch, proved that was a good choice with a 225-202 win over Schenck in round two. Harley then snuck by Curtis Lindeman 231-221 in a well bowled semifinal to reach the title match.
Top seed Derek Acuff had taken the lead away from Lindeman with a big semifinal set, but figured to have his hands full against fellow lefty Sweigart, who was bowling in his home house. However, Derek left no room for doubt as he pured the first nine strikes to win the title, despite a fine 225 from Harley. Now three away from tying one of our oldest and most coveted records, his shots weren't quite as perfect, but he got them all to fall, and Derek joined Matt Jones, who in April 2001 rolled the only other 300 game in a JBT title match- what a way fro Acuff to win his 9th career JBT title!
Brittany Kolatzny defeated Marina Stever 192-138 to win the day's Impact Bowling JBT Women's Series event, the second of three wins she needs to qualify for the Girls TPC this July.
Thanks as always to the crew at Mira Mesa for hosting our events. Over $1,700 in scholarships were earned by bowlers of all ages and averages- want in on the fun? Come on down to the next JBT event, it's that simple!
Mira Mesa Bowl- final results and optional scholarship winners
3/4/2012
Scratch Division
rank
name
prize
1
Derek Acuff
$230
2
Harley Sweigart
$165
3
Curtis Lindeman
$60
4
Cortez Schenck
$60
5
Ronnie Fujita
$40
6
Riley Dempsey
$30
7
Oscar Chan
$35
8
Mark Curtis
9
Courtney Brown
10
Bobby Hornacek
11
Steven Manier
12
Kyle Duster
13
Brittany Kolatzny
14
Mark Myers
15
Vinny Bravo
$15
16
Kirk Chui
17
Raheem Johnson
18
Mark Idzerda
19
Marina Stever
$30
20
Kyle Karpovich
$55
21
Wesley Low
$60
22
Brett Hirsch
23
Mark Hugelmaier
24
Foster Phandanouvong
$30
25
Eric Hatchett
26
Cameron Smith
27
Chris Tucker
$15
28
Darwin Eusebio
29
Bryan Rondeau
30
Jordan Ferrer
31
Karlie Loop
32
Michael Ma
33
Matt Zweig
34
Dan Hansen
35
Justin Sims
36
Luke Holley
37
Ashley Dunn
38
Shane Peck
39
Renee Gentry
Handicap Division
rank
name
prize
1
Kyle Punzalan
$200
2
Kennison Andrews
$250
3
Leah Zweig
$60
4
Peter Rantins
$50
5
Eric Ruger
$40
6
Tyler Wolff
$30
7
Austin Thompson
$20
8
Jake Bryan
9
Matthew Green
10
Kyle Andrews
$30
11
Randi Speiler
12
Austin Hopkins
13
Glenn Alan Teal
$30
14
Jericho Eusebio
$15
15
Trenton Romleski
$15
16
Brooke Martinez
$120
17
James McGough
18
Steven Kampley
$15
19
KJ Martinez
$30
20
Max Carter
21
Nick Daniels
22
Alexis Atkin
23
Rance Dvorak
24
Carol Chui
25
Niick Condon
26
Marguerite Evans
27
Kylie Selley
28
Emily Margetta
29
Megan Carlson
30
Jenny Phandanouvon
31
Justin Patten
32
Eric Torrence
33
Savannah Carr
34
Trevor Thompson
35
Kylie Shishima
$15
36
Steven Acuff
37
Kyle DeCew
38
Jacey Opiana
39
Eric Demo
40
Alyssa Tucker
41
Shauna Schultz
Scratch High Games
Acuff 300
Fujita 280
Lindeman 279
Karpovich 279
Lindeman 268
Handicap High Games
Punzalan 304
Ken Andrews 289
A Thompson 285
Wolff 278
Ken Andrews 278
Round Leaders
Scratch
Handicap
Myers
Zweig
Fujita
A Thompson
Kolatzny
A Thompson
Acuff
Ken Andrews
Lindeman
Ken Andrews
Lindeman
Ken Andrews
Lindeman
Ken Andrews
Acuff
Ken Andrews
Women's Series
Stever +125
Kolatzny +110*
TOTAL AWARDED THIS EVENT: $1,745