Nob Hill Bowl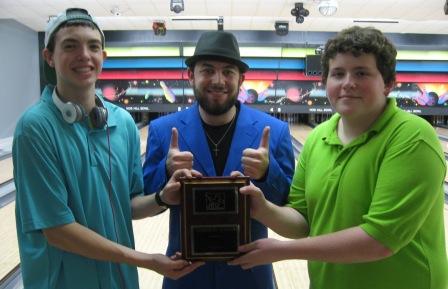 champs Josh Mullen & Kyle Hays
Josh Mullen and Kyle Hays captured JBT titles in exciting Pacific Northwest Conference action in our first visit to Yakima's Nob Hill Bowl.
Tristan Curtis continued his early season run by defeating Arizona phenom Cortez Schenck 200-147 to open the scratch division stepladder finals. Tyler Boe then stopped Curtis 200-185, and followed with a 224-206 victory over previous day's champ Tanner Spacey to reach his first career scratch title match.
Top seed Mullen completely owned the tournament, leading after qualifying by more than 100 pins, and after the semis by nearly 200. He had lapped the field in an event last season only to throw a poor title game, but this is a new season and a new and improved Josh. He started with a four-bagger, and despite a good comeback from Boe, Tyler ran out of frames and Josh won the game 244-213 to capture the first title of his JBT career and add to a fantastic fall for the Mullen family.
Toby Shepherd began the handicap division stepladder finals with a big 252-200 win over Max Polhill. Toby then snuck by first-time finalist Logan Blair 209-203. Kyle Hays then stopped Shepherd 235-215 to advance to the championship game. Nicole Stickler grabbed the top seed after game seven, but struggled a bit in the title game. Hays also slowed down though, and as a result the title game came down to the final frame. When Nicole couldn't get the double she needed, Kyle claimed the 191-171 win and the third title of his JBT career.
Makayla Douglas and Jessica Bubnich went at it for the second straight day in the Women's Series title match, and Makayla avenged the previous day's loss with a 216-171 win for today's title, the second of three she needs to qualify for the 2012 Girls' TPC.
Thanks to the crew at Nob Hill for a great job hosting our Tour for the first time this weekend. Over $3,000 in scholarships were earned by youth bowlers of all ages and averages- want in on the fun? Come on out to the next JBT event, it's that simple!
Nob Hill Bowl- final results and optional scholarship winners
10/30/2011
Scratch Division
rank
name
prize
1
Josh Mullen
$260
2
Tyler Boe
$130
3
Tanner Spacey
$60
4
Tristan Curtis
$65
5
Cortez Schenck
$30
6
Jesse Covington
$20
7
Daniel Hanson
8
Quinton Miller
9
Tyler Stickler
10
Sam Burns
11
Ryan Gately
12
Anthony Douglas
$105
13
Michael Paulson
14
Makayla Douglas
15
Robert Altieri
16
Thomas Nute
$15
17
Jeremy Witt
18
Brian Monnette
19
Matt Matias
20
Jessica Bubnich
21
Courtney Couch
22
Breanne Matson
23
Tyler Satter
24
Alex Earle
25
Luke Jordan
$5
26
Taylor Gamble
27
Nick Bachteler
28
Zach Hemming
29
Vince Bachteler
$10
30
Donnie Whipple
31
Darren Stanley
Handicap Division
rank
name
prize
1
Kyle Hays
$200
2
Nicole Stickler
$110
3
Toby Shepherd
$60
4
Logan Blair
$40
5
Max Polhill
$30
6
Katie Elliott
$20
7
Jake Mullen
8
Dylan Jones
9
Oksuna Edwards
10
Tyler Ficek
11
Candice Orm
12
Jerry Jennings
$30
13
Bryan Switzer
14
Sebastian Polhill
15
Stephanie Arndt
$45
16
Nicole Rasmussen
17
Kara Lieber
18
Jacob Herriges
19
Samm Cosby
20
Becky Davidson
21
Kelsey Abrahamsen
22
Mandy Cramer
$15
23
Bri Hemming
$15
24
Katelyn Norton-Hesser
25
Cameron Michell
26
Cassidy Gray
27
Jamilah Ousley
$10
28
Jordan Muir
29
Ryan Gallagher
30
Kjerstin Richards
31
Brandon Myers
Scratch High Games
Spacey 268
Boe 265
Curtis 258
Altieri 258
Mullen 248
Handicap High Games
Stickler 255
Switzer 253
Shepherd 252
Blair 248
Mullen 244
Round Leaders
Scratch
Handicap
Mullen
Mullen
Spacey
Mullen
Mullen
Mullen
Mullen
Switzer
Mullen
Switzer
Mullen
Stickler
Mullen
Stickler
Mullen
Stickler
Women's Series
Douglas -66*
Bubnich -106
Couch -107
Stickler -108
Matson -118
TOTAL AWARDED THIS EVENT: $1,275