NUGGET BOWLING CENTER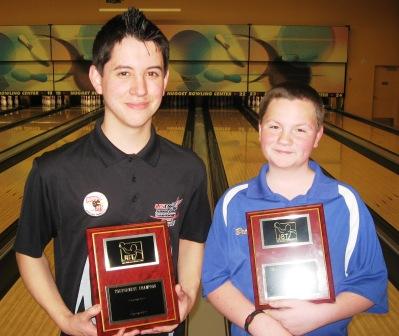 champs Jakob Butturff & Brendan Lindsey
Jakob Butturff continued to have Zack Hattori's number, while Brendan Lindsey wowed the hometown crowd for title number one, in exciting JBT Mojave Conference action at Pahrump's Nugget Bowling Center.
Californian two-hander Mark Myers opened up the scratch division stepladder finals with a 247-204 win over 8-time JBT champ Nick Lee of Tucson, AZ. Myers then got by Las Vegan Eric Hatchett 211-183. Butturff, aided by a brilliant 3-4-6-7 conversion in the tenth frame, then stopped Myers in an exciting semifinal 234-217 to advance to the title match.
Top seed Zack Hattori dominated this event, leading from round four on, but his troubles in title matches recently have been well documented, with many of those troubles coming from the left hand of Jakob, who has beaten him in most of their recent meetings (the notable exception being Hattori's perfect 300 at Red Rock). This time around, a great game by Butturff ended in a disastrous pocket 7-10, resulting in a 233 but also meaning he had no 'endless tenth frame'. Meanwhile, Hattori struck all the way out for 217, including a fill ball strike that triggered the day's 'endless tenth frame' bonus, meaning Zack needed to strike two more times to win the tournament. Unfortunately for Hattori, his first bonus attempt was not what he had hoped for, and with the non-strike a relieved Butturff claimed the title, the third of his JBT career.
The handicap division opened with Cerell Cardines, the little guy with the big hook, defeating Collin Deppe 203-163. This set up a match against Cerrell's big brother Jeremy, and Jeremy won the sibling rivalry 225-213 to move on, while Cerell got an ice cream bar to console him- who's the winner now?! Cardines, the 2011 Mojave Invitational champ, then got by Pahrump's Ricky Swindling 231-194, to set up the title match.
Top seed and Pahrump bowler Brendan Lindsey enjoyed the home cooking to lead a JBT event for the first time ever, but found himself in a tough battle against the veteran Cardines in the finals. Jeremy's clutch double in the tenth frame forced Lindsey to do the same, and in that daunting situation, Brendan (at a mid-130 average) calmly changed balls and flushed all three strikes in the tenth for a thrilling 223-218 win and the first title of his JBT career!
Megan Carlson defeated Andie Szekely 183-148 to win the day's Impact Bowling Women's Series event, the second of three wins she needs to qualify for the 2012 JBT Girls TPC this July in Vegas.
Thanks to the great crew at Nugget for hosting our Tour for the first time in a few years. $1,200 in scholarships were earned by bowlers of all averages and ages- want in on the fun? Check out our schedule at www.bowljbt.com, and come on down to the next JBT event, it's that simple!
Nugget Bowl- final results and optional scholarship winners
2/18/2012
Scratch Division
rank
name
prize
1
Jakob Butturff
$200
2
Zack Hattori
$205
3
Mark Myers
$50
4
Eric Hatchett
$30
5
Nick Lee
$30
6
Cameron Smith
$15
7
Oscar Chan
$15
8
Danny Varholdt
9
Nick Pollak
10
Jordan Ferrer
11
Dan Hansen
12
Chase Nadeau
13
Riley Dempsey
14
Mark Curtis
15
Joe Lewandowski
$15
16
Cortez Schenck
17
Mark Caparas
18
Luke Holley
19
Ashley Dunn
20
Dallas Leong
21
Kyle Karpovich
22
Brian Grupe
23
Michael Conway
Handicap Division
rank
name
prize
1
Brendan Lindsey
$245
2
Jeremy Cardines
$100
3
Ricky Swindling
$50
4
Cerell Cardines
$30
5
Collin Deppe
$95
5
Shauna Schultz
7
Taylor Ray
$15
8
Megan Carlson
$30
9
Andie Szekely
10
Cody Swift
11
Jason Pappas
12
Alexis Atkin
13
Kevin Finkler
14
Aaron Watkins
15
Rachael Berg
16
Jake Smith
17
Trevor Thompson
$65
18
Leah Glazer
19
David Galvan
20
Linzi Martinez
21
Matt Dragovich
22
Austin Thompson
23
Marguerite Evans
$5
24
Randi Speiler
$5
25
Justin Villa
26
Veronica Schleicher
27
Kyli Selley
28
Kylie Shishima
29
Tyler Greene
30
Jake Bryan
31
Joe Gerencser
Scratch High Games
Pollak 268
Hatchett 265
Hatchett 263
Hattori 262
Lee 259
Handicap High Games
Swindling 282
Lindsey 278
Lindsey 275
Jer Cardines 274
Berg 262
Round Leaders
Scratch
Handicap
Hansen
Ray
Hatchett
Carlson
Chan
Lindsey
Hattori
Lindsey
Hattori
Lindsey
Hattori
Lindsey
Hattori
Lindsey
Hattori
Lindsey
Women's Series
Carlson -11*
Szekely -43
Dunn -47
Ray -74
Atkin -100
TOTAL AWARDED THIS EVENT: $1,200