Red Rock Lanes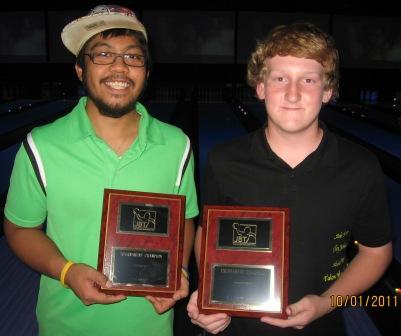 champs Jordan Ferrer and Talon Hendrickson
Jordan Ferrer and Talon Hendrickson each put on excellent performances to capture JBT titles, but it was a runner-up who virtually stole the show, in thrilling season-opening Mojave Conference action at the beautiful Red Rock Lanes.
David Galvan opened up the handicap division stepladder finals with a 207-203 squeaker win over Veronica Schleicher. Galvan then rolled past KJ Martinez 205-185, but the fourth place finish tied KJ for first on the career handicap top-5 finishes list at 23. Jake Bryan then defeated Galvan 242-218 to advance to the title game.
Top seed Talon Hendrickson stayed in control the entire game, while the two-handed Bryan struggled a little with the drying out lanes. In the end, Talon sunk his claws into a 236-204 victory, good for the first JBT title of the Utah bowler's JBT career.
Zach Hattori has just about done it all in youth bowling, and he added another chapter to his career with this stepladder performance. Qualifying fourth, he began with a 268-225 win over Eric Hatchett. Zack then rolled past 23-time JBT champion Cameron Smith 267-210 (that's 535 for two games). Next up was Jakob Butturff, who has had the upper hand against Zack in a most recent JBT matches. Jakob could only watch this time though, as his 207 effort fell to a perfect 300 game from Hattori, his first in JBT after many near misses and the exclamation mark to an 835 3-game stepladder set!
Zack still had more work to do with top seed Jordan Ferrer, who used a 276 of his own (all this on the Scorpion pattern that yielded a relatively low -41 cut) to leap into the lead. Hattori opened with a double, while Jordan went strike-spare, and at the rate that Zack was going, that looked like game over already. That's not how Jordan saw it though, as he started stringing strikes from there. Zack's only miss through nine frames was a spare in the seventh (on a wobbly 10-pin), and he finished with double-9 in the tenth for a 278 (totalling an incredible 1103 for four games). That left Jordan with a chance to double-9 for the win, and Ferrer calmly stepped up and struck out for the breathtaking 280-278 win, and the sixth title of his JBT career- wow!
Marina Stever won the day's Women's Series event with another exciting match, a 205-197 win over newcomer Andie Szekeley, who almost doubled in the tenth for the win. Stever needs three wins to qualify for the 2012 Girls All-Conference Championship this summer in Vegas.
Thanks as always to the team at Red Rock for another great job hosting our events. Over $1,400 in scholarships were awarded to bowlers of all ages and averages- want in on all this fun? Come on out to the next JBT event, it's as simple as that!
Red Rock Lanes- final results and optional scholarship winners
10/1/2011
Scratch Division
rank
name
prize
1
Jordan Ferrer
$200
2
Zack Hattori
$185
3
Jakob Butturff
$50
4
Cameron Smith
$40
5
Eric Hatchett
$30
6
Mark Curtis
$30
7
Curtis Lindeman
8
Riley Dempsey
9
Cortez Schenck
$95
10
Tony Rose
11
Teddy Lucente
12
Danny Varholdt
13
Marina Stever
$15
14
Nick Vinyard
$70
15
Zach Martinez
16
Derek Acuff
17
Aaron Foshie
18
Nick Pollak
19
Kayla Goad
20
Mark Myers
21
Mark Caparas
22
Joe Lewandowski
23
Dan Hansen
24
Derek Iozzio
25
Kyle Karpovich
26
AnthonyTripi
27
Brian Grupe
28
Josh Liebowitz
29
Jason Pappas
Handicap Division
rank
name
prize
1
Talon Hendrickson
$245
2
Jake Bryan
$100
3
David Galvan
$60
4
KJ Martinez
$95
5
Veronica Schleicher
$30
5
Danyella Gonzalez
$20
7
Cerell Cardines
8
Donovan Koff
9
Brendan Lindsey
10
Jake Heaton
11
Dee Handley
12
Skyler Moss
$60
13
Kylie Shisima
$45
14
Shelby Demspey
15
James Gabour
$15
16
Andie Szekeley
17
Jack Parcell
18
Jhared Gonzalez
19
Kyle Andrews
20
Megan Carlson
$15
21
Aaron Watkins
$30
22
Ricky Swindling
23
Kennison Andrews
24
Michael Liebenow
25
Justin Villa
26
Steven Acuff
27
Alexis Atkin
28
Jeremy Cardines
29
Taylor Ray
30
Michael Hildebrand
31
Brooke Martinez
$15
32
Matt Dragovich
33
Shauna Schultz
34
Randi Speiler
Scratch High Games
Hattori 300
Ferrer 280
Smith 279
Hatchett 279
Hattori 278
Handicap High Games
Kyle Andrews 270
Gabour 264
Hendrickson 262
KJ Martinez 261
S Dempsey 257
Round Leaders
Scratch
Handicap
C Smith
Kenn. Andrews
Dempsey
Szekeley
Hatchett
Szekeley
M Curtis
Szekeley
M Curtis
Heaton
M Curtis
Schleicher
Butturff
Hendrickson
Ferrer
Hendrickson
Women's Series
Stever -21*
Szekeley -57
Goad -77
Dempsey -101
Handley -137
TOTAL AWARDED THIS EVENT: $1,445