SAM'S TOWN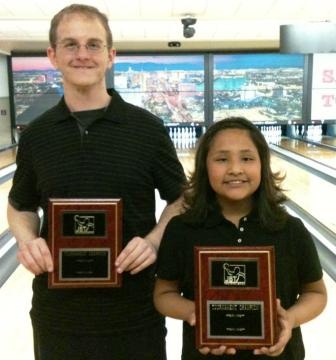 champs Cameron Smith & Taylor Simpson
Cameron Smith rolled on, while Taylor Simpson got instant revenge from a loss last week, to win titles in exciting JBT Mojave Conference action at Sam's Town Bowling Center.
Nick Pollak dominated the scratch division of the qualifying round, throwing an exciting 299 game and leading after all five games. However, the survivor format can be deadly to runaway leaders, and it claimed another victim as Nick was unable to keep up the momentum in the survivor rounds. Eventually 20 scratch survivors were carved down to four, and in those semifinal matches Cameron Smith defeated Ian Hanuscin and Zack Hattori ousted Mark Myers to set up a title match clash between two of our most successful veterans.
The title game turned into a carry contest on the Kegel 'middle road' pattern, and this time it was Smith with the edge, firing 11 strikes in a 279-239 win over 11-time winner Hattori (who amazingly, still hasn't won a regular season Mojave event since the 09-10 season). It's the 33rd title of Smith's career, creeping up towards #3 BJ Baker on our all-time list at 36.
Jason Pappas led the handicap division qualifying round, but also couldn't survive deep into the matchplay rounds. 24 survivors were whittled down to four, and in those semifinal matches, New Mexico's Taylor Simpson beat David Galvan, while Pamela Wright stopped Shelby Dempsey to set up the all-female title match.
Simpson lost the title match last Sunday in Albuquerque, and must have told her family she was ready for revenge immediately, as they made the long trek to Vegas, while Kingman's Wright was appearing in her first title game. Simpson didn't let last week's result repeat, as this time she won the game 201-179 to earn the first title of her JBT career.
Jory Koizumi earned her fourth Impact Bowling JBT Women's Series title of the season with a 202-170 win over Kayla Goad. Jory retains the overall women's points lead heading into the home stretch of the season.
Thanks as always to the crew at Sam's Town for hosting our events. Over $1,800 in scholarships were earned by bowlers of all averages, age 21 and under. Want in on the fun? Check out our schedule and come on down to the next JBT event, it's as simple as that!
Sam's Town- final results and optional scholarship winners
3/17/2012
Scratch Division
rank
name
prize
1
Cameron Smith
$210
2
Zack Hattori
$115
3
Mark Myers
$85
4
Ian Hanuscin
$70
5
Riley Dempsey
$125
6
Matt Brazeal
$40
7
Jordan Ono
$30
8
Aaron Yamamoto
9
Oscar Chan
10
Nick Pollak
11
Jakob Butturff
12
Jory Koizumi
13
Chase Nadeau
14
Danny Varholdt
$30
15
Dallas Leong
$15
16
Cortez Schenck
$40
17
Mark Curtis
18
Dan Hansen
19
Curtis Lindeman
20
Jordan Ferrer
21
Mark Caparas
22
Eric Hatchett
23
Teddy Lucente
24
Brian Grupe
25
Aaron Foshie
26
Joe Lewandowski
27
Kayla Goad
28
Shane Valleau
29
Courtney Schultz
30
Holden Luke
31
Derek Acuff
32
Dayton Martin
33
Andrew Valdez
34
Marina Stever
35
Ryan Campbell
36
Jonny Gutierrez
37
Garrett Page
Handicap Division
rank
name
prize
1
Taylor Simpson
$270
2
Pamela Wright
$125
3
Shelby Dempsey
$100
4
David Galvan
$75
5
Steven Acuff
$50
5
Austin Thompson
$40
7
Eric Ruger
$30
8
Shauna Schultz
$50
9
Jeremy Cardines
10
Cerrell Cardines
11
Leah Glazer
$15
12
Matt Dragovich
$15
13
Jason Pappas
14
TJ Rock
15
Michael Hildebrand
16
Parker Simpson
$60
17
Nick Condon
$35
18
Justin Villa
19
Gerilynn Delagarito
20
Jake Bryan
21
Clint Strawmyer
22
Crystalene Pineda
23
Savannah Carr
24
Jake Smith
25
Ricky Swindling
26
Marguerite Evans
27
Megan Carlson
$45
28
Aaron Watkins
$15
29
Brooke Martinez
$60
30
Brendan Lindsey
$15
31
Gabriella Weis
32
KJ Martinez
$30
33
Trevor Thompson
$30
34
Alexis Atkin
35
Andie Szekely
36
Joe Gerenscer
37
Kyler Duggins
38
James Gabour
39
Danyella Gonzalez
40
Justin Patten
41
Jhared Gonzalez
42
Kevin Finkler
43
Randi Speiler
$5
44
Joe Cencelewski
45
Mike Garcia
46
Taylor Ray
Scratch High Games
Pollak 299
Lindeman 279
Smith 279
Hatchett 275
Curtis, Chan 269
Handicap High Games
A Thompson 279
P Wright 272
Pappas 268
S Dempsey 267
Rock 266
Round Leaders
Scratch
Handicap
Pollak
Rock
Pollak
Rock
Pollak
Pappas
Pollak
Pappas
Pollak
Pappas
Women's Series
Koizumi +1
Goad -81
S Dempsey -86
C Schultz -98
Glazer -101
TOTAL AWARDED THIS EVENT: $1,825