SUNSET LANES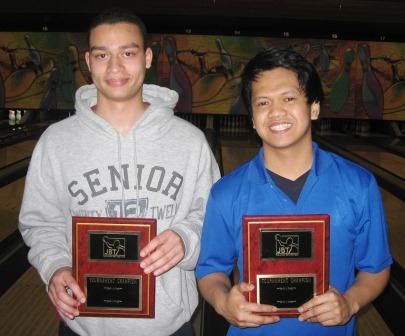 champs Anthony Douglas & Aldrin Oriza
Anthony Douglas and Aldrin Oriza took two decidedly different routes to victory in exciting JBT Pacific Northwest Conference action at beautiful Beaverton's Sunset Lanes.
The WTBA 'Atlanta' lane condition proved to be a very tough challenge for the bowlers, as a 175 average was enough to make it to the semifinals. Douglas already had his equipment in the car before he heard the cut number announced, and given a second chance he swept his matchplay opponents to sneak into the number 5 spot for the finals. He then began a climb up the ladder with a 190-160 win over Darren Stanley. Anthony then got by Tanner Spacey 209-178 in a match filled with Bowler of the Year implications. Douglas then beat John Jordan 226-179 to reach the title match.
Top seed Curtis Lindeman, a former Washington resident now living in Arizona, completed the incredible task of qualifying for all five Invitationals this season by totally dominating the tournament here. Unfortunately for him, he struggled in the title match, and Douglas took full advantage, winning the game 194-169 to capture not only the fourth title of his JBT career, but the points lead with five events to go.
Kelsey Abrahamsen, who would take over the handicap points lead by the end of the weekend, opened the handicap division stepladder finals with a 231-200 win over Connor Gracia. Kelsey then snuck past Hannah Abney 213-208, before a struggle of a semifinal with Samm Cosby, which ended in a 187 tie. Cosby won the rolloff 25-21 to advance to the title match.
In contrast with Douglas, top seed Aldrin Oriza led the event from wire to wire, but Samm was making her third straight top 5 appearance to match that momentum. Thus, something had to give, and I\in the end, Oriza finished strongly, pulling away for a 266-219 win, and the first title of his JBT career.
Breanne Mattson defeated Correen Lieber 208-173 to capture the day's Impact Bowling Women's Series title. She needs two more wins to qualify for the 2012 Girls TPC held this July.
Thanks to the whole crew at Sunset for a great job hosting our Tour. Over $1,400 in scholarships were awarded to bowlers of all averages and ages. There's still time to get in on the fun this season- check out our schedule, and come on down, it's as simple as that!
Sunset Lanes- final results and scholarship winners
4/21/2012
Scratch Division
rank
bowler

prize

1
Anthony Douglas
$215
2
Curtis Lindeman
$100
3
John Jordan
$85
4
Tanner Spacey
$50
5
Darren Stanley
$60
6
Tyler Stickler
$20
7
Josh Mullen
8
Andrew Heritage
9
Jeremy Witt
$15
10
Nick Bachteler
11
Jesse Covington
12
Patrick Hickok
13
Connor Jackley
14
Cortez Schenck
$60
15
Michael Paulson
16
Alex Earle
17
Thomas Nute
$15
18
Zach Hemming
$5
19
Correen Lieber
20
Tristan Curtis
$15
21
Jeffrey Holden
$45
22
Quinton Miller
$10
23
Breanne Mattson
24
Vince Bachteler
25
Ryan Nikolas
$100
26
Tanner Bouwens
27
Tyler Boe
28
Marina Stever
$15
29
Joey Huffman
30
Evan Pendergraft
31
Courtney Nikolas
32
Travis Smart
33
Kyler Crevier
34
Tyler Satter
Handicap Division
1
Aldrin Oriza
$200
2
Samm Cosby
$100
3
Kelsey Abrahamsen
$85
4
Hannah Abney
$100
5
Connor Gracia
$30
6
Sebastian Polhill
$20
7
Tommie McNeal
8
Molly Camosso
9
Becky Davidson
10
Bri Hemming
$45
11
Kimmie Satter
12
Max Polhill
13
Ally Paolo
14
Latoya Rogers
15
Tessa Friason
16
Aarika Paolo
17
Jake Mullen
18
Zane Hays
19
Brandon Drake
20
Melanie Miles
21
Matthew Yaw
22
Jamilah Ousley
$10
23
Michelle Jensen
24
David Scott
25
Kara Lieber
26
Nick Bruketta
27
Luke Jordan
28
Kjerstin Richards
29
Jonathan Oriza
30
Alexa Lanning
$5
31
Kyle Hays
32
Kevin Obrist
33
Brandon Myers
34
Kelley Moody
High Games
Scratch
Handicap
1
Jordan 255
Oriza 266
2
Jordan 246
Gacia 251
3
Spacey 235
Aarika Paolo 243
4
Stanley 234
Miles 243
5
Mullen 234
Cosby, Oriza 241
High Female
1
Lieber -121
2
Mattson -135*
3
Stever -168
4
Nikolas -176
5
Abrahamsen -181
Round Leaders
Scratch
Handicap
1
Mullen
Oriza
2
Lindeman
Oriza
3
Mullen
Oriza
4
Lindeman
Oriza
5
Lindeman
Oriza
6
Lindeman
Oriza
7
Lindeman
Oriza
8
Lindeman
Oriza
TOTAL AWARDED THIS EVENT: $1,405