TECH CITY BOWL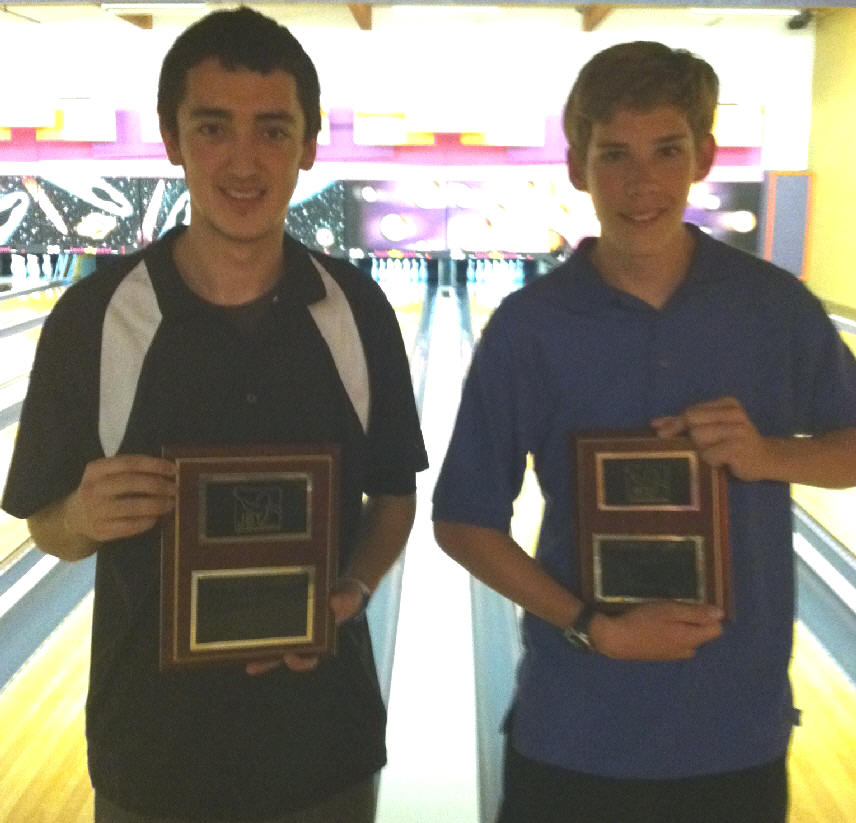 champs Marshall Kent & Kyle Nichols
Marshall Kent reasserted his dominance in scratch before leaving the Northwest, while rookie Kyle Nichols made a perfect debut in handicap, in exciting action at Kirkland's Tech City Bowl to open the 16th season of JBT competition.
Jeremy Witt opened the scratch division stepladder finals with a 199-161 win over Patrick Hickok. Alex Earle then edged Witt 185-182 when Jeremy missed a 10-pin in the tenth frame. Courtney Couch then showed she can hang with the guys just fine by beating Earle 208-154 to advance to the title match.
Top seed Kent pretty much lapped the field in what turned out to be a surprisingly demanding lane condition, but he found himself in a tight contest against Couch, and after nine frames they were all tied up. Marshall went 9-spare-strike in the tenth, forcing at least the same from Courtney. Unfortunately for Couch her first shot went high and got eight, giving Marshall the 188-184 win, and the eleventh title of his outstanding JBT career. Courtney was already a winner on the day, though, having beaten Danaka Heekin 167-148 in the Impact Bowling Women's Series title match, giving her the early lead for Pac NW female Bowler of the Year.
Becky Davidson began a climb up the handicap division stepladder with a 203-185 win over Samantha Smart. Becky then defeated her good friend Kelsey Abrahamsen 192-180. Toby Shepherd then stopped Davidson's run 191-177, advancing him to the championship game.
Top seed Nichols was the last man in the cut, then caught fire in the semis, charging all the way to the top seed. After Toby finished at 175, Kyle needed a 20-fill to win. He went ten better, striking out for the 186-175 win and the first title of his JBT career,
Thanks to the crew at Tech City for a great job hosting our Tour for the first time. Over $1,300 in scholarships were awarded to bowlers of all ages and averages. Want in on the fun? Check out our great schedule of events and come on out to the next JBT event!
Tech City Bowl- final results and optional scholarship winners
8/27/2011
Scratch Division
rank
name
prize
1
Marshall Kent
$275
2
Courtney Couch
$100
3
Alex Earle
$70
4
Jeremy Witt
$75
5
Patrick Hickok
$50
6
Thomas Nute
$30
7
Luke Jordan
$35
8
Evan Pendergraft
$20
9
Eddy Smith
10
Josh Mullen
$5
11
Brian Monnette
12
Jesse Covington
13
Kevin Tindell
14
Anthony Douglas
15
Cody Pike
16
Michael Paulson
17
Nick Bachteler
18
Tyler Stickler
19
Tyler Boe
$120
20
Kyler Crevier
21
Connor Jackley
22
Danaka Heekin
23
Brandon Dunson
24
Jacob Miller
25
Correen Lieber
26
Cortez Schenck
27
Tyler Satter
28
Tristan Curtis
29
Robby Davidson
30
Travis Smart
31
Carlton Johnson
32
Tessa Friason
33
Zach Hemming
34
Catherine Rawsthorne
35
Ricky Leighton
36
Caleb Hathaway
37
Quinton Miller
38
Sean Chesterfield
39
Alan Vancleeve
40
Ben Martin
41
Donnie Whipple
42
John Jordan
Handicap Division
rank
name
prize
1
Kyle Nichols
$200
2
Toby Shepherd
$100
3
Becky Davidson
$30
4
Kelsey Abrahamsen
$50
5
Samantha Smart
$20
5
Kjerstin Richards
7
Tylor Hale
8
Max Polhill
$30
9
Andy Herrmann
$60
10
Samm Cosby
11
Nicole Stickler
12
Nicole Egan
13
Candice Orm
$15
14
Zoe Mahn
$15
15
Aaron Althoff
16
Kara Lieber
17
Brett Scott Jr
18
Jordan Heard
19
David Scott
20
Connor Gracia
21
Sebastian Polhill
22
Andre Calipes
23
Hannah Abney
24
Bri Hemming
$15
25
Jacob Mullen
$5
26
Katie Elliott
27
Mitchell Barber
28
Sam Tse
29
Jamilah Ousley
30
Kyle Hays
$15
31
Sean Abrahamsen
Scratch High Games
Witt 258
Kent 258
Earle 255
Covington 246
A Douglas 243
Handicap High Games
Althofff 271
K Lieber 259
Davidson 237
Hale 235
K Richards 233
Round Leaders
Scratch
Handicap
A Douglas
Shepherd
A Douglas
Hale
Pendergraft
Hale
Pendergraft
Hale
Kent
Herrmann
Kent
Herrmann
Kent
Shepherd
Kent
Nichols
Women's Series
Couch -49*
Heekin -116
Richards -118
Lieber -137
Smart -165
TOTAL AWARDED THIS EVENT: $1,305