WEST SEATTLE BOWL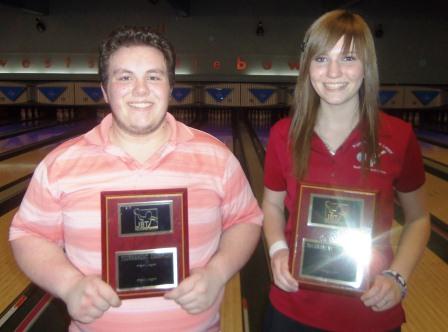 champs John Jordan & Kelsey Abrahamsen
John Jordan and Kelsey Abrahamsen captured big wins in exciting JBT Pacific Northwest Conference action at West Seattle Bowl.
Ryan Showalter opened the scratch division stepladder finals with a 222-201 win over Zach Hemming. Showalter then got by Tyler Boe 180-164. Jordan then stopped Showalter 184-156 to reach the title match.
Top seed Eddy Smith took over the lead in the last game of matchplay, but could not maintain his momentum on the tricky lane pattern. John, on a mission since recovering from an early season knee injury, came up with one of the highest games of the day in a 243-188 win over Smith, good for the second title of his JBT career.
Jamilah Ousley began the handicap division stepladder finals with a 198-185 win over Max Polhill. Ousley then ousted the other Polhill brother, Sebastian, in a 194-192 squeaker. Next up was her friend Kelsey Abrahamsen, and evidently neither one wanted to beat her friend, as they ended in a 210 tie. Kelsey won the rolloff 47-31 to advance to the title match. Top seed Tessa Friason beat Kelsey in the stepladder at Sunset last month, but here for the win Abrahamsen turned the tables, defeating Friason 185-183 for the title, the second of her JBT career, and a big boost for her Bowler of the Year run.
Correen Lieber beat Becky Davidson 220-194 to win the day's Impact Bowling Women's Series event, extending her Pac NW Girls Bowler of the Year lead.
Thanks as always to the WSB crew for hosting our event, which awarded over $1,200 in scholarships to bowlers of all averages and ages.
West Seattle Bowl- final results and scholarship winners
5/12/2012
Scratch Division
rank
bowler

prize

1
John Jordan
$200
2
Eddy Smith
$100
3
Ryan Showalter
$60
4
Tyler Boe
$75
5
Zach Hemming
$50
6
Josh Mullen
7
Jeremy Witt
$15
8
Cameron Weier
$105
9
Tanner Spacey
10
Tristan Curtis
$15
11
Robert Altieri
12
Michael Paulson
13
Correen Lieber
14
Quinton Miller
15
Kyler Crevier
16
Alex Earle
17
Vince Bachteler
18
Tyler Stickler
19
Patrick Hickok
20
Leea Haworth
21
Makayla Douglas
22
Breanne Mattson
23
Ben Martin
24
Connor Jackley
25
Nick Bachteler
26
Tyler Satter
27
Travis Smart
Handicap Division
1
Kelsey Abrahamsen
$200
2
Tessa Friason
$100
3
Jamilah Ousley
$75
4
Sebastian Polhill
$55
5
Max Polhill
$30
6
Becky Davidson
$50
7
Katelyn Norton-Hesser
$15
8
Connor Gracia
9
Kara Lieber
10
Samm Cosby
11
Anna Fuller
$15
12
Jonathan Oriza
13
Katrina Andersen
14
Nick Bruketta
$20
15
Bryson Parker
$30
16
Kjerstin Richards
17
Toby Shepherd
18
Bri Hemming
19
Kyle Hays
$15
20
Andre Calipes
21
David Scott
22
Bryan Switzer II
23
Josh Alvarez
24
Kimmie Satter
25
Tommie McNeal
26
Jordan Heard
$15
27
Zoe Mahn
28
Luke Jordan
29
Alexa Lanning
30
Jacob Mullen
31
Matt Althoff
32
Kyle Jonson
$15
33
Kevin Obrist
High Games
Scratch
Handicap
1
T Boe 256
Abrahamsen 249
2
Witt 247
M Polhill 247
3
Paulson 247
Norton-Hesser 244
4
Jordan 243
M Polhill 239
5
Smith 241
Friason 237
High Female
1
Lieber -90*
2
Davidson -95
3
Friason -101
4
Abrahamsen -127
5
Richards -145
Round Leaders
Scratch
Handicap
1
T Boe
Ousley
2
T Boe
Cosby
3
T Boe
Friason
4
T Boe
Friason
5
T Boe
Davidson
6
T Boe
Davidson
7
Showalter
Friason
8
Smith
Friason
TOTAL AWARDED THIS EVENT: $1,255