WEST SEATTLE BOWL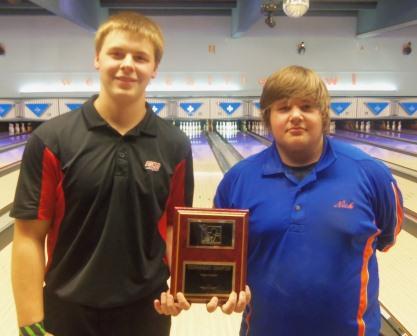 champs Tanner Spacey & Nick Bruketta
Tanner Spacey took a huge step towards Bowler of the Year, while Nick Bruketta tasted JBT victory for the first time, in exciting Pacific Northwest Conference action at West Seattle Bowl.
In our nervewracking 'survivor' format, players compete in low-bowler-out matches after the qualifying round. Scratch surivors were carved down to four, and in that round Marshall Kent defeated Josh Mullen 227-216, and Spacey ousted Alex Earle 190-184.
Kent, back for the summer after a Bowler of the Year season for Robert Morris University, was unable to slow down Tanner, in a three-way race for JBT Bowler of the Year honors. Tanner won the match 237-192, good for the fourth title of his JBT career.
Handicap survivors were also eventually cut down to the final four, and in those matches Bruketta got by red-hot Tessa Friason 227-213, while newcomer Matt Althoff beat Luke Jordan 251-221 to set up the title game.
In the final, Bruketta remained in control, eventually winning the game 230-207 for the first title of his JBT career.
Correen Lieber swept the weekend's Ipmpact Bowling Women's Series events with a 220-193 win over Makayla Douglas, her nearest Bowler of the Year competition.
Thanks again to the crew at West Seattle for hosting our event, which awarded over $1,500 in scholarships to bowlers of all averages and ages.
West Seattle Bowl- final results and scholarship winners
5/13/2012
Scratch Division
rank
bowler

prize

1
Tanner Spacey
$210
2
Marshall Kent
$290
3
Josh Mullen
$75
4
Alex Earle
$55
5
Makayla Douglas
$30
6
Anthony Douglas
$50
7
Eddy Smith
8
Jeremy Witt
9
Thomas Nute
10
Correen Lieber
11
Daniel Hanson
12
Tyler Stickler
13
Cameron Weier
$35
14
Tyler Boe
$15
15
Ryan Showalter
16
Vince Bachteler
17
Tristan Curtis
18
Michael Paulson
19
Travis Smart
20
John Jordan
$25
21
Tyler Satter
22
Patrick Hickok
$5
23
Brian Monnette
24
Courtney Couch
25
Quinton Miller
26
Breanna Mattson
27
Leea Haworth
28
Robert Altieri
29
Zach Hemming
30
Sam Burns
31
Darren Stanley
32
Kyler Crevier
33
Khalid Lucas
34
Ben Martin
35
Connor Jackley
Handicap Division
1
Nick Bruketta
$230
2
Tessa Friason
$100
3
Luke Jordan
$60
4
Matt Althoff
$40
5
Bryan Switzer II
$30
6
Katelyn Norton-Hesser
$35
7
Katrina Andersen
8
Anna Fuller
$30
9
Andre Calipes
10
Bryson Parker
11
Tommie McNeal
12
Becky Davidson
$30
13
Sebastian Polhill
$15
14
Zoe Mahn
$15
15
Jamilah Ousley
$15
16
Jonathan Oriza
$30
17
Josh Alvarez
18
Kelsey Abrahamsen
$15
19
Kimmie Satter
20
Samm Cosby
21
Bri Hemming
22
Aldrin Oriza
23
Kyle Jonson
24
Jacob Mullen
25
Kjerstin Richards
$15
26
Jordan Heard
$15
27
Andy Herrmann
28
Max Polhill
$15
29
David Scott
30
Connor Gracia
31
Alexa Lanning
32
Brandon Drake
33
Kyle Hays
34
Toby Shepherd
35
Tylor Hale
$15
36
Kara Lieber
High Games
Scratch
Handicap
1
Kent 279
Davidson 291
2
Hanson 267
Alvarez 290
3
Earle 258
Jordan 288
4
Mullen 256
Friason 278
5
3 tied with 255
Norton-Hesser 278
High Female
1
Douglas +77
2
C Lieber +29*
3
Friason -99
4
Davidson -99
5
C Couch -124
Round Leaders
Scratch
Handicap
1
V Bachteler
J Ousley
2
M Douglas
N Bruketta
3
M Kent
L Jordan
4
M Douglas
N Bruketta
5
J Mullen
B Parker
6
7
8
TOTAL AWARDED THIS EVENT: $1,495