WESTERN BOWL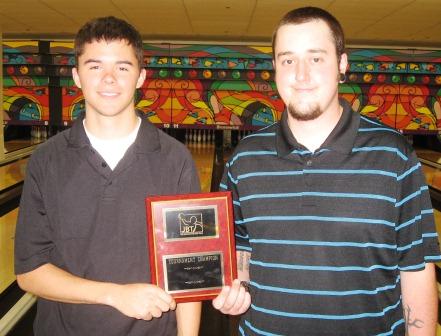 champs Marshal Morrison & Jeremiah Martin
Marshal Morrison and Jeremiah Martin each scored their first JBT victories in emphatic fashion, in exciting New Mexico - Texas Conference action at Amarillo's Western Bowl.
Tom Crites, who had one of the many high games of the day with a 296 effort in qualifying, opened up the scratch division stepladder finals with a 209-204 squeaker against points leader Nick Lee. Mason Edmondson, the previous day's champion in Lubbock, then defeated Crites 213-202. Morrison then struck in the tenth frame to oust Mason in a thriller 256-249 to advance to the title match.
Top seed Aaron Johnston fought fellow West Texas A&M teammate Morrison most of the day for the lead, but it was Marshal with the slightly better look in the title match, and the end result was a 223-202 win for Morrison, good for the first title of his JBT career. That was only part of the day's highlights for Morrison, as he tossed a perfect 300 game in the fifth game of qualifying as well- what a day for him! Ahkeen Williams scored the other perfecto of the surprisingly high scoring day.
Zachary Wojociechowski, fighting for an Invitational bye, began a climb up the handicap division stepladder finals with a 223-184 win over Steven Acuff, who extended his record for career handicap top-5 finishes. 'Wojo' then defeated Cerra Strickland 245-226, and followed with a 246-218 win over previous day's champ Nick Lloyd to move on to the title match.
It was a 'circle of life' title game, as top seed Jeremiah Martin, who lost to Lloyd (who had two previous second place finishes) the day before in Lubbock, now had a chance as a two-time runner-up himself to beat one-time runner up Zachary for his first win. It was quickly apparent that Martin would do just that, as he eventually strung the last eight strikes for a big 275-183 win over Wojociechowski for the first title of his JBT career.
Courtney Dutton ended a losing streak of her own, defeating top qualifier Christa Harvey 245-213 to captured the day's Impact Bowling Women's Series title. It's her third win, officially qualifying her for the 2012 Girls TPC this July in Las Vegas.
Thanks as always to the crew at Western for a wonderful job hosting our Tour. Over $1,400 in scholarships were earned by bowlers of all ages and averages- want in on the fun? Check out our schedule and come on out to the next JBT event, it's that simple!
Western Bowl
4/8/2012
Scratch Division
rank
bowler
prize
1
Marshal Morrison
$200
2
Aaron Johnston
$185
3
Mason Edmondson
$265
4
Tom Crites
$40
5
Nick Lee
$40
6
Christa Harvey
$20
7
Tim Crites
8
Michael Steele
$30
9
Sean Sadat
10
Caleb Goehring
11
Billy Read
$5
12
Cortez Schenck
13
Derek Acuff
14
Joe Lewandowski
15
Ahkeen Williams
16
Zak Edgerton
17
Braxton Williams
18
Courtney Dutton
19
Wendy Shelton
20
Aaron Foshie
21
Brandon Gill
22
Alex Schmieg
23
Hannah Stedman
24
Rachel Goehring
25
Matthew Synnett
$5
26
Chris Brown
27
Taylor Behpour
28
Levi Fintel
29
Ross Scroggins
30
Jacob Gill
31
Amber Robinson
32
Nick Sanchez
$10
33
Erin Kelley
Handicap Division
1
Jeremiah Martin
$230
2
Zachary Wojociechowski
$130
3
Nick Lloyd
$50
4
Cerra Strickland
$30
5
Steven Acuff
$20
6
Austin Thompson
$15
7
Trevor Thompson
$120
8
Shauna Bellman
9
Brandon Heckler
10
Charles Aikens
$15
11
Lindsey Sanchez
12
Kelly McNeil
13
Katie McNeil
14
Taylor Williams
15
Krysta LaRue
$15
16
Matteo Bergonzi
17
Katie Rush
18
Kristie Rush
19
Lacey Shelton
20
Kory Hetmer
21
Barrett Meigs
22
Audrey Campbell
23
Kymberli Shinault
24
Josh Demick
25
Priscilla Red
26
Jonah Seawright
High Games
Scratch
Handicap
1
Morrison 300
Lloyd 294
2
Williams 300
Martin 283
3
Tom Crites 15
Martin 275
4
Acuff 288
Strickland 265
5
Tim Crites 284
Lloyd 265
Acuff 265
High Female
1
Dutton +90
2
Stedman +48*
3
Schmieg +46
4
Harvey +16
5
Red -8
Round Leaders
Scratch
Handicap
1
Lewandowski
Martin
2
Morrison
Martin
3
Morrison
Martin
4
Johnston
Martin
5
Morrison
Martin
6
Morrison
Lee
7
Morrison
Lee
8
Johnston
Martin
TOTAL AWARDED THIS EVENT: $1,425