WILDFIRE LANES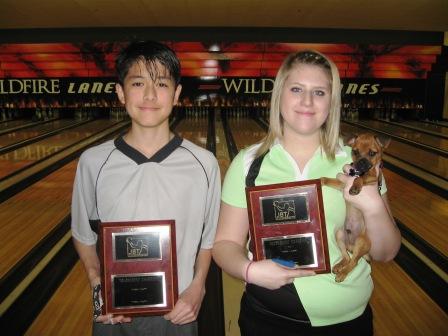 champs Cortez Schenck & Alexis Atkin (and Harley)
12 year-old Cortez Schenck became the youngest scratch division champion in JBT history, while Alexis Atkin climbed the ladder for some personal history, in exciting JBT Mojave Conference action at Henderson's Wildfire Lanes.
Chase Nadeau opened the scratch division stepladder finals with a 201-193 win over Dan Hansen, who is continuing a hot streak since December. Arizona's Kyle Karpovich then defeated Nadeau 236-191, and followed with a 225-203 win over always-tough Jakob Butturff to reach the title game.
That Schenck could lead a scratch event at his age is no surprise to anyone who follows our Tour. Though some folks seem to obsess over age being the deciding factor in youth events, our talented younger bowlers constantly prove that to be a misconception- perhaps, ironically, because of the very fact that in JBT they get to truly test and sharpen their skill against older kids up to age 22. "Tez" had the lead early and regained it heading into the finals, and bowled a close match with a determined Karpovich, who is having his best scratch JBT season by far. After Schenck finished at 210 (after converting a 4-5 in the tenth), he could barely watch as Kyle, needing a strike to win, left a heartbreaking 10-pin, giving Cortez the 216-210 win and the win, the fourth of his already great career. He breaks Stephen Gaucin's JBT record as the youngest scratch winner, and the sky's the limit for this talented bowler.
Alexis Atkin opened the handicap division stepladder finals with the closest of wins, getting the 7-count she needed on the fill ball for a 183-182 win over Kevin Mette. Atkin appeared to gain momentum from there, getting past Megan Carlson 227-184, and following with a 222-192 victory over Nathan Hanuscin to advance to the title game.
Top seed Joe Gerencser bounced back from a sub-par outing the day before by leading the event here, but struggled in the title match. Atkin opened with a triple to put the game away early, eventually winning 236-168 for the title. She won her forst title in the AZ Team event in December, and now notches her first singles win just over a month later!
Carlson's fourth place finish was just part of a great day for her, as she captured the day's Impact Bowling Women's Series event with a 183-167 win over Savannah Carr, the first of three wins she needs to qualify for the Girls TPC this July. She also won teh Ebonite bowling ball raffle, and nearly swept the brackets for a pretty sweet day!
Thanks to the crew at Wildfire for a great job hosting the JBT for the first time. If you haven't been to this center since it was Sunset Bowl, come check it out, it is a beautiful place! Over $1,100 in scholarships were awarded to bowlers of all averages- want in on the fun? Check out our schedule at www.bowljbt.com, and come on down, it's that simple!
Wildfire Lanes- final results and optional scholarship winners
1/22/2012
Scratch Division
rank
name
prize
1
Cortez Schenck
$200
2
Kyle Karpovich
$180
3
Jakob Butturff
$60
4
Chase Nadeau
$40
5
Dan Hansen
$30
6
Eric Hatchett
7
Jordan Katz
8
Derek Acuff
9
Jordan Ferrer
10
Nick Pollak
11
Zack Hattori
12
Cameron Smith
$15
13
Joe Lewandowski
14
Ian Hanuscin
15
Mark Curtis
16
Mark Caparas
17
Mark Myers
18
Riley Dempsey
19
Marina Stever
20
Curtis Lindeman
21
Matt Brazeal
22
Isaiah Cleveland
23
Derek Iozzio
$5
24
Dayton Martin
25
Ryan Warshefski
26
Leah Glazer
27
Mike Garcia
Handicap Division
rank
name
prize
1
Alexis Atkin
$200
2
Joe Gerencser
$100
3
Nathan Hanuscin
$60
4
Megan Carlson
$190
5
Kevin Mette
$20
5
Brandon Duffy
7
Gabriella Weis
8
Randi Speiler
$15
9
Justin Villa
10
Matt Dragovich
$5
11
Douglas Csanyi
12
Brooke Martinez
13
Savannah Carr
$15
14
KJ Martinez
15
Spencer Brown
16
Kyli Selley
17
Shelby Dempsey
18
Aaron Watkins
19
Andrew Guba
20
Jeremy Cardines
21
Veronica Schleicher
22
Cerell Cardines
23
Jake Bryan
24
Marguerite Evans
25
Josh Liebowitz
26
Shauna Schultz
27
Jason Pappas
28
Michael Butz
29
Steven Acuff
30
David Galvan
Scratch High Games
Schenck 248
D Hansen 248
Karpovich 247
Hatchett 246
Hatchett 244
Handicap High Games
Csanyi 283
Mette 261
Atkin 250
Carr 248
Gerencser 245
Round Leaders
Scratch
Handicap
Ferrer
Gerencser
Schenck
Csanyi
Schenck
Csanyi
Karpovich
Duffy
Karpovich
Carlson
Hatchett
Gerencser
Schenck
N Hanuscin
Schenck
Gerencser
Women's Series
Carlson -56*
Call -76
Speiler -83
Atkin -89
Stever -109
TOTAL AWARDED THIS EVENT: $1,135