Shake, Rattle, & Bowl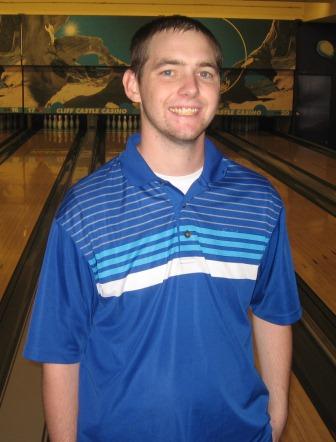 champ Mark Myers
Mark Myers put on a clinic on why you never give up, capturing his ninth career JBT title in the debut of the 'battle bag' format in exciting Arizona Conference action.
In battle bag, after a five game qualifier (this time contested on two different lane conditions to make it even tougher), the top scorers advanced to 3-out-of-5 matchplay, where the winner of each game got to remove a ball from his opponent's bag, meaning they couldn't use that ball the rest of the match. That led to an amazing amount of strategy as to which balls bowlers started with, and which balls to eliminate, adding a terrific element to the tournament!
Myers qualified as the #14 seed, then steamrolled past #3 Kyle Karpovich, #11 Kyle Duster, and #2 Curtis Lindeman to reach the title match. The always-tough Cameron Smith emerged as his opponent, having ousted #13 Savannah Carr, #5 Joe Lewandowski, and top seed Ben Canfield to get there.
The one-game, one-ball title match looked to be all Smith, as he built up a 50+ pin lead after five frames. But the rest of the game was all Myers, as he struck out from there, while Smith couldn't catch another double, and the result was a 203-194 win for Mark in dramatic comeback fashion.
Carr, who pushed Smith all the way in their match, beat Kristen Lee to win the day's Impact Bowling Women's Series match, the first of three she'll need to qualify for the 2013 Girls TPC next summer.
Thanks as always to Cliff Castle for hosting our Tour!
Cliff Castle- final results and scholarship winners
9/3/2012
Scratch Division
rank
bowler
prize
1
Mark Myers
$200
2
Cameron Smith
$110
3
Ben Canfield
$50
4
Curtis Lindeman
$30
5
Joe Lewandowski
$48
6
Jakob Butturff
7
Cortez Schenck
$24
8
Kyle Duster
9
Kyle Karpovich
$55
10
Oscar Chan
$42
11
Austin Thompson
$42
12
Tyler Satter
13
Carter O'Neal
14
Savannah Carr
15
Steven Acuff
16
Danny Varholdt
17
Derek Acuff
18
Kristen Lee
19
Alexis Atkin
20
Trevor Thompson
21
Marina Stever
22
Austin Schleidt
$5
23
Joshua Franz
24
Elyi Stocks
25
Megan Carlson
High Games
Scratch
1
Butturff 267
2
Smith 255
3
Lindeman 237
4
Butturff 236
5
Myers 235
High Female
1
Carr -148*
2
Lee -218
3
Atkin -228
4
Stever -243
5
Carlson -851
Round Leaders
Scratch
1
Karpovich
2
Chan
3
Canfield
4
Canfield
5
Canfield
Total Awarded This Event: $596