2013 TOURING PLAYERS' CHAMPIONSHIP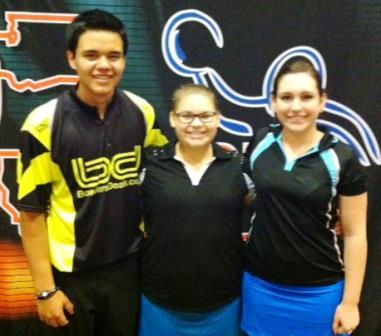 champs Bobby Hornacek, Shauna Schultz, and Correen Lieber
Bobby Hornacek, Shauna Schultz, and Coreen Lieber earned the biggest titles of their JBT careers, capturing their divisions of the 2013 JBT Touring Players Championship, hosted by Strike Zone at Sunset Station.
Bowlers in both divisions were challenged by ten games of qualifying on two tough patterns, followed by five matchplay games on a third, with the top ten advancing to eight more games of matchplay on a fourth. In the scratch division the Pac NW Conference shone brightly yet again, with three of the four stepladder finalists representing that always-tough region. The finals began with Daniel Hanson, the 2012-13 Pac NW Bowler of the Year, defeating 2013 Pac NW Invitational champ Perry Crowell IV, 217-195, in the final performance of Crowell's outstanding JBT career. California's Bobby Hornacek, the lone non-northwesterner, then defeated Hanson 224-183, to move on to the title game.
Tanner Spacey, the 11-12 Pac NW Bowler of the Year, fired a 300 game Sunday morning to leap into contention, regrabbing the top seed midway through the afternoon matchplay. Both bowlers competed extremely well on the brutal lane pattern, but a solid-10 in Spacey's eighth frame proved to be the difference, as Bobby put together the most impressive game of his JBT career, eventually winning 237-216 for the championship and $2,000 first prize.
Another California bowler, Shauna Schultz, begin the stepladder finals with a 228-202 win over New Mexico's Alyssa Williams. Schultz then got by fellow Californian Leah Zweig, 203-187, earning the right to play another So Cal bowler for the title, top seed James McGough of Chula Vista.
McGough finished second in the Top Dawg side event, signaling he could be in for a good TPC, and the signals were accurate, as he had the best event of his JBT career, hanging on to the lead for most of the event. However, the veteran Schultz was on a mission, and she bowled a confident game in the title match to win the game 213-185, earning her 4th career JBT title, 2nd major, and the $2,000 top prize.
Correen Lieber kept her late season momentum going, defeating Makayla Douglas 247-194, and then top seed Sara Vargas 206-176, to earn the Girls TPC title, and $400 from Impact Bowling. After having trouble finishing off wins in the past, Lieber has now won the Pac NW Girls Invitational, the Summer Masters, and the Girls TPC in the last month!
Congratulations to each of the 174 bowlers that qualified, only 7% of the Tour, and the 144 who made the trip to attend. Over $18,000 in scholarships were awarded to the field! Do you want to bowl in the most prestigious event of the year next season? Check out our schedule, and don't miss any of the great JBT action in 2013-14!
TPC- final results and scholarship winners
7/28/2013
SCRATCH
rank
bowler
1
Hornacek, Bobby
$2,000
2
Spacey, Tanner
$1,100
3
Hanson, Daniel
$965
4
Crowell, Perry
$445
5
Leong, Dallas
$390
6
Cobine, Danny
$275
7
King, Kyle
$480
8
Schenck, Cortez
$380
9
Boe, Tyler
$175
10
Stanley, Darren
$215
11
Smith, Cameron
$230
12
Smith, Eddy
$100
13
Monnette, Brian
$195
14
Valleau, Shane
$100
15
Butturff, Jakob
$295
16
Lindeman, Curtis
$50
17
Sweigart, Harley
$235
18
Chan, Oscar
$200
19
Canfield, Ben
$30
20
Dempsey, Riley
$40
21
Lieber. Correen
$400
22
Jackley, Connor
23
Vargas, Sara
24
Thompson, Austin
$60
25
Myers, Brandon
$75
26
Sims, Justin
27
Hatchett, Eric
28
Acuff, Derek
$240
29
Witt, Jeremy
30
Pollak, Nick
$40
31
Myers, Mark
32
Duster, Kyle
33
Nikolas, Ryan
$115
34
Nute, Thomas
$130
35
Douglas, Makayla
$100
36
Lewandowski, Joe
37
Devlin, Nick
$15
38
Varholdt, Danny
39
Holley, Luke
$30
40
Curtis, Tristan
$45
41
Russom, Branodn
42
Sanchez, Nick
43
Williams, Ahkeen
$175
44
Peyton, Jamison
45
Jordan, John
$20
46
Stever, Marina
47
Cardines, Jeremy
$10
48
Vargas, Bree
$70
49
Hemming, Zach
$10
50
Mullen, Josh
$135
51
Jordan, Luke
52
Watanabe, Alex
53
Chui, Kirk
$45
54
Wanders, Brandon
55
Satter, Tyler
56
Mattson, Breanne
57
Tripi, Anthony
$10
58
Kolatzny, Brittany
59
Wojciechowki, Zach
60
Zweig, Matt
61
Camacho, Jacob
62
Wahner, Adel
63
Lucente, Teddy
x
Schultz, Courtney
$75
x
Nikolas, Courtney
$60
x
Hattori, Zach
$20
HANDICAP
rank
bowler
1
Schultz, Shauna
$2,060
2
McGough, James
$1,175
3
Zweig, Leah
$500
4
Williams, Alyssa
$445
5
Cardines, Cerell
$300
6
Benton, Nikita
$215
7
Shishima, Kylie
$360
8
Lindsey, Brendan
$140
9
Shepherd, Toby
$415
10
Lanning, Alexa
$225
11
Demick, Josh
$177
12
Jennings, Jerry
$315
13
Jordan, Rashaad
$100
14
Cosby, Samm
$100
15
Rock, TJ
$210
16
Polhill, Sebastian
$250
17
Kelly, Theresa
18
Speiler, Randi
$15
19
Basher, Riley
$60
20
Andrews, Kennison
$75
21
Martinez, Noah
22
Pineda, Crystal
23
McNeil, Kelly
24
Goad, Kayla
25
Gardner, Candace
26
Mullen, Jake
$60
27
Rapp, Zachary
$60
28
Lieber, Kara
29
Abrahamsen, Kelsey
$45
30
Carr, Savannah
31
Fasting, Amelia
$52
32
Glazer, Leah
33
Carlson, Megan
$190
34
Condon, Nick
35
Goad, Kayla
36
Alvarez, Josh
$100
37
Hetmer, Kory
$5
38
Andrews, Kyle
$45
39
Thompson, Trevor
40
Dang, Anthony
$30
41
Atkin, Alexis
$320
42
Sellers, Samantha
$15
43
Fung, Keith
$220
44
Martinez, KJ
45
Ma, Michael
$20
46
Finkler, Kevin
$30
47
Atkin, Alexis
48
Couch, Elisa
49
Hemming, Bri
$28
50
Jensen, Michelle
51
Sanchez, Lindsey
$5
52
Polhill, Max
53
Evans, Marguerite
54
Obrist, Kevin
55
Jonson, Kyle
$100
56
Condon, Nick
57
Martinez, Brooke
$52
58
Martinez, KJ
$70
59
McNeil, Katie
60
Dang, Anthony
61
Dempsey, Shelby
$80
62
Seawright, Jonah
$68
63
Lee, Kristen
$52
64
Gracia, Conor
65
Acuff, Steven
66
Strickland, Cerra
67
Huffman, Joey
$100
68
Nagamine, Casey
69
Gerencser, Joe
70
Thompson, Trevor
71
Carlson, Megan
72
Dvorak, Rance
$60
73
Hendrickson, Talon
74
Galvan, David
$15
75
Bruketta, Nick
76
Harvey, Zach
$15
77
Hays, Kyle
78
Harvey, Brad
$30
79
Herrmann, Andy
x
Leggett, Johnny
$110
x
Purdy, Alayna
$60
GIRLS' TPC
rank
bowler
1
Lieber, Correen
$400
2
Vargas, Sara
$100
3
Douglas, Makayla
4
Schultz, Courtney
5
Stever, Marina
6
Vargas, Bree
7
Speiler, Randi
8
Nikolas, Courtney
9
Carr, Savannah
10
Goad, Kayla
11
Atkin, Alexis
12
Kolatzny, Brittany
13
Wahner, Adel
14
Carlson, Megan
THURSDAY SWEEPER SCRATCH
rank
bowler
1
Chan, Oscar
760
$200
2
Alvarez, Josh
741
$100
3
Hanson, Daniel
694
$60
4
Acuff, Derek
693
$40
5
Smith, Cameron
683
$20
THURSDAY SWEEPER HANDICAP
rank
bowler
1
Shepherd, Toby
752
$200
2
Huffman, Joey
717
$100
3
Leggett, Johnny
709
$60
4
Jennings, Jerry
705
$40
5
Harvey, Brad
697
$30
FRIDAY SWEEPER SCRATCH
rank
bowler
1
Hanson, Daniel
683
$300
2
Butturff, Jakob
658
$150
3
Smith, Cameron
655
$100
4
Myers, Brandon
642
$75
5
Leong, Dallas
630
$60
6
Mullen, Josh
629
$40
7
Canfield, Ben
622
$30
8
Monnette, Brian
621
$30
9
Stanley, Darren
619
$20
10
Hattori, Zack
615
$20
FRIDAY SWEEPER HANDICAP
rank
bowler
1
Atkin, Alexis
660
$300
2
Polhill, Sebastian
647
$150
3
Carlson, Megan
638
$100
4
Fasting, Amelia
633
$52
5
Lee, Kristen
633
$52
6
Martinez, Brooke
633
$52
7
Demick, Josh
633
$52
8
Jennings, Jerry
631
$30
9
Hemming, Bri
626
$20
10
Leggett, Johnny
623
$10
10
Atkin, Alexis
623
$10
TOP DAWG SCRATCH
rank
bowler
1
Acuff, Derek
$200
2
Nikolas, Ryan
$100
3
Sweigart, Harley
$60
3
Cobine, Danny
$60
5
Mullen, Josh
$40
5
Pollak, Nick
$40
5
Chui, Kirk
$40
5
Dempsey, Riley
$40
TOP DAWG HANDICAP
rank
bowler
1
Fung, Keith
$200
2
McGough, James
$100
3
Basher, Riley
$60
3
Purdy, Alayna
$60
5
Jennings, Jerry
$40
5
Leggett, Johnny
$40
5
Dempsey, Shelby
$40
5
Martinez, KJ
$40
DECA GAME SCRATCH
rank
bowler
1
Spacey, Tanner
236
$70
2
Nute, Thomas
220
$40
3
Stanley, Darren
213
$30
4
Monnette, Brian
209
$20
5
Vargas, Bree
206
$10
6
Sweigart, Harley
205
$5
7
Chui, Kirk
205
$5
DECA GAME HANDICAP
rank
bowler
1
Carlson, Megan
255
$60
2
Shepherd, Toby
236
$40
3
Dvorak, Rance
235
$25
4
Rapp, Zachary
231
$15
5
Atkin, Alexis
220
$10
SECOND CHANCE SCRATCH
rank
bowler
1
Williams, Ahkeen
865
$100
2
Vargas, Bree
794
$60
3
Mullen, Josh
782
$40
4
Jordan, John
775
$20
5
Tripi, Anthony
754
$10
Hemming, Zach
754
$10
SECOND CHANCE HANDICAP
rank
bowler
1
Jonson, Kyle
835
$100
2
Seawright, Jonah
824
$60
3
Dempsey, Shelby
822
$40
4
Finkler, Kevin
816
$30
5
Ma, Michael
800
$20
TOTAL AWARDED THIS EVENT: $18,954
*********************************************
FINAL LIST OF TPC QUALIFIERS:
Name
Abrahamsen, Kelsey
Acuff, Derek
Acuff, Steven
Alvarez, Josh
Andrews, Kennison
Andrews, Kyle
Atkin, Alexis
Basher, Riley
Benavidez, Alex
Benton, Nikita
Boe, Tyler
Bouder, Zahn
Brown, Chris
Bruketta, Nick
Butturff, Jakob
Camacho, Jacob
Canfield, Ben
Cardines, Cerell
Cardines, Jeremy
Carlson, Megan
Carnate, Lanndyn
Carr, Savannah
Chan, Oscar
Chui, Kirk
Cobine, Danny
Condon, Nick
Cosby, Samm
Couch, Elisabeth
Coyle, Gillian
Crowell, Perry IV
Curtis, Tristan
Dang, Anthony
Delegarito, Gerilynn
Demick, Josh
Dempsey, Riley
Dempsey, Shelby
Devlin, Nick
Diaz, Sophie
Douglas, Makayla
Duran, Nathaniel
Duster, Kyle
Dvorak, Rance
Edmondson, Mason
Ellis, Morgan
Evans, Marguerite
Fasting, Amelia
Finkler, Kevin
Franz, Joshua
Fung, Keith
Galvan, David
Gardner, Candace
Gerencser, Joe
Gill, Brandon
Gill, Jacob
Glazer, Leah
Goad, Kayla
Gracia, Connor
Green, Matthew
Hanson, Daniel
Harvey, Brad
Harvey, Zach
Hatchett, Eric
Hays, Kyle
Helmick, Josh
Helmick, Matt
Hemming, Bri
Hemming, Zach
Hendrickson, Talon
Herrmann, Andy
Hetmer, Kory
Hilton, Jake
Holley, Luke
Hornacek, Bobby
Huffman, Joey
Jackley, Connor
Jenkins, Michelle
Jennings, Jerry
Jensen, Michelle
Jones, Kevin
Jonson, Kyle
Jordan, John
Jordan, Luke
Jordan, Rashaad
Kelly, Theresa
King, Kyle
Kolatzny, Brittany
Lang, Jacob
Lanning, Alexa
Lee, Kristen
Leong, Dallas
Lewandowski, Joe
Lewandowski, Zach
Lieber, Correen
Lieber, Kara
Lindeman, Curtis
Lindsey, Brendan
Lloyd, Nick
Low, Wesley
Lucente, Teddy
Lusher, Donovin
Ma, Michael
Majeske, Sven
Martin, Jeremiah
Martinez, Brooke
Martinez, KJ
Martinez, Noah
Mattson, Breanne
McGough, James
McNeil, Katie
McNeil, Kelly
Miller, Quinton
Monnette, Brian
Mullen, Jake
Mullen, Josh
Myers, Brandon
Myers, Mark
Nagamine, Casey
Nikolas, Ryan
Nute, Thomas
Obrist, Kevin
Pappas, Jason
Pellegrino, Alex
Peyton, Jamison
Pineda, Crystalene
Polhill, Max
Polhill, Sebastian
Pollak, Nick
Ponzo, Kyle
Potter, Samantha
Rapp, Zachary
Rock, TJ
Romleski, Trenton
Russom, Brandon
Sanchez, Lindsey
Sanchez, Nick
Satter, Tyler
Schenck, Cortez
Schultz, Shauna
Seawright, Jonah
Sellers, Samantha
Shepherd, Toby
Shishima, Kylie
Sims, Justin
Smith, Cameron
Smith, Eddy
Spacey, Tanner
Speiler, Randi
Stanley, Darren
Stedman, Olivia
Stever, Marina
Strickland, Cerra
Sweigart, Harley
Thompson, Austin
Thompson, Trevor
Tripi, Anthony
Valleau, Shane
Vargas, Bree
Vargas, Sara
Varholdt, Danny
Wahner, Adel
Wanders, Brandon
Watanabe, Alex
Watkins, Aaron
Weis, Gabriella
Williams, Ahkeen
Williams, Alyssa
Williams, Braxton
Witt, Jeremy
Wojciechowski, Zach
Yamamoto, Aaron
Yoder, William
Zuni, Isziah
Zweig, Leah
Zweig, Matt
How they got there:
| | |
| --- | --- |
| Name | Qualified via: |
| Abrahamsen, Kelsey | Pac NW Handicap Points |
| Abrahamsen, Kelsey | All-Conf Handicap Points |
| Acuff, Derek | AZ Scratch Points |
| Acuff, Derek | Mojave Scratch Points |
| Acuff, Derek | NM-TX Scratch Points |
| Acuff, Derek | So Cal Scratch Points |
| Acuff, Derek | All-Conf Scratch Points |
| Acuff, Steven | All-Conf Handicap Points |
| Alvarez, Josh | Pac NW Handicap Points |
| Alvarez, Josh | All-Conf Handicap Points |
| Andrews, Kennison | So Cal Handicap Points |
| Andrews, Kennison | All-Conf Handicap Points |
| Andrews, Kyle | So Cal Handicap Points |
| Andrews, Kyle | All-Conf Handicap Points |
| Atkin, Alexis | AZ Handicap Points |
| Atkin, Alexis | Mojave Handicap Points |
| Atkin, Alexis | NM-TX Handicap Points |
| Atkin, Alexis | So Cal Handicap Points |
| Atkin, Alexis | All-Conf Handicap Points |
| Basher, Riley | Pac NW Handicap Points |
| Basher, Riley | All-Conf Handicap Points |
| Benavidez, Alex | NM-TX Handicap Points |
| Benton, Nikita | Pac NW Handicap Points |
| Benton, Nikita | All-Conf Handicap Points |
| Boe, Tyler | Pac NW Scratch Points |
| Boe, Tyler | All-Conf Scratch Points |
| Bouder, Zahn | Mojave Handicap Points |
| Brown, Chris | NM-TX Scratch Points |
| Brown, Chris | All-Conf Scratch Points |
| Bruketta, Nick | Pac NW Handicap Points |
| Bruketta, Nick | All-Conf Handicap Points |
| Butturff, Jakob | AZ Scratch Points |
| Butturff, Jakob | Mojave Scratch Points |
| Butturff, Jakob | So Cal Scratch Points |
| Butturff, Jakob | All-Conf Scratch Points |
| Camacho, Jacob | So Cal Scratch Points |
| Camacho, Jacob | All-Conf Scratch Points |
| Canfield, Ben | AZ Scratch Points |
| Canfield, Ben | Mojave Scratch Points |
| Canfield, Ben | So Cal Scratch Points |
| Canfield, Ben | All-Conf Scratch Points |
| Cardines, Cerell | Mojave Handicap Points |
| Cardines, Cerell | All-Conf Handicap Points |
| Cardines, Jeremy | Mojave Scratch Points |
| Carlson, Megan | AZ Handicap Points |
| Carlson, Megan | Mojave Handicap Points |
| Carlson, Megan | So Cal Handicap Points |
| Carlson, Megan | All-Conf Handicap Points |
| Carnate, Lanndyn | AZ Scratch Points |
| Carnate, Lanndyn | All-Conf Scratch Points |
| Carr, Savannah | All-Conf Handicap Points |
| Chan, Oscar | AZ Scratch Points |
| Chan, Oscar | Mojave Scratch Points |
| Chan, Oscar | So Cal Scratch Points |
| Chan, Oscar | All-Conf Scratch Points |
| Chui, Kirk | So Cal Scratch Points |
| Chui, Kirk | All-Conf Scratch Points |
| Cobine, Danny | NM-TX Scratch Points |
| Cobine, Danny | All-Conf Scratch Points |
| Condon, Nick | So Cal Handicap Points |
| Condon, Nick | All-Conf Handicap Points |
| Cosby, Samm | Pac NW Handicap Points |
| Cosby, Samm | All-Conf Handicap Points |
| Couch, Elisabeth | Pac NW Handicap Points |
| Couch, Elisabeth | All-Conf Handicap Points |
| Coyle, Gillian | AZ Handicap Points |
| Crowell, Perry | All-Conf Scratch Points |
| Curtis, Tristan | All-Conf Scratch Points |
| Dang, Anthony | AZ Handicap Points |
| Dang, Anthony | Mojave Handicap Points |
| Dang, Anthony | So Cal Handicap Points |
| Dang, Anthony | All-Conf Handicap Points |
| Delegarito, Gerilynn | NM-TX Handicap Points |
| Demick, Josh | NM-TX Handicap Points |
| Dempsey, Riley | AZ Scratch Points |
| Dempsey, Riley | All-Conf Scratch Points |
| Dempsey, Shelby | AZ Handicap Points |
| Dempsey, Shelby | All-Conf Handicap Points |
| Devlin, Nick | Pac NW Scratch Points |
| Devlin, Nick | All-Conf Scratch Points |
| Diaz, Sophie | NM-TX Handicap Points |
| Diaz, Sophie | All-Conf Handicap Points |
| Douglas, Makayla | Pac NW Scratch Points |
| Douglas, Makayla | All-Conf Scratch Points |
| Duran, Nathaniel | NM-TX Handicap Points |
| Duster, Kyle | So Cal Scratch Points |
| Duster, Kyle | All-Conf Scratch Points |
| Dvorak, Rance | So Cal Handicap Points |
| Dvorak, Rance | All-Conf Handicap Points |
| Edmondson, Mason | NM-TX Scratch Points |
| Edmondson, Mason | All-Conf Scratch Points |
| Ellis, Morgan | NM-TX Handicap Points |
| Ellis, Morgan | All-Conf Handicap Points |
| Evans, Marguerite | Mojave Handicap Points |
| Evans, Marguerite | So Cal Handicap Points |
| Evans, Marguerite | All-Conf Handicap Points |
| Fasting, Amelia | NM-TX Handicap Points |
| Finkler, Kevin | Mojave Handicap Points |
| Finkler, Kevin | All-Conf Handicap Points |
| Franz, Joshua | Mojave Handicap Points |
| Franz, Joshua | All-Conf Handicap Points |
| Fung, Keith | AZ Handicap Points |
| Fung, Keith | All-Conf Handicap Points |
| Galvan, David | Mojave Handicap Points |
| Galvan, David | All-Conf Handicap Points |
| Gardner, Candace | AZ Handicap Points |
| Gerencser, Joe | Mojave Handicap Points |
| Gerencser, Joe | All-Conf Handicap Points |
| Gill, Brandon | NM-TX Scratch Points |
| Gill, Brandon | All-Conf Scratch Points |
| Gill, Jacob | NM-TX Scratch Points |
| Glazer, Leah | Mojave Handicap Points |
| Glazer, Leah | All-Conf Handicap Points |
| Goad, Kayla | AZ Handicap Points |
| Goad, Kayla | So Cal Handicap Points |
| Goad, Kayla | All-Conf Handicap Points |
| Gracia, Connor | Pac NW Handicap Points |
| Gracia, Connor | All-Conf Handicap Points |
| Green, Matthew | So Cal Handicap Points |
| Hanson, Daniel | Pac NW Scratch Points |
| Hanson, Daniel | All-Conf Scratch Points |
| Harvey, Brad | NM-TX Handicap Points |
| Harvey, Zach | NM-TX Handicap Points |
| Hatchett, Eric | AZ Scratch Points |
| Hatchett, Eric | Mojave Scratch Points |
| Hatchett, Eric | So Cal Scratch Points |
| Hatchett, Eric | All-Conf Scratch Points |
| Hays, Kyle | Pac NW Handicap Points |
| Helmick, Josh | NM-TX Scratch Points |
| Helmick, Josh | All-Conf Scratch Points |
| Helmick, Matt | NM-TX Scratch Points |
| Hemming, Bri | Pac NW Handicap Points |
| Hemming, Bri | All-Conf Handicap Points |
| Hemming, Zach | Pac NW Scratch Points |
| Hemming, Zach | All-Conf Scratch Points |
| Hendrickson, Talon | Mojave Handicap Points |
| Hendrickson, Talon | All-Conf Handicap Points |
| Herrmann, Andy | Pac NW Handicap Points |
| Herrmann, Andy | All-Conf Handicap Points |
| Hetmer, Kory | NM-TX Handicap Points |
| Hetmer, Kory | All-Conf Handicap Points |
| Hilton, Jake | AZ Handicap Points |
| Hilton, Jake | All-Conf Handicap Points |
| Holley, Luke | So Cal Scratch Points |
| Holley, Luke | All-Conf Scratch Points |
| Hornacek, Bobby | So Cal Scratch Points |
| Hornacek, Bobby | All-Conf Scratch Points |
| Huffman, Joey | Pac NW Handicap Points |
| Huffman, Joey | All-Conf Handicap Points |
| Jackley, Connor | Pac NW Scratch Points |
| Jackley, Connor | All-Conf Scratch Points |
| Jenkins, Michelle | AZ Handicap Points |
| Jennings, Jerry | Pac NW Handicap Points |
| Jennings, Jerry | All-Conf Handicap Points |
| Jensen, Michelle | Pac NW Handicap Points |
| Jensen, Michelle | All-Conf Handicap Points |
| Jones, Kevin | So Cal Scratch Points |
| Jonson, Kyle | Pac NW Handicap Points |
| Jonson, Kyle | All-Conf Handicap Points |
| Jordan, John | Pac NW Scratch Points |
| Jordan, John | All-Conf Scratch Points |
| Jordan, Luke | Pac NW Scratch Points |
| Jordan, Luke | All-Conf Scratch Points |
| Jordan, Rashaad | AZ Handicap Points |
| Kelly, Theresa | Pac NW Handicap Points |
| King, Kyle | AZ Scratch Points |
| King, Kyle | All-Conf Scratch Points |
| Kolatzny, Brittany | So Cal Scratch Points |
| Lang, Jacob | NM-TX Handicap Points |
| Lanning, Alexa | Pac NW Handicap Points |
| Lanning, Alexa | All-Conf Handicap Points |
| Lee, Kristen | AZ Handicap Points |
| Lee, Kristen | All-Conf Handicap Points |
| Leong, Dallas | Mojave Scratch Points |
| Leong, Dallas | All-Conf Scratch Points |
| Lewandowski, Joe | AZ Scratch Points |
| Lewandowski, Joe | All-Conf Scratch Points |
| Lewandowski, Zach | AZ Handicap Points |
| Lewandowski, Zach | All-Conf Handicap Points |
| Lieber, Correen | Pac NW Scratch Points |
| Lieber, Correen | All-Conf Scratch Points |
| Lieber, Kara | All-Conf Handicap Points |
| Lindeman, Curtis | AZ Scratch Points |
| Lindeman, Curtis | Mojave Scratch Points |
| Lindeman, Curtis | All-Conf Scratch Points |
| Lindsey, Brendan | Mojave Handicap Points |
| Lindsey, Brendan | All-Conf Handicap Points |
| Lloyd, Nick | NM-TX Scratch Points |
| Low, Wesley | So Cal Scratch Points |
| Low, Wesley | All-Conf Scratch Points |
| Lucente, Teddy | Mojave Scratch Points |
| Lusher, Donovin | Mojave Handicap Points |
| Ma, Michael | So Cal Handicap Points |
| Ma, Michael | All-Conf Handicap Points |
| Majeske, Sven | AZ Scratch Points |
| Martin, Jeremiah | NM-TX Scratch Points |
| Martinez, Brooke | So Cal Handicap Points |
| Martinez, Brooke | All-Conf Handicap Points |
| Martinez, KJ | AZ Handicap Points |
| Martinez, KJ | So Cal Handicap Points |
| Martinez, KJ | All-Conf Handicap Points |
| Martinez, Noah | NM-TX Handicap Points |
| Martinez, Noah | All-Conf Handicap Points |
| Mattson, Breanne | All-Conf Scratch Points |
| McGough, James | So Cal Handicap Points |
| McNeil, Katie | NM-TX Handicap Points |
| McNeil, Katie | All-Conf Handicap Points |
| McNeil, Kelly | NM-TX Handicap Points |
| Miller, Quinton | Pac NW Scratch Points |
| Miller, Quinton | All-Conf Scratch Points |
| Monnette, Brian | Pac NW Scratch Points |
| Monnette, Brian | All-Conf Scratch Points |
| Mullen, Jake | Pac NW Handicap Points |
| Mullen, Jake | All-Conf Handicap Points |
| Mullen, Josh | Pac NW Scratch Points |
| Mullen, Josh | All-Conf Scratch Points |
| Myers, Brandon | Pac NW Scratch Points |
| Myers, Brandon | All-Conf Scratch Points |
| Myers, Mark | AZ Scratch Points |
| Myers, Mark | Mojave Scratch Points |
| Myers, Mark | So Cal Scratch Points |
| Myers, Mark | All-Conf Scratch Points |
| Nagamine, Casey | Mojave Handicap Points |
| Nikolas, Ryan | Pac NW Scratch Points |
| Nikolas, Ryan | All-Conf Scratch Points |
| Nute, Thomas | Pac NW Scratch Points |
| Nute, Thomas | All-Conf Scratch Points |
| Obrist, Kevin | Pac NW Handicap Points |
| Obrist, Kevin | All-Conf Handicap Points |
| Pappas, Jason | Mojave Handicap Points |
| Pellegrino, Alex | AZ Handicap Points |
| Peyton, Jamison | Mojave Scratch Points |
| Pineda, Crystalene | Mojave Handicap Points |
| Polhill, Max | All-Conf Handicap Points |
| Polhill, Sebastian | All-Conf Handicap Points |
| Pollak, Nick | Mojave Scratch Points |
| Ponzo, Kyle | AZ Handicap Points |
| Potter, Samantha | So Cal Handicap Points |
| Rapp, Zachary | AZ Handicap Points |
| Rock, TJ | AZ Handicap Points |
| Rock, TJ | Mojave Handicap Points |
| Rock, TJ | All-Conf Handicap Points |
| Romleski, Trenton | So Cal Handicap Points |
| Russom, Brandon | Mojave Scratch Points |
| Sanchez, Lindsey | NM-TX Handicap Points |
| Sanchez, Nick | NM-TX Scratch Points |
| Satter, Tyler | Mojave Scratch Points |
| Satter, Tyler | Pac NW Scratch Points |
| Satter, Tyler | All-Conf Scratch Points |
| Schenck, Cortez | AZ Scratch Points |
| Schenck, Cortez | Mojave Scratch Points |
| Schenck, Cortez | NM-TX Scratch Points |
| Schenck, Cortez | So Cal Scratch Points |
| Schenck, Cortez | All-Conf Scratch Points |
| Schultz, Shauna | So Cal Handicap Points |
| Schultz, Shauna | All-Conf Handicap Points |
| Seawright, Jonah | NM-TX Handicap Points |
| Seawright, Jonah | All-Conf Handicap Points |
| Sellers, Samantha | AZ Handicap Points |
| Sellers, Samantha | All-Conf Handicap Points |
| Shepherd, Toby | Pac NW Handicap Points |
| Shepherd, Toby | All-Conf Handicap Points |
| Shishima, Kylie | So Cal Handicap Points |
| Sims, Justin | So Cal Scratch Points |
| Sims, Justin | All-Conf Scratch Points |
| Smith, Cameron | AZ Scratch Points |
| Smith, Cameron | Mojave Scratch Points |
| Smith, Cameron | All-Conf Scratch Points |
| Smith, Eddy | Pac NW Scratch Points |
| Smith, Eddy | All-Conf Scratch Points |
| Spacey, Tanner | Pac NW Scratch Points |
| Spacey, Tanner | All-Conf Scratch Points |
| Speiler, Randi | Mojave Handicap Points |
| Speiler, Randi | All-Conf Handicap Points |
| Stanley, Darren | Pac NW Scratch Points |
| Stanley, Darren | All-Conf Scratch Points |
| Stedman, Olivia | NM-TX Scratch Points |
| Stever, Marina | AZ Scratch Points |
| Stever, Marina | All-Conf Scratch Points |
| Strickland, Cerra | NM-TX Handicap Points |
| Strickland, Cerra | All-Conf Handicap Points |
| Sweigart, Harley | So Cal Scratch Points |
| Thompson, Austin | AZ Scratch Points |
| Thompson, Austin | Mojave Scratch Points |
| Thompson, Austin | So Cal Scratch Points |
| Thompson, Austin | All-Conf Scratch Points |
| Thompson, Trevor | AZ Handicap Points |
| Thompson, Trevor | So Cal Handicap Points |
| Thompson, Trevor | All-Conf Handicap Points |
| Tripi, Anthony | AZ Scratch Points |
| Tripi, Anthony | All-Conf Scratch Points |
| Valleau, Shane | AZ Scratch Points |
| Valleau, Shane | All-Conf Scratch Points |
| Vargas, Bree | NM-TX Scratch Points |
| Vargas, Bree | All-Conf Scratch Points |
| Vargas, Sara | NM-TX Scratch Points |
| Vargas, Sara | All-Conf Scratch Points |
| Varholdt, Danny | AZ Scratch Points |
| Varholdt, Danny | Mojave Scratch Points |
| Varholdt, Danny | All-Conf Scratch Points |
| Wahner, Adel | NM-TX Scratch Points |
| Wanders, Brandon | So Cal Scratch Points |
| Watanabe, Alex | Mojave Scratch Points |
| Watanabe, Alex | All-Conf Scratch Points |
| Watkins, Aaron | Mojave Scratch Points |
| Weis, Gabriella | Mojave Handicap Points |
| Williams, Ahkeen | NM-TX Scratch Points |
| Williams, Ahkeen | All-Conf Scratch Points |
| Williams, Alyssa | NM-TX Handicap Points |
| Williams, Braxton | NM-TX Scratch Points |
| Williams, Braxton | All-Conf Scratch Points |
| Witt, Jeremy | Pac NW Scratch Points |
| Witt, Jeremy | All-Conf Scratch Points |
| Wojciechowski, Zach | NM-TX Scratch Points |
| Wojciechowski, Zach | All-Conf Scratch Points |
| Yamamoto, Aaron | AZ Scratch Points |
| Yamamoto, Aaron | All-Conf Scratch Points |
| Yoder, William | NM-TX Scratch Points |
| Zuni, Isziah | NM-TX Handicap Points |
| Zweig, Leah | So Cal Handicap Points |
| Zweig, Leah | All-Conf Handicap Points |
| Zweig, Matt | So Cal Scratch Points |