SO CAL BAKER TEAM EVENT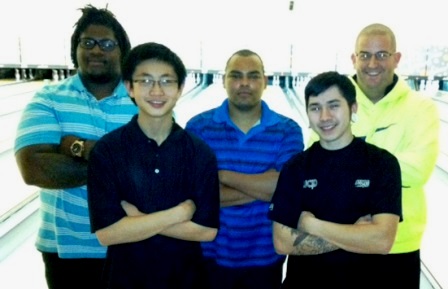 champs Wesley Low, Keyon Lemus, Eric Torrence, Zack Jellsey, and Mikey Villareal
On a fun but challenging night where spares were hard to come by, let alone strikes, a national champion came up with a double to seal the So Cal Baker Team Shootout title in exciting action at the Bowlium in Montclair.
The Zavala-family led team that called themselves "No Team Spirit" found that can be a deadly trait in the unique atmosphere of team matchplay, as they fell in round one to the "Twizzlers", helmed by the Martinez family. The Twizzlers, joined by Brittany Kolatzny and Isaiah Cleveland, made it to the final four, where they lost 2-0 to Low's team, again with the self-depricating (and untrue) name of "We Stink". In the other semifinal, the "Norwalk Lanes" team fell 2-1 to the tye-dyed "Saaaawww" team, setting up the title match.
The 'Los Angeles' lane pattern starts tricky, but becomes brutal by the end of a very long day- the title match started at midnight, after an 11 AM start to the Doubles event that started the day! Nonetheless, 'We Stink' did anything but in winning the first game 224-193, but "Saaaawww" came back to win game two 186-171 and force a decider. Saaawww's anchor bowler Oscar Chan spared in the tenth frame of the finale, forcing opposing anchor Low to come up with an unlikely double to win. Somehow, Wesley caved in the big four not once but twice, earning a 186-182 win for his team. It's Low's 15th career JBT title, but the first for Keyon Lemus, and first regular win for Eric Torrence, though he clearly likes team events, as he's a two-time Main Event team event champ. They were joined by adult teammates Zack Jellsey and Mikey Villareal.
Huge thanks to Scott and the Bowilum crew for hosting an event on a Saturday night, and doing a top notch job all weekend! Want in on the best bowling fun around? Check out our schedule and come on down to the next event, it's that simple!
So Cal Baker- final results and scholarship winners
12/1/2013
rank
bowlers
prize

total

1
Wesley Low
$166
$500
Zack Jellsey
Eric Torrence
$166
Keyon Lemus
$166
Mikey Villareal
2
Shelby Dempsey
$50
$250
Eric Hatchett
$50
Bobby Hornacek
$50
Dallas Leong
$50
Oscar Chan
$50
3
BJ Harlan
$25
$125
Andrew Svoren
$25
Frank Aldrete
$25
Chris Goar
$25
Jake Hilton
$25
4
Brittany Kolatzny
$20
$100
KJ Martinez
$45
Brooke Martinez
$20
Zach Martinez
$20
Isaiah Cleveland
$20
5
Stephanie Zavala
Julian Zavala
Armando Zavala
Patrick Rodriguez
Ryan Aguilar
6
Cortez Schenck
Russ Oviatt
Ben Canfield
Aaron Foshie
Steve Schenck
7
Alexis Atkin
Derek Acuff
TJ Rock
Kyle Duster
Curtis Lindeman
8
Cameron Smith
Mark Myers
Kayla Goad
Austin Thompson
Trevor Thompson
9
Riley Dempsey
Jakob Butturff
Matt Zweig
Leah Zweig
Kirk Chui
10
Natasha McGuire
Brandon Loss
Billy Loss
Gabriel Hernandez
Ethan Wolfe
11
Kyle Reed
Taylor Berry
Matt Green
Anthony DiPanni
Gary Grine
12
Harley Sweigart
Brandon Wanders
Jacob Murray
Nick Pollak
Andrew Guba
13
Megan Carlson
Steven Acuff
Amanda Atkin
Aaron Yamamoto
Cindy Carlson
14
Marguerite Evans
Alex Bissett
Chris Tucker
Nick Condon
Mondesi Saavedra
15
Samantha Sellers
Bex Boyko
Mandy Arriolla
Janelle Jellsey
Cameron Peck