GOLDEN PIN LANES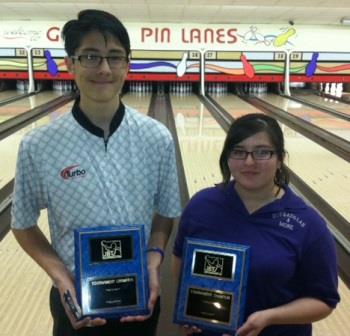 champs Cortez Schenck & Celeste Valdez
Cortez Schenck remained on a fantastic roll, while Celeste Valdez tasted JBT victory for the first time, in late-night Arizona Conference action at the venerable Golden Pin Lanes in Tucson.
Bowlers competed in the 'rising tide' format, where more and more bowlers are eliminated game by game, and the 'tide' eventually sweeps away all but the champions. Sven Majeske led all five games of the qualifying round, and built up enough of a lead to survive through to the title match. Schenck had a much tougher road, coming all the way from the number 9 position, throwing big enough games to stay ahead of the 'tide', including a big 268 that jumped him into the finale. Fortunately for Cortez, the Scandinavian Scythe slowed down in the title game, and Cortez' 208-164 score was plenty to move him past Majeske, earning him the title. It's his 27th career title, and second in a row, and he also won the previous two JBT events prior to Main Event as well!
Celeste Valdez led the handicap division qualifier, and continued the excellent bowling to stay at or near the lead throughout the early 'rising tide' rounds. In round four, four bowlers were swept away by the tide, leaving three left alive for the title. Alexis Atkin had a nearly-insurmountable 156 pin deficit to make up, though with 50 'lifesaver' bonus pins up for grabs for high game, it was still possible. Atkin gave a good effort ,but settled for third. That left Samantha Sellers to try and catch Valdez. Celeste struggled in the title game, giving Samantha chance to make up her deficit, but Sellers had difficulty with her spares, and when she couldn't catch up, Valdez wrapped up her first career JBT title.
Alexis did come away with one win on the day though, beating Heather Penatzer 191-178 for the day's Women's Series title, avenging her loss to Penatzer in Kingman
Big thanks to Gabe, Nathan, and the crew at Golden Pin for a fine job hosting our event. Want in on the best action around for bowlers of all averages, age 21 and under? Check out our fantastic schedule, and come on down, that's all there is to it!
Golden Pin Lanes- final results and scholarship winners
1/11/2014
Scratch Division
rank
bowler

prize

1
Cortez Schenck
$200
2
Sven Majeske
$100
3
Russ Oviatt
$69
4
Ben Canfield
$30
5
Aaron Yamamoto
$76
6
Tim Jacob
7
Jakob Butturff
8
Heather Penatzer
9
Jarrod Davenport
10
Shane Valleau
11
Tyler Wolff
12
Keith Fung
$10
13
Josh Franz
14
Bryan Van Sickle
15
Shelby Dempsey
16
Cam Lamson
17
Riley Dempsey
18
Matthew Redmon
19
KJ Martinez
20
Derek Acuff
21
Curtis Lindeman
22
Patt Intarakamhang
23
Ben Subeck
Handicap Division
1
Celeste Valdez
$200
2
Samantha Sellers
$115
3
Alexis Atkin
$153
4
Rashaad Jordan
$30
5
Mathew Adragna
$20
6
Matthew Garrett
7
Destiny Johnson
$45
8
Stefanny Toala
9
Kristen Lee
10
Abby Franklin
$14
11
Rachael Berg
$5
12
Megan LaPrell
13
Zach Rapp
$15
14
Sebastian Polhill
15
Maddy Holman
16
Chad Alexander
17
Max Polhill
18
Gillian Coyle
19
Cassie Collins
20
Dominic Luna
21
Ryanna Patterson
22
Jessica Weygint
23
Bex Boyko
24
Jerod Walker
25
Jarred Starr-Moncayo
26
Josh Fearing
High Games
Scratch
Handicap
1
Canfield 269
Valdez 264
2
Schenck 268
Toala 255
3
Majeske 266
Garrett 251
4
Oviatt 257
Garrett 247
5
Canfield 257
Atkin 242
High Female
1
Penatzer +12
2
Atkin -15*
3
Toala -135
4
Sellers -138
5
Valdez -158
Round Leaders
Scratch
Handicap
1
Majeske
Valdez
2
Majeske
Garrett
3
Majeske
Valdez
4
Majeske
Valdez
5
Majeske
Valdez
cuts:
-73 / -45
pattern:
Viper
ball winner:
Adrienne Deniger
Total Awarded This Event: $1,082