KELLOGG BOWL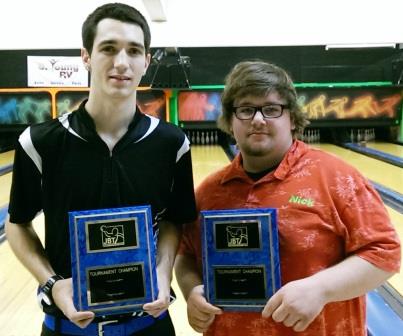 champs Derek Acuff & Nick Bruketta
Derek Acuff completed a rare feat, while Nick Bruketta returned to the winner's circle, in exciting JBT Pacific Northwest Conference action at Milwaukie's Kellogg Bowl.
Thomas Nute began the scratch division stepladder finals with a 226-169 win over points leader Nick Devlin. Acuff then stopped Nute in an exciting all-southpaw battle 231-228. In another all-lefty match, Derek beat Ryan Nikolas 226-177 to advance to the title match.
Top seed Brian Monnette took the lead from Acuff with a big semifinal set, and was eager to finally win his first JBT singles title. However, Acuff was determined to make his trip from Arizona worth it, and he did just that with a 230-212 title match win. It's Derek's 21st career JBT title, and he joins an elite club of bowlers to win JBT titles in all five conferences with the win!
Toby Shepherd began a climb up the handicap division stepladder finals with a 193-171 win over Nick Perini. Shepherd then eeked by first-time finalist Dayton Wickham 208-204. In the semifinal match, Johnny Leggett stopped Shepherd to advance to the title match.
Bruketta has had an up and down season after his near Bowler of the Year performance last year, but put it all together here to run a way with the top seed. Leggett put up a good battle in the title match, but Nick was just too much, winning the match for the fourth title of his JBT career.
Wylicia Faley qualified for the Girls TPC with a Women's Series title match 207-193 win over Elise Yates.
Thanks to the crew at Kellogg for hosting us. Want in on all the fun and excitement? Just check out our schedule and come on down, that's all there is to it!
Kellogg Bowl- final results and scholarship winners
3/29/2014
Scratch Division
rank
bowler
prize
1
Derek Acuff
$215
2
Brian Monnette
$100
3
Ryan Nikolas
$50
4
Thomas Nute
$40
5
Nick Devlin
$105
6
Josh Mullen
$25
7
Nick Losli
8
Robert Altieri
9
Andrew Heritage
10
Scott Bridger
11
Matt Yaw
12
Zach Hemming
13
Daniel Hanson
$105
14
Aaron Althoff
15
Caleb Hathaway
16
Jake Mullen
$50
17
Tyler Boe
18
AJ Brockett
19
Tanner Spacey
20
Connor Jackley
21
Quinton Miller
22
Ryan Harris
23
Wylicia Faley
$30
24
Joey Huffman
25
Elise Yates
26
Chris Tuholski
27
Kyler Crevier
28
Tommie McNeal
29
Brandon Myers
30
Makayla Douglas
31
Courtney Nikolas
32
Josh Alvarez
33
Tyler Satter
Handicap Division
1
Nick Bruketta
$250
2
Johnny Leggett
$150
3
Toby Shepherd
$75
4
Dayton Wickham
$60
5
Nick Perini
$50
6
Collins Davis
$40
7
Brian DeLuisa-Anderson
$30
8
Alex Perini
$20
9
Shannon Bliquez
10
Silas LeBlanc
11
Jerry Jennings
$45
12
Riley Basher
$60
13
Zoe Mahn
14
Bri Hemming
15
Hannah Abney
$45
16
Kelsey Abrahamsen
$35
17
Jonathan Bautista
$15
18
Kyle Jonson
19
Jordan Muir
20
Katrina Andersen
21
Ryan DeFazio
22
Kyle Hays
23
Sara Harris
$30
24
Alexa Lanning
25
Kevin Obrist
26
Jeremy Latham
27
Nikita Benton
28
Tyler Hogstorm
29
Sheri Hill
30
Ally Paolo
31
AJ Schock
32
Haylee Kriss
33
Greg Miller
34
Kyle Obrist
35
Zane Hays
36
Andy Herrmann
37
Brittany Bland
38
Cindy ReSue
39
Kara Lieber
40
Alexis Atkin
41
Hannah Russell
42
Matthew Anderson
43
Kelley Moody
44
Nicole Stickler
45
Chance Mair
46
Treyshawn Culpepper
High Games
Scratch
Handicap
1
Acuff 289
De Fazio 303
2
Monnette 279
Bruketta 295
3
Nute 279
Bliquez 287
4
Hanson 278
De Luisa 282
5
Devlin 277
Wickham 280
High Female
1
Faley -8*
2
Yates -26
3
M Douglas -74
4
Abrahamsen -74
5
Abney -75
Round Leaders
Scratch
Handicap
1
Acuff
N Perini
2
Devlin
De Fazio
3
Devlin
Bruketta
4
Devlin
Bruketta
5
Devlin
Bruketta
6
R Nikolas
Bruketta
7
Acuff
Bruketta
8
Monnette
Bruketta
TOTAL AWARDED THIS EVENT: $1,625