NOB HILL BOWLING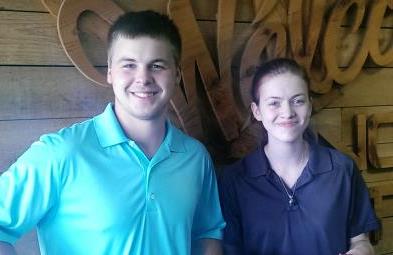 champs Tanner Spacey & Michelle Jensen
Tanner Spacey and Michelle Jensen both got hot when they needed it, climbing the stepladders en route to titles in exciting JBT Pacific Northwest Conference action at Yakima's Nob Hill Bowling.
Spacey began his climb up the ladder with a high scoring 248-232 win over recent champ Tommie McNeal. Spacey then put a 'century' beating on Brian Monnette 255-155, and followed with a 210-187 win over Tyler Boe to reach the title match. Top seed Nick Devlin consolidated his points lead with the fine performance here, but had his hands full in the title game. With a chance to strike for the win, Nick left a heartbreaking 7-pin, and Tanner won the match 222-203, good for the 7th title of his JBT career.
Jensen also had a high-scoring match in her first stepladder round, getting past Cameron Pierre in that match 241-226. Michelle then stopped points leader Kelsey Abrahamsen 207-183, and followed with a huge game in a 283-196 win over Tyler Ficek to reach the title game. Top seed Ryan DeFazio had taken over the lead in the semifinals, but couldn't keep the momentum he had going earlier against Jensen. Michelle has had many finals appearances before this, all ending in heartbreak, but this time she finally broke through, winning the match 211-183 for a long awaited first career JBT title.
Abrahamsen was also the top seed for the day's Women's Series title match, but Courtney Nikolas ground out a 168-151 win over Kelsey to grab the day's girls' scratch crown.
Thanks as always to Jim Kent and the fantastic crew in Yakima for hosting a busy day! Want in on the fun for all ages and avarages? Just check out our schedule and come on down!
Nob Hill- final results and scholarship winners
5/10/2014
Scratch Division
rank

bowler

prize
1
Tanner Spacey
$235
2
Nick Devlin
$160
3
Tyler Boe
$240
4
Brian Monnette
$50
5
Tommie McNeal
$40
6
Tristan Curtis
$30
7
Jake Mullen
8
Kyler Crevier
9
Josh Mullen
$45
10
Brandon Myers
$15
11
Quinton Miller
12
Caleb Hathaway
13
Aaron Althoff
$30
14
Tyler Satter
15
Luke Jordan
16
Courtney Nikolas
$60
17
Zach Hemming
$100
18
AJ Brockett
19
Andrew Heritage
20
Austin Gratzer
21
Daniel Hanson
22
Jacob Herriges
23
Ryan Nikolas
24
Connor Jackley
25
Matt Yaw
26
Wylicia Faley
27
Correen Lieber
28
Joey Huffman
29
Sam Burns
30
Elise Yates
Handicap Division
1
Michelle Jensen
$225
2
Ryan DeFazio
$140
3
Tyler Ficek
$75
4
Kelsey Abrahamsen
$70
5
Cameron Pierre
$80
6
Kevin Obrist
$40
7
Tyler Hogstrom
$30
8
Jordan Muir
$20
9
Baylee Summers
10
James Henry
11
Bri Hemming
12
Alex Perini
13
Collins Davis
$60
14
Joshua Steward
15
Kelley Moody
16
Toby Shepherd
17
Steven Acuff
18
Candice Goldfinch
19
Jerry Jennings
$30
20
Kyle Jonson
$30
21
Nick Perini
22
Alexa Lanning
$60
23
Elisa Couch
24
Nick Bruketta
25
Hannah Abney
26
Sheri Hill
27
Sara Harris
$15
28
Armando Moser-Hernandez
29
Shannon Bliquez
30
Kyle Obrist
31
Sadi Summers
32
Alejandro Moser-Hernandez
33
Andy Herrmann
34
Zoe Mahn
35
AJ Schock
$10
36
RayAnn Davis
37
Molly Warshaw
38
Haylee Kriss
39
Brooke Collins
40
Riley Basher
$5
41
Jonathan Bautista
42
Kara Lieber
43
Jeremy Holman
44
Nikita Benton
High Games
Scratch
Handicap
1
Devlin 275
M Jensen 283
2
Spacey 258
Ficek 278
3
Monnette 257
Abrahamsen 263
4
Josh Mullen 256
M Jensen 262
5
Q Miller 254
DeFazio 261
High Female
1
Abrahamsen +64
2
C Nikolas -8*
3
E Couch -68
4
Faley -105
5
C Lieber -109
Round Leaders
Scratch
Handicap
1
Josh Mullen
Goldfinch
2
Crevier
Pierre
3
Josh Mullen
Ficek
4
Josh Mullen
Pierre
5
Josh Mullen
Abrahamsen
6
Josh Mullen
Ficek
7
Boe
DeFazio
8
Devlin
DeFazio
TOTAL AWARDED THIS EVENT: $1,895