PALM SPRINGS LANES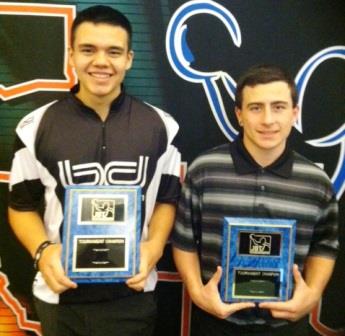 champs Bobby Hornacek & Anthony DiPanni
Bobby Hornacek and Anthony DiPanni scored big wins in exciting JBT Southern California Conference action at Palm Springs Lanes.
Eric Hatchett began the scratch division stepladder finals with a 226-204 win over Kyle Duster. In a high scoring second round, Hatchett beat Wesley Low 267-238. The strikes continued in the next match, but this time it was Hornacek who strung them, as he defeated Hatchett 263-194 to reach the title game.
Top seed Cortez Schenck was appearing in his eighth consecutive regular season title match, an incredible accomplishment. However, Hornacek continued his striking from the last game, and Cortez was unable to keep up. Bobby's 256-212 win was good for his fourth career JBT title, and first since his landmark TPC victory last August.
Trevor Thompson began the handicap division stepladder finals with a 230-204 victory over Matthew Green. Marc Villalobos then threw Thompson to the wolves with a 222-184 win. Jacob Murray then stopped Villalobos 235-185 to advance to his first career title match.
Top seed DiPanni teamed with Green in December to capture the Main Event doubles side event, but this was his best regular season performance to date. Late splits proved to be Murray's undoing, and Anthony took advantage for a 242-196 win, and his first career JBT title.
Brooke Martinez beat Randi Speiler 192-143 to capture the day's Women's Series event, continuing to reverse a previous trend of title match losses from Brooke.
Thanks to the team at Palm Springs for another great job hosting our event. Want in on the best fun for all ages and averages? Just check out our schedule and come on down, that's all you have to do!
Palm Springs Lanes- final results and scholarship winners
2/2/2014
Scratch Division
rank
bowler
prize
1
Bobby Hornacek
$200
2
Cortez Schenck
$115
3
Eric Hatchett
$60
4
Wesley Low
$90
5
Kyle Duster
$30
6
Kirk Chui
$60
7
Nick Pollak
8
Austin Thompson
9
Oscar Chan
$15
10
Joe Grondin
11
Alex Watanabe
12
Brian Hernandez
13
Randi Speiler
$30
14
Derek Acuff
15
Curtis Lindeman
16
Matt Zweig
17
Jordan Eres
18
Brandon Wanders
19
KJ Martinez
20
Kennison Andrews
$15
21
Kyle Andrews
22
BJ Harlan
23
Harley Sweigart
24
Luke Holley
25
Zach Martinez
26
Chris Tucker
$5
27
Marc Loera
28
Rance Dvorak

29

Mark Hugelmaier
Handicap Division
1
Anthony DiPanni
$200
2
Jacob Murray
$100
3
Marc Villalobos
$115
4
Trevor Thompson
$115
5
Matthew Green
$20
6
Justin Patten
$30
7
Abby Franklin
8
Marguerite Evans
9
James McGough
$5
10
Kylie Shishima
11
Brooke Martinez
$30
12
Leah Zweig
13
Michael Ma
14
Bex Boyko
$15
15
Alexis Atkin
16
Ryanna Patterson
17
Jozef Corwin
18
Katelyn Corwin
19
Amanda Atkin
20
Jarred Starr-Moncayo
21
Destiny Johnson
22
Nick Condon
23
Zach Long
24
Kelsee Shriver
High Games
Scratch
Handicap
1
Duster 280
Patten 291
2
Chui 276
Murray 268
3
Schenck 267
Green 263
4
Hatchett 267
Villalobos 262
5
Hornacek 267
Murray 260
High Female
1
Speiler +33
2
B Martinez -38*
3
Atkin -67
4
Evans -111
5
Shishima -118
Round Leaders
Scratch
Handicap
1
Schenck
Murray
2
Schenck
Murray
3
Schenck
DiPanni
4
Chui
Murray
5
Duster
DiPanni
6
Chui
DiPanni
7
Low
T Thompson
8
Schenck
DiPanni
TOTAL AWARDED THIS EVENT: $1,250