BRC PREMIER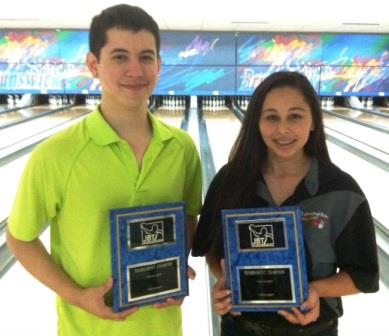 champs Jakob Butturff & Natasha McGuire
Jakob Butturff and Natasha McGuire avoided the 'rising tide' in San Diego, capturing JBT titles in exciting Southern California Conference action at BRC Premier.
After the five game qualifier in 'rising tide', bowlers with the lowest overall totals are eliminated game by game as the 'tide' rises and washes them away. Oscar Chan led the scratch division by averaging 250 on the highly scoreable 'Paris' lane pattern. Cortez Schenck was eliminated in game one, then Wesley Low and Brandon Wanders succumbed to the tide. Bobby Hornacek, Austin Thompson, and Ben Canfield were washed out to sea in the next round, meaning that five bowlers were left and four would be eliminated in the next round, making this the final game. Kyle Duster, sitting fourth, had the high game of the round, a 266, to earn the 40 bonus pin 'lifeline', which vaulted him to second, but it wasn't enough to catch Butturff, who led going into the game, and rolled 213 for a +356 total that beat Duster by 39 pins. After a slower start to the new season, Jakob earns his first win of 2013-14, but 27th career JBT title.
Seventeen handicap bowlers started the rising tide round in handicap, so the eliminations lasted two extra rounds. The key game was round five, where seven survivors would be cut all the way to two. Qualifying leader Matt Green was swept away in that round, leaving only Natasha McGuire and Tyler Giedd standing. Giedd was 52 pins behind McGuire, but with a 60-pin 'lifeline' up for grabs, the championship was still up for grabs. Natasha outscored Tyler in the final game to hold him off and capture the first title of her JBT career.
Correen Lieber has been traveling all over the Tour racking up Women's Series wins, and she did it again here, beating Katelyn Corwin 213-172 for the day's Women's title.
Thanks to the crew at Premier for a fine job hosting us. Want in on all this fun for all ages and averages? Check out our schedule and come on down, that's all there is to it!
BRC Premier- final results and scholarship winners
10/26/2013
Scratch Division
rank
bowler
prize
1
Jakob Butturff
$275
2
Kyle Duster
$130
3
Oscar Chan
$50
4
Joe Grondin
$30
5
Correen Lieber
$20
6
Austin Thompson
$30
7
Ben Canfield
8
Bobby Hornacek
9
Brandon Wanders
10
Wesley Low
11
Cortez Schenck
12
Luke Holley
13
Chris Tucker
14
Zach Martinez
$15
15
Kirk Chui
16
Isaiah Cleveland
17
Randi Speiler
$5
18
Brittany Kolatzny
19
Saul De Ulloa
20
Nick Pollak
21
Michael Ma
22
Amiko Chapman
Handicap Division
1
Natasha McGuire
$215
2
Tyler Giedd
$100
3
Jose Morales
$50
4
Jozef Corwin
$70
5
Matthew Green
$105
6
Israel Ramirez
$20
7
Nick Condon
$15
8
Jake Hilton
9
Gael Egana
10
Anthony DiPanni
11
Brian King
12
Katelyn Corwin
$30
13
Tyler Hedges
$60
14
Jackie Azvedo
15
Alli Azvedo
16
Jacob Murray
$10
17
KJ Martinez
18
Nicholas Lopez
19
Marguerite Evans
20
James McGough
$15
21
Brandon Loss
22
David Ramirez
$15
23
Samantha Potter
24
Trevor Thompson
25
Zach Long
26
Brooke Martinez
27
Megan Carlson
28
Secilia Kalvelage
29
Eric Torrence
30
Marlon Flores
31
Jake Ellis
32
Leah Zweig
33
Ashley Wilcox
34
Kanoa Napalan
High Games
Scratch
Handicap
1
Canfield 279
Hilton 298
2
Grondin 269
K Corwin 282
3
Canfield 268
Giedd 281
4
Chan 267
Morales 280
5
Duster 266
Green 280
High Female
1
Lieber +158*
2
K Corwin -73
3
McGuire -87
4
Speiler -101
5
Potter -118
Round Leaders
Scratch
Handicap
1
A Thompson
Morales
2
A Thompson / Chan
Condon
3
A Thompson
Condon
4
Chan
Green
5
Chan
Green
TOTAL AWARDED THIS EVENT: $1,260