RED ROCK LANES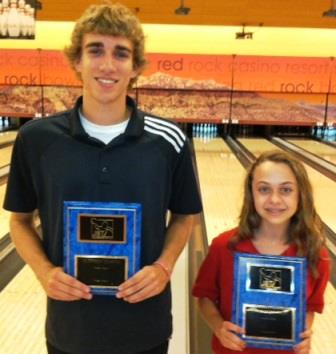 champs Ben Canfield & Destiny Johnson
Ben Canfield and Destiny Johnson had the antidotes to the rest of the field, capturing JBT titles in exciting 'pick yer poison' action at the amazing Red Rock Lanes in Las Vegas.
In this format, after five games, the top seeds pick who they want to bowl against in 2-game head to head matches. Newcomer Brendan Thomas led qualifying at a 220+ average on a challenging Shark pattern, but could not get past #7 Josh Franz, who pulled out a 352-350 win. Meanwhile, Canfield had been in a rut of great qualifying rounds and bat matchplay rounds, so he decided to go the opposite route. He barely squeaked into the cut, then got hot to beat Eric Hatchett 471-433, and Dallas Leong 486-418 to reach the final four.
In single game semifinal matches, Cortez Schenck stopped Franz 220-162, and Ben stopped previous day's champ Russ Oviatt 244-211 to reach the title game. It was the first title match between these two decorated champions, and in the game Ben continued his torrid pace, defeating Schenck 238-216 for the win, the 8th of his JBT career.
Jopfel Gafate was the top handicap qualifier, but he too did not pick wisely, as Garrett Thompson got red hot to beat him 495-406. Thompson fell in round two though to Joe Gerencser, who beat him 444-404 to move on to the final 4. In those matches, Abby Franklin beat Gerencser 206-190, and Destiny Johnson beat Crystakene Pineda 216-208, setting up a title match between good friends Destiny and Abby.
Title matches between friends are often as strange as the ones between siblings, like the Martinez family's the day before. However, both bowlers remained focused and bowled good games, with Destiny coming out on top 212-201 for the title. It's the first of her career, but second for her family, as she joins father Raymond to become the first parent-child pair of JBT singles champs in our 18-season history!
Pineda's good day also included leading the simultaneous Women's Series event, but she didn't have the answer for Randi Speiler in the title match. Randi completed her excellent weekend with a 188-163 win to sweep the Women's Series on the weekend.
Thanks as always to Red Rock for hosting our Tour. Want in on all the fun? Check out our schedule and come on down!
Red Rock- final results and scholarship winners
9/8/2013
Scratch Division
rank
bowler

prize

1
Ben Canfield
$200
2
Cortez Schenck
$115
3
Josh Franz
$50
4
Russ Oviatt
$30
5
Brendan Thomas
$65
6
Kyle Andrews
$15
7
Dallas Leong
$15
8
Nick Pollak
9
Eric Hatchett
10
Kevin Mette
11
Isaiah Chavez
12
Zach Martinez
13
Randi Speiler
14
Kennison Andrews
15
Travis Slade
16
Andrew Guba
17
Alex Watanabe
18
Jamison Peyton
19
Donovin Lusher
20
Nirvon Mahdavi
Handicap Division
1
Destiny Johnson
$245
2
Abby Franklin
$115
3
Crystalene Pineda
$60
4
Joe Gerencser
$65
5
Daryus Alo
$40
6
Collin Deppe
$30
7
Garrett Thompson
$20
8
TJ Rock
$20
9
Jopfel Gafate
10
David Galvan
11
Kevin Weis
12
Brendan Lindsey
13
RJ Reyes
14
Gabriella Weis
15
April McDonnell
$65
16
Jake Smith
17
Dee Handley
18
Alayna Purdy
19
Tyler Hedges
$15
20
Anthony Dang
$90
21
Teagan Smale
22
James Wilson
23
Devyn Patalina
24
Michael Rose
25
Justin Freeman
26
LeeAnn Reyes
27
Brooke Martinez
28
Greg Adler
29
Nathan Hanuscin
30
Michael Butz
31
Jason Pappas
32
Zahn Bouder
$10
33
Talon Hendrickson
34
Joseph Ongtawco
35
Kevin Finkler
36
Cerell Cardines
37
KJ Martinez
38
Megan Carlson
39
Leah Glazer
40
Jeremy Cardines
High Games
Scratch
Handicap
1
Schenck 265
Thompson 270
2
Pollak 256
Hendrickson 263
3
Canfield 256
K Weis 262
4
Ky Andrews 255
Galvan 254
5
Canfield 246
Pineda 252
K Weis 252
High Female
1
Pineda -89
2
Speiler -98*
3
B Martinez -101
4
Handley -132
5
G Weis -196
Round Leaders
Scratch
Handicap
1
Ky Andrews
Galvan
2
Schenck
Gafate
3
Ky Andrews
Gafate
4
Schenck
Galvan
5
Thomas
Gafate
Total Awarded This Event: $1,265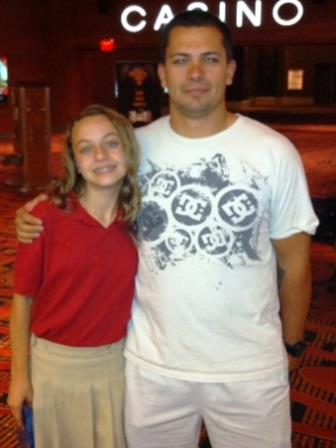 Destiny and Ray, the first parent - child singles champs in JBT history!