ANTELOPE LANES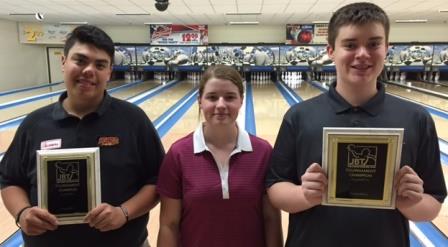 champs Keith Fung, Heather Penatzer, and Cristian Roque
Keith Fung, Heather Penatzer, and Cristian Roque all came up with clutch finishes to capture JBT titles in exciting Arizona Conference action at Antelope Lanes in Prescott Valley.
Roque, who won his first title earlier this season, defeated fellow Uptown Alley bowler Rachael Berg 192-167 in one semifinal. In teh other match, it was Uptown victorious again, as Dante Rohe stopped 9 year-old Tyler Hedges 199-185 to set up the title game.
After Roque finished with a clean 195 game that included two 2-7 conversions, Rohe needed to double to win. Dante was unable to get the first hit, giving Cristian an exciting 227-214 win, and his second career JBT title.
Penatzer, home from a very successful freshman year at Sam Houston State, doubled in her tenth frame to shutout Gillian Coyle 214-193 to win the second of three girls' series events she needs to qualify for the Girls TPC this summer.
Fung raced out to the front five in the scratch division, but Oregon bowler Brandon Myers countered with a mid-game six bagger to get right back in the game. Keith got a tenth frame double to apparently secure the win, but a short count on the fill ball left Myers with a chance to strike out to tie. Brandon was up to the task, burying three straight to tie it up at 244. In the ensuing one-shot rolloff, Fung recovered brilliantly with a flush strike, and when a 10-pin refused to fall on Myers' attempt, Fung escaped with the dramatic win and second career JBT title.
Thanks to the team at Antelope for hosting our Tour. Want in on the most exciting action around for all ages and all averages? Just check out our website and come on down, that's all there is to it!
Antelope Lanes- final results and scholarship winners
5/16/2015
Scratch Division
rank
bowler
prize
1
Keith Fung
$256
2
Brandon Myers
$150
3
Heather Penatzer
$50
4
Joe Grondin
$40
5
KJ Martinez
$54
6
Cortez Schenck
$14
7
Ben Canfield
8
Max Polhill
9
Josh Fearing
10
Dallas Leong
11
Steven Acuff
12
Josh Demick
$10
13
Gillian Coyle
14
Jordan Hastings
15
Marina Stever
16
Tyler Satter
17
Chase Clark
18
Tim Crosswhite
Handicap Division
1
Cristian Roque
$286
2
Dante Rohe
$230
3
Rachael Berg
$113
4
Tyler Hedges
$80
5
Chris Rouse
$55
6
Abby Franklin
$73
7
Kyle Ponzo
$50
8
Michael Spagnola
$25
9
Zack Long
$14
10
John Newton
11
Silas Phillips
12
Kyle Lawrence
$5
13
Samantha Sellers
14
Zach Rapp
15
Sebastian Polhill
16
Amelia LaFace
17
Anthony Smith
18
Elijah Melchor
19
Mathew Adragna
20
Tarik McMaster
21
Mikaela Rouse
22
Amanda Atkin
23
Justin Laqrence
24
Phillip Sauve
25
Paul Colyer
26
Celsete Valdez
27
Rashaad Jordan
28
Sarah Halligan
$14
29
Bex Boyko
30
William Robbins
31
Destiny Johnson
32
Kyle Gilbert
$5
33
Clifford Robbins
34
Brandon Rouse
$10
35
Joey Metzer
High Games
Scratch
Handicap
1
Fung 259
Rohe 307
2
Myers 259
C Rouse 302
3
Martinez 258
C Rouse 286
4
Fung 257
C Rouse 265
5
Myers 256
Berg 262
High Female
1
Penatzer +25*
2
Coyle -56
3
Berg -66
4
Stever -87
5
Franklin -109
Round Leaders
Scratch
Handicap
1
Fung
A Smith
2
Fung
J Newton
3
Fung
J Newton
4
Fung
C Rouse
5
Fung
C Rouse
Total Awarded This Event: $1,514