SO CAL BAKER TEAM EVENT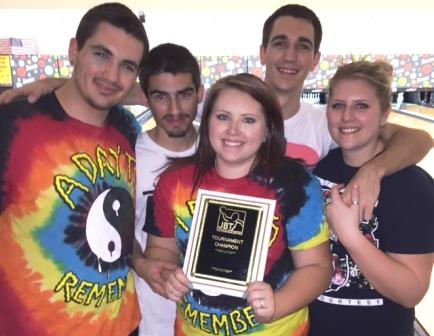 champs Steven Acuff, Kyle Duster, Amanda Atkin, Derek Acuff, and Alexis Atkin
A veteran team of JBT bowlers had a night to remember, capturing the So Cal Baker Shootout championship in fun and exciting action at Montclair's Bowlium.
After 12 games of noisy and intense Baker games, the top eight teams advanced to best 2-of-3 matchplay. The top seeded team of Shelby Dempsey, Bobby Hornacek, Oscar Chan, Eric Hatchett, and Alex Watanabe got through a tough first round, but fell in the semifinals to an upstart team put together right before the event began: KJ Martinez (who earlier doubled in the tenth just to escape round one), his sister Brooke, TJ Rock and his father Terrence, and Jarred Starr-Moncayo.
The Atkin-Acuff-Duster combo won game one of the finals 202-177, and stayed in control game two as well, winning 217-164 to capture the title. With the win, Alexis Atkin picks up her 6th JBT title as an adult after a stellar JBT career, her sister Amanda finally wins her first, Derek racks up #24, brother Steven his ninth, and the #greatbowler Duster notches win #7.
Derek also was the high junior in the 'halftime' "1's a winner" contest, with adult bowler Kenji Chong outlasting him for that win.
Thanks as always to Bowlium for a great job hosting us, as well as to all the adults who took the time to bowl with today's JBT stars in one of our most fun events every year. Want in on the fun? Just check out our schedule and come on down to the next one!
So Cal Baker- final results and scholarship winners
11/30/2014
rank
bowlers
prize
total
1
Alexis Atkin
$500
Amanda Atkin
$125
Derek Acuff
$150
Steven Acuff
$125
Kyle Duster
$125
2
KJ Martinez
$68
$250
Brooke Martinez
$63
TJ Rock
$63
Terrence Rock
Jarred Starr-Moncayo
$68
3
Shelby Dempsey
$25
$125
Bobby Hornacek
$25
Oscar Chan
$25
Eric Hatchett
$25
Alex Watanabe
$25
4
BJ Harlan
$25
$125
Jozef Corwin
$25
Jordan Eres
$25
Randi Speiler
$25
Andrew Svoren
$25
5
Austin Thompson
Cortez Schenck
$5
Ben Canfield
Russ Oviatt
Steve Schenck
6
Nick Pollak
Max Polhill
Sebastian Polhill
Brandon Wanders
Anthony Schanen
7
Matt Zweig
Leah Zweig
Riley Dempsey
Trevor Thompson
Zack Jellsey
8
Secilia Kalvelage
Brian Reed
Kyle Reed
Taylor Berry
Matt Green
9
Mark Hugelmaier
Peter Hugelmaier
Zack Long
James McGough
Glenn Hugelmaier
10
Brandon Loss
Isaiah Cleveland
Gabriel Hernandez
Billy Loss
Ethan Wolfe
11
Harley Sweigart
Nick Condon
Dawson Reese
Kirk Chui
Chris Tucker
12
Leonard Reese
Miguel Meraz
Alberto Bernal
Kenji Chong
Samuel Martinez