SO CAL INVITATIONAL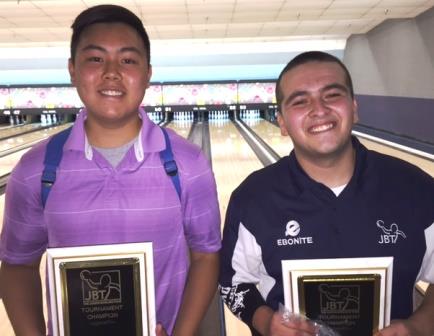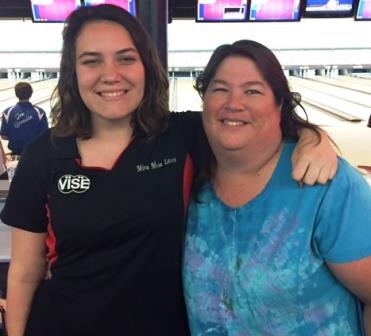 champs Oscar Chan & Dustin Yauney; Girls champ Renee Gentry
Oscar Chan and Dustin Yauney each earned $1,000 scholarships, while Renee Gentry pocketed the ladies' $200 top prize, as champions of the JBT Southern California Conference Invitational Tournament, hosted by Lakewood's Cal Bowl.
After five games of qualifying on a tough pattern, the top 11 bowlers in each division, plus the top five season-long point scorers, advanced to exciting triple-elimination matchplay. In the scratch division, red-hot Kyle Duster grabbed the top seed, but struggled early in matchplay. He recovered to survive to the final six, though, and that round proved to be pivotal. Kyle eliminated #12 Cortez Schenck, #2 Eric Hatchett ousted #10 Steven Acuff, and #7 Chan kept on rolling, eliminating #3 KJ Martinez to stay undefeated and get himself in excellent position to take it all.
Now with three remaining, Hatchett earned a bye, while Oscar made a late-game comeback to eliminate Duster in third place, leaving Eric in the unenviable position of having to beat Chan three straight times to take away the title. Game one was looking good for Hatchett until a late-game solid-10 and subsequent miss, allowing Oscar to win that match 212-188 and go a perfect 8-0 in matchplay for the win, $1,000 top prize, sixth career JBT title, and second career major to go with his 2013 Main Event title.
Jozef Corwin cruised to the #1 seed for the handicap division finals, and survived until the final six, where he eliminated #7 Austin Gilbert. Also in that round, #9 Yauney handed #15 Kyle Reed his second loss, and #16 Andrew Chan eliminated #13 Zack Long, whose sixth place finish was enough to lock up So Cal Bowler of the Year honors.
With four bowlers remaining, Yauney dealt Corwin his third loss in a low scoring match, while Chan ousted Reed in a dramatic finish, leaving two-loss Andrew now having to beat one-loss Dustin twice to capture the title. The first game between the two animated bowlers came down to the tenth frame, and Yauney threw another great shot to lock up the match and the tournament. What a great time for Dustin's first career title, as he earns a $1,000 scholarship prize and a major JBT win.
Correen Lieber snuck into the Girls Invitational with a win the previous day, and earned the top seed for the title match. She stayed clean all game but couldn't catch a double, and second seed Rene Gentry took advantage, doubling in the tenth to seal a 210-188 win, the Girls Invitational title, and a $200 scholarship bonus courtesy of our great JBT sponsors.
Thanks to Leonard, Juan, and the team at Cal Bowl for a great job hosting an exciting JBT weekend. A terrific total of over $5,700 in scholarships were earned by the 87 qualifier field. Want in on all the excitement? Just check out our schedule at www.bowljbt.com and come on down to the next JBT event, that's all there is to it!
So Cal Invitational- final results and scholarship winners
5/31/2015
Scratch Division
rank
bowler
prize
1
Oscar Chan
$1,000
2
Eric Hatchett
$569
3
Kyle Duster
$260
4
KJ Martinez
$190
5
Steven Acuff
$125
6
Cortez Schenck
$100
7
Joe Grondin
$50
8
Ben Canfield
9
Wesley Low
$148
10
Austin Thompson
$50
11
James Knapp
12
Randi Speiler
13
Ricardo Mendoza
14
Anthony Schanen
15
Brandon Wanders
$50
16
Max Polhill
17
Kennison Andrews
18
Nick Condon
19
Ashley Dunn
20
Anthony Cando
21
Kyle Andrews
22
Kirk Chui
23
Greg Adler
24
Harley Sweigart
25
Matt Zweig
26
Alex Watanabe
27
Chris Tucker
28
Steven Kampley
29
Jerome Jordan
30
Evan Abram
Handicap Division
1
Dustin Yauney
$1,000
2
Andrew Chan
$500
3
Jozef Corwin
$300
4
Kyle Reed
$215
5
Austin Gilbert
$194
6
Zack Long
$167
7
Matt Alford
$100
8
Samantha Potter
$135
9
Leah Zweig
$60
10
Marguerite Evans
$65
11
Trevor Thompson
$65
12
Tim Hill
13
Matt Baker
$60
14
James McGough
$14
15
Gael Egana
16
Costa Gastouniotis
$5
17
Renee Gentry
$15
18
Elijah Melchor
19
Tre Mitchell
$5
20
Justin Patten
21
Dante Rohe
22
Maikayla Villa
23
Sebastian Polhill
24
Dante Villa
25
Kyle Ponzo
26
Abby Franklin
$30
27
Kaitlynn Martin
28
Brian King
29
Benjamin Byers
30
Ryland Pimentel
31
Tyler Hedges
32
Jarred Starr-Moncayo
33
Paul Colyer
$29
34
Secilia Kalvelage
35
Marc Villalobis
36
Kylie Shishima
37
Cristian Roque
38
Brandon Lim
$30
39
Amanda Atkin
40
Julian Zavala
41
Jake Murray
$5
42
Cameron Criss
43
Dawson Reese
44
Bex Boyko
45
Katie Kipler
46
Michaela Buhain
47
Austin Veteto
48
Ryan Galland
49
Brandon Loss
50
Matt Green
51
Megan Carpenter
52
Daniel Koble
53
Taylor Berry
54
Kyle Gilbert
$15
55
Garrett Lundstrom
56
Jacob McGough
57
Matthew Carpenter
Scratch
Handicap
1
Schenck 279
Alford 286
2
Canfield 278
Gastouniotis 284
3
Grondin 269
Starr-Moncayo 276
4
Low 267
Egana 269
5
Duster 258
Evans 263
Girls Invitational
1
Renee Gentry
$200
2
Correen Lieber
3
Randi Speiler
4
Ashley Dunn
5
Marguerite Evans
6
Abby Franklin
7
Megan Carpenter
8
Michaela Buhain
9
Secilia Kalvelage
10
Katelyn Corwin
11
Bex Boyko
Round Leaders
Scratch
Handicap
1
Grondin*
G Egana
2
Duster
J Corwin
3
Duster
J Corwin
4
Duster
J Corwin
5
Duster
J Corwin
Total Awarded This Event: $5,751