WEST COVINA LANES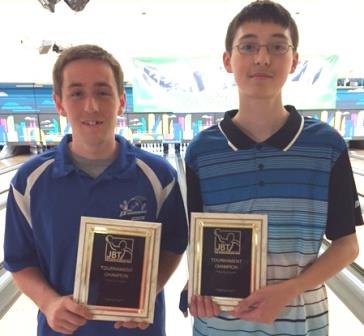 champs Joe Grondin & Matthew Carpenter
Joe Grondin and Matthew Carpenter put on impressive performances to claim JBT titles in exciting Southern California Conference action at Brunswick West Covina Lanes.
Harley Sweigart continued his recent excellent bowling with a 248-226 win over Brandon Wanders to open the dcratch division stepladder finals. Dallas Leong then stopped Sweigart 242-158. Grondin then turned the tables on Leong in the semifinals with a 258-178 win to advance to the title match.
13 year-old Evan Abram, yet another one of the scratch division's 'young guns', was extremely impressive all day long, leading early and then regaining that lead for the #1 spot in the stepladder. He struggled early in the title match, though, and by the time he got it turned around he was out of frames. The veteran Grondin, who also had the high game of the day with a 299, won the title game 238-171 for the third championship of his JBT career.
An extremely entertaining handicap stepladder opened up with Kyle Reed defeating newcomer Costa Gastouniotis 246-225 when Costa left a brutal stone-9 in his tenth frame. Dustin Yauney then escaped from Reed 207-204 with a clutch tenth frame double. Matt Carpenter, who earlier blasted a 289 for his career high game, then beat Yauney 234-214 to advance to his first career title game.
Marc Villalobos was strong all tournament and was hoping to capture his second title of 2015. He rolled a fine 217 game in the title match, but it looked like it wasn't going to be enough as Carpenter needed a high count mark to win. However, he regained hope as Matt left the difficult 3-6-9-10 on his first shot. Carpenter was able to make the spare though, and then struck on the fill ball for the 221-218 win, and an exciting first career JBT title.
Ashley Dunn continued her excellence in the JBT Women's Series, beating Marguerite Evans 202-152 for the day's girls' title.
Thanks to the whole crew at West Covina for hosting our Tour. Want in on all this fun for all ages and averages? Just check us out at www.bowljbt.com, or 'Junior Bowlers Tour Southwest' on facebook. See you soon!
West Covina- final results and scholarship winners
4/11/2015
Scratch Division
rank
bowler

prize

1
Joe Grondin
$200
2
Evan Abram
$114
3
Dallas Leong
$70
4
Harley Sweigart
$78
5
Brandon Wanders
$30
6
Anthony Schanen
7
Kennison Andrews
$24
8
Cortez Schenck
$50
9
Max Polhill
10
Kirk Chui
11
Kyle Andrews
12
Shane Pierson
13
Greg Adler
14
Nick Condon
15
Ashley Dunn
16
Randi Speiler
$10
Handicap Division
1
Matthew Carpenter
$200
2
Marc Villalobos
$100
3
Kyle Reed
$75
4
Dustin Yauney
$60
5
Costa Gastouniotis
$50
6
Jacob Murray
$40
7
Marguerite Evans
$30
8
Nathan Sinclair
$10
9
Zack Long
10
Kyle Gilbert
$29
11
Leah Zweig
12
Brandon Criss
13
Matt Snow
$104
14
Kylie Shishima
15
Secilia Kalvelage
16
Taylor Berry
17
Tre Mitchell
18
Sebastian Polhill
19
Dawson Reese
$74
20
Michaela Buhain
21
James McGough
22
Ryan Langenhorst
23
Andrew Chan
24
Hunter Brown
25
Megan Carpenter
26
Tyler Hedges
27
Ryan Galland
28
Cameron Criss
29
Brandon Lim
30
Krystopher Martin
31
Renee Gentry
Scratch
Handicap
1
Grondin 299
Carpenter 309
2
Wanders 270
Villalobos 277
3
Ken Andrews 268
Long 272
4
Abram 259
Reed 270
5
Abram 259
Murray 268
High Female
1
Evans -73
2
Dunn -96*
3
Buhain -101
4
Kalvelage -145
5
Zweig -150
5
Shishima -150
Round Leaders
Scratch
Handicap
1
Abram
Evans
2
Abram
Villalobos
3
Abram
Villalobos
4
Sweigart
Villalobos
5
Sweigart
Villalobos
6
Abram
Villalobos
7
Grondin
Carpenter
8
Grondin
Villalobos
Total Awarded This Event: $1,352