WEST COVINA LANES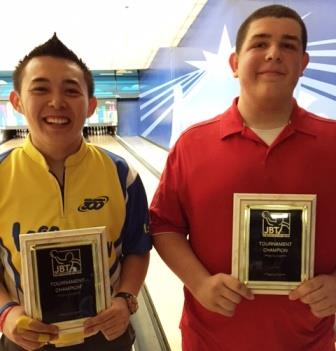 champs Dallas Leong & Dante Rohe
Two out of state bowlers racked up a lot of points and another title each in exciting JBT Southern California Conference action at Brunswick West Covina Lanes.
Birthday boy Anthony Schanen began his first career scratch division stepladder finals with a 224-212 win over Kirk Chui. Previous day's champ Joe Grondin then stopped Schanen 247-212. In a low scoring semifinal, Dallas Leong stopped Grondin 187-181 to advance to yet another title match.
Austin Thompson was brilliant in the second half of the tournament to grab the number one seed, but the right lane on the championship pair did him in. Las Vegas native Leong stayed in control the entire game as a result, eventually winning 226-204 for the 9th title of his JBT career.
Matt Alford made the most of his handicap finals debut, trouncing Leah Zweig 268-213 in round one. Arizona bowler Dante Rohe then stopped Alford 215-189 in round two. Dante was good again in the semifinal, defeating the always entertaining Andrew Chan 236-211 to move up the ladder to the title game.
Zachary Alayra made a very impressive season debut by rolling to the top seed. As sometimes happens though, he struggled in the title match a bit. The veteran Rohe took full advantage, winning the game 213-181 for the second title of his JBT career, and a valuable double points win to solidify his place in the all-conference's elite top 12.
Ashley Dunn completed a sweep of the weekend's women's series events (just for a change, hah). This time, she beat Renee Gentry 205-189 for the day's girls' crown.
Thanks to the whole crew at West Covina for hosting our Tour. Over $2,800 in scholarships, not to mention two balls from title sponsor Ebonite, were awarded over the weekend. Want in on all this fun for all ages and averages? Just check us out at www.bowljbt.com, or 'Junior Bowlers Tour Southwest' on facebook. See you soon!
West Covina- final results and scholarship winners
4/12/2015
Scratch Division
rank
bowler

prize

1
Dallas Leong
$212
2
Austin Thompson
$124
3
Joe Grondin
$50
4
Anthony Schanen
$40
5
Kirk Chui
$30
6
Cortez Schenck
$24
7
Harley Sweigart
8
Brandon Wanders
9
Ashley Dunn
10
Nick Condon
11
Tyler Salverda
12
Luis Perez
13
Patrick Rodriguez
14
Shane Pierson
15
Max Polhill
16
Randi Speiler
$5
17
Greg Adler
Handicap Division
1
Dante Rohe
$225
2
Zachary Alayra
$125
3
Andrew Chan
$75
4
Matt Alford
$60
5
Leah Zweig
$50
6
Carlos Perez
$40
7
James McGough
$40
8
Solomon Salama
$20
9
Kyle Reed
10
Matt Green
$28
11
Ryland Pimentel
$30
12
Brandon Lim
13
Nathan Sinclair
$15
14
Dillon O'Neill
15
Trevor Thompson
$74
16
Brian King
17
Jared Schiada
$5
18
Cameron Criss
$28
19
Renee Gentry
20
Dawson Reese
21
Marguerite Evans
$15
22
Jarred Starr-Moncayo
23
Ryan Galland
24
Zack Long
25
Matthew Carpenter
26
Tim Hill
27
Ryan Langenhorst
28
Michaela Buhain
29
Tre Mitchell
30
Jacob Murray
31
Kyle Gilbert
$14
32
Megan Carpenter
33
Costa Gastouniotis
34
Tyler Hedges
$29
35
Zack Velosa
36
Dustin Yauney
37
Kaitlynn Martin
38
Kylie Shishima
$60
39
Austin Sugarman
40
Secilia Kalvelage
$15
41
Sebastian Polhill
42
Tyler Handa
43
Hunter Brown
44
Krystopher Martin
45
Austin Veteto
46
Matt Snow
47
Taylor Berry
Scratch
Handicap
1
Thompson 277
Chan 295
2
Schenck 269
Chan 278
3
Thompson 268
Alford 268
4
Leong 265
Alayra 266
5
Chui 259
Rohe 263
High Female
1
Dunn +37*
2
Gentry -25
3
Zweig -62
4
Speiler -78
5
Buhain -101
Round Leaders
Scratch
Handicap
1
Leong
A Chan
2
Leong
Rohe
3
Leong
Salama
4
Leong
Alayra
5
Leong
Alayra
6
Thompson
Alayra
7
Thompson
Alayra
8
Thompson
Alayra
Total Awarded This Event: $1,433