GLENFAIR LANES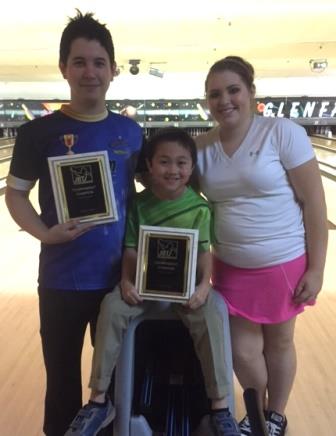 champs Jakob Butturff & Tyler Hedges with girls' champ Amanda Atkin
One JBT vet piled on yet another title, while a youngster won the first of what is sure to be many for him, in terrific Presidents' Day action at Glenfair Lanes.
After two days of tough patterns, scratch bowlers took advantage of a more forgiving look this time, tossing strikes everywhere. In fact, Butturff would throw three 279 games on the day, but was only the #5 seed heading into matchplay! One of those 279's came in the semifinals against Dallas Leong, as Jakob totalled 523 for two to sweep the match. In the other scratch semi, #7 Kyle Duster ousted #3 Ben Canfield in three tough games to advance against Butturff for the title.
Once Jakob finds a look, he stays locked in as well as anyone in JBT history, and after a slow start in the title match he strung the back five for a 236-163 win over Duster, earning his second JBT title of the weekend and 32nd career victory overall.
Nine year-old Tyler Hedges qualified 9th for the matchplay rounds, won his first round, then promptly took out top seed Phillip Sauve in round two. Other higher seeds fared better, with #4 Justin Lawrence, also a finalist Saturday, #3 Michael Chamot, and #2 Zach Rapp adavancing to the final four. In the ensuing single game semis, Hedges beat Lawrence 245-223, while Rapp beat Chamot 221-187 to set up the title game.
Rapp knows how to win, with two majors on his JBT resume, while Tyler was trying to win for the first time in three title match attempts. A tenth frame washout from Zach proved fatal to his chances, and Hedges, the little man with the powerful delivery claimed his first career JBT title with the 208-191 win.
Amanda Atkin got on the winners' board in this season's Women's Series with a 184-162 win over Celeste Valdez for the day's girls title.
Thanks to the whole crew at Glenfair for a great job on a very busy three day weekend. Want in on all this fun for all ages? Just check out our schedule and come on down!
Glenfair Lanes- final results and scholarship winners
2/16/2015
Scratch Division
rank
bowler
prize
1
Jakob Butturff
$200
2
Kyle Duster
$110
3
Dallas Leong
$110
4
Ben Canfield
$40
5
Wesley Low
$32
6
Cortez Schenck
$14
7
Nick Devlin
8
Alex Watanabe
9
Eric Hatechett
10
Johnny Leggett
11
Tim Jacob
12
Josh Franz
13
Sean Trzaskowski
14
Tyler Satter
15
Josh Demick
16
Robert Lucero
17
Adel Wahner
18
Cierra Chamot
19
Max Polhill
20
Keith Fung
Handicap Division
1
Tyler Hedges
$215
2
Zach Rapp
$100
3
Michael Chamot
$50
4
Justin Lawrence
$60
5
Phillip Sauve
$34
6
Amanda Atkin
7
Rachael Berg
$15
8
Bex Boyko
$15
9
Rashaad Jordan
10
Celeste Valdez
$15
11
Paul Colyer
12
Jarred Starr-Moncayo
13
Amelia LaFace
14
Megan Carlson
15
Connor Lawrence
16
Kyle Ponzo
$15
17
Clifford Robbins
18
Abby Franklin
$5
19
Dante Rohe
$58
20
Kyle Lawrence
21
Sebastian Polhill
22
Gillian Coyle
23
Jazmyn Eubanks
24
Zack Long
$100
25
William Robbins
26
Tarik McMaster
27
Destiny Johnson
High Games
Scratch
Handicap
1
Low 288
Z Rapp 295
2
Duster 279
Colyer 284
3
Butturff (3) 279
Sauve 278
4
Schenck 279
Valdez 276
5
Devlin 279
M Chamot 267
High Female
1
Atkin -70*
2
Valdez -77
3
Wahner -88
4
Berg -95
5
Coyle -104
Round Leaders
Scratch
Handicap
1
Butturff
Z Rapp
2
Devlin
M Chamot
3
Leong
M Chamot
4
Leong
Z Rapp
5
Leong
Sauve
Total Awarded This Event: $1,182