GOLD COAST LANES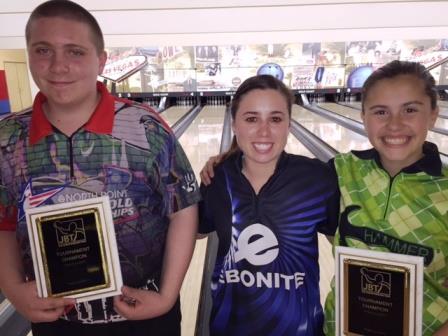 champs Joe Gerencser & Abby Franklin, with girls' winner Randi Speiler
Joe Gerencser and Abby Franklin added additional titles to their collections, capturing the scratch and handicap titles of the JBT Mojave Conference event at Las Vegas' Cold Coast Lanes.
Brandon Russom grabbed the top seed in the scratch division, then saw a solid-9 and a solid-8 in successive tenth frames end his day as #8 Talon Hendrickson took advantage for the 2-0 matchplay sweep. #2 Dallas Leong was upset as well, as #7 Ben Canfield came up with a 2-0 sweep. In the semifinal matches that followed, #4 Gerencser stopped Hendrickson, while Canfield stayed on a roll with a win over #3 Eric Hatchett to play Joe for a chance at the sweep of the weekend.
Gerencser's only previous JBT win was a handicap title in 2011, but it was only a matter of when, not if, he'd break through for a scratch win. The 'when' turned into 'now' when Canfield couldn't strike in the tenth frame of the title match, giving Gerencser the 193-184 win, and first career scratch JBT win.
Handicap top seeds fared better in matchplay, as #1 Michael Owens and #2 Abby Franklin won their first two best-of-3 matches. They rolled on in the semifinals as well, with Michael beating #4 Bella Flowers 215-179, and Abby stopping #11 Zach Rapp with a big 261-196 win, to set up a somewhat rare 1 vs 2 title match.
The championship game was a roller coaster, as Abby appeared to have it locked up before a missed spare paired with an Owens double put Michael in the lead. Michael then opened in the tenth, giving Franklin a second chance, which she took full advantage of with a perfect strike, locking up a 208-201 win, and the fourth title of her JBT career.
Abby was also featured in the day's women's series title match, but top seed Randi Speiler was too much for her this time. Speiler won the game 212-171 for another girls' title for Randi.
Thanks to Gold Coast for again hosting the southwest's best. Want in on all this fun for all ages and averages? Just check out our schedule and come on down, that's all there is to it!
Gold Coast- final results and scholarship winners
4/26/2015
Scratch Division
rank
bowler
prize
1
Joe Gerencser
$214
2
Ben Canfield
$110
3
Eric Hatchett
$60
4
Talon Hendrickson
$30
5
Brandon Russom
$70
6
Dallas Leong
$14
7
Teagan Smale
8
TJ Rock
9
Alex Watanabe
10
Andrew Guba
11
Cortez Schenck
$24
12
KJ Martinez
13
Nick Pollak
14
Randi Speiler
15
Steven Acuff
16
Kirk Chui
17
Anthony Dang
18
Brendan Thomas
19
Jake Hilton
20
Isiah Chavez
21
Max Polhill
22
Jamison Peyton
Handicap Division
1
Abby Franklin
$279
2
Michael Owens
$150
3
Bella Flowers
$100
4
Zach Rapp
$80
5
Brett McEachern
$70
6
Gary Sandoval
$160
7
Nate Farmer
$50
8
Zack Long
$69
9
Tyler Greene
$30
10
Tyler Hedges
$28
11
Jopfel Gafate
12
Matt Baker
$10
13
Brandon Duffy
14
Stacey Cuevas
15
Paul Colyer
$20
16
Ashley Thomas
17
LeeAnn Reyes
18
Sergio Torres
19
Kendal Bennett-Jordan
20
Brendan Lindsey
21
Devyn Patalina
22
Jarred Starr-Moncayo
$29
23
Dante Rohe
$5
24
Amanda Atkin
25
Tyler Thomas
26
James Wilson
27
Gary LaSala
28
Dee Handley
$28
29
Alex Cibura
30
Daryus Alo
31
Tyler Schlei
32
Dylan Amico
33
Kyle Rendon
34
Krystal Amico
35
Emi Leong
36
Crystalene Pineda
37
Garrett Thompson
38
Sebastian Polhill
39
Trevor Hochman
40
David Galvan
41
Justin Freeman
42
Alayna Purdy
43
Derick Poole
44
Phillip Sauve
45
Elisa Loden
46
April McDonnell
47
Kyle Gilbert
48
Jared Schiada
49
Sam Espiritu
50
Christine Cibura
High Games
Scratch
Handicap
1
Hatchett 266
Franklin 261
2
Canfield 252
Franklin 257
3
Russom 252
Farmer 253
4
Leong 247
Franklin 250
5
Smale 238
Rapp 242
High Female
1
Speiler -89*
2
Franklin -94
3
Leong -112
4
Atkin -118
5
A Thomas -120
Round Leaders
Scratch
Handicap
1
Guba
Duffy
2
Hatchett
McEachern
3
Leong
Owens
4
Hatchett
Owens
5
Russom
Owens
TOTAL AWARDED THIS EVENT: $1,481