HOLIDAY BOWL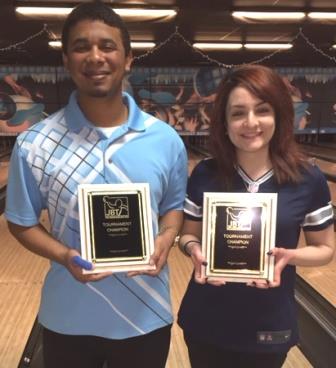 champs Danny Cobine & Vanessa Romero
Danny Cobine and Vanessa Romero had their own Super Sunday in Albuquerque, capturing JBT titles in exciting NM-TX Conference action at Holiday Bowl.
Scores were high all day, and they didn't slow down in the scratch division stepladder, beginning with a 265-215 round one win for Josh Helmick over William Yoder. Cobine then began a thrilling run by doubling in the tenth to defeat Helmick 248-246. The semifinal match was lower scoring but just as tense, as a tenth frame open sunk Jacob Gill's hopes of winning a title, as Danny snuck by 205-196.
Trey Sledge dominated the event all day with his enormously powerful style, but a mid-game pocket 7-10 changed the tone of the title match. In the end, it was Cobine who hung on for the 214-212 win, earning the veteran the 8th title of his JBT career.
Blayne Hurst is another Amarillo bowler with a powerful game, and he began the handicap stepladder by defeating previous day's champion Quirino Sanchez 206-197. Hurst then fired ten strikes in a 277-193 thumping of first-time finalist Nathan Nguyen. Another new finalist, Nathan Price, then stopped Hurst 244-206, to move on to the title match.
Vanessa Romero already had a successful weekend with a Women's Series win yesterday. She catapulted from a good weekend to an outstanding one here, leading the high scoring field and then stopping Price 215-186 to earn the first singles title of her JBT career.
Romero also squared off against fellow Las Cruces bowler Adel Wahner in a women's series rematch from the day before. This time Wahner got her revenge, beating Vanessa 227-192 for the day's girls crown.
Thanks as always to the terrific staff at Holiday for a great job hosting our event. Want in on the fun? Just come on down to the next JBT event, that's all you have to do!
Holiday- final results and scholarship winners
2/1/2015
Scratch Division
rank
bowler
prize
1
Danny Cobine
$200
2
Trey Sledge
$172
3
Jacob Gill
$50
4
Josh Helmick
$87
5
William Yoder
$20
6
Taylor Behpour
7
Curtis Lindeman
8
Adel Wahner
$15
9
Armando Ortega
10
Zach Wojciechowski
11
Ryan Gose
12
Dallas Ehlert
13
Angel Ortega
14
Carson Opela
15
Christian Apolonio
16
Ahkeen Williams
17
Joey Balistreri
18
Kyle Salazar
$10
19
Brad Harvey
20
Josh Demick
21
John Ellis
22
Bree Vargas
23
Matthew Tran
24
Ryan Byer
25
Isziah Zuni
26
Ben Stedman
27
Zach Harvey
Handicap Division
1
Vanessa Romero
$225
2
Nathan Price
$125
3
Blayne Hurst
$75
4
Nathan Nguyen
$145
5
Quirino Sanchez
$110
6
Jonah Seawrght
$40
7
Staci Gleason
$60
8
Cerra Strickland
$20
9
Yarelis Alvarez
10
Chris Ortega
11
Jake Helmick
$15
12
Katie McNeil
13
Noah Martinez
14
Christopher Sanders
15
Alyssa Williams
16
Angela Romero
17
Rob McClelon
$30
18
Jacob Marquis
19
Lindsey Sanchez
$50
20
Nathan Tran
21
Steven Aque
22
Justin Hackney
23
Josie Herson
24
Christina Ward
25
Toby Cdebaca
$15
26
Audrey Campbell
$15
27
Nick Sanchez
28
Isaac Duran
29
Jake Lucero
30
James Fine
31
Kelly McNeil
32
Mikie Cates
$15
33
Lacey Shelton
34
Gerilynn Delegarito
35
Morgan Ellis
36
Taylor Herson
$15
37
Kallista Fritts
38
3lizab3th Rom3ro
39
Montana Cdebaca
40
Matteo Bergonzi
$5
41
Jay Heffer
42
Shaneice Williams
43
Jensen Stiles
44
Nathaniel Duran
Women's Series
1
Wahner +104*
2
V Romero +93
3
B Vargas -30
4
Gleason -38
5
Strickland -46
High Games
Scratch
Handicap
1
Wojciechowski 279
Price 297
2
Sledge 279
Nguyen 287
3
J Gill 279
Hurst 277
4
Behpur 278
Price 264
5
Helmick 275
Price 262
Round Leaders
Scratch
Handicap
1
Behpour
N Tran
2
Sledge
V Romero
3
Sledge
V Romero
4
Sledge
V Romero
5
Sledge
Price
6
Sledge
Price
7
Sledge
V Romero
8
Sledge
V Romero
TOTAL AWARDED THIS EVENT: $1,514