ISLETA FUN CONNECTION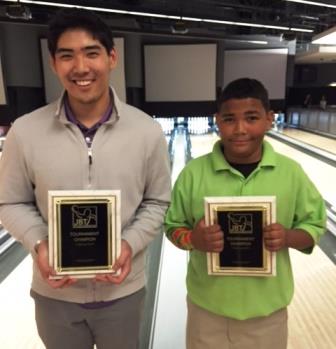 champs Alex Watanabe & Donius Jeffries II
Alex Watanabe and Donius Jeffries II each earned their first JBT singles titles in exciting NM-TX Conference action at Albuquerque's Isleta Fun Connection.
Bowlers competed in the always exciting 'super survivor' format, where the lowest game and the lowest totals are eliminated round by round until only the winner survives. The scratch division was eventually squeezed down to three bowlers, and in that penultimate round Josh Helmick rolled 234 and Watanabe fired 238 to eliminate Cortez Schenck (156) and advance to the final game.
The title match was a grind-out, not uncommon on the day's difficult lane pattern, one of the toughest of the season. Alex appeared to have the match locked up with a tenth frame spare, but a 6-count on the fill ball gave Helmick an unexpected second chance. Now needing all three to win, Helmick carried through the nose on his first ball, went brooklyn on his second ball, but another high hit on the final ball (after a brave ball change) only got an 8-count, leaving him on the short end of a 180-179 thriller. It's Watanabe's first career JBT singles title to go along with a doubles win earlier this season.
Eighteen handicap survivors were also eventually carved down to three, and in that game Jeffries' 235 was plenty good, and Trevor Hicks' 209 was good enough for second, while Nathan Tran (171) was eliminated in third. In the resulting title game, Donius stayed in control the entire time, and his 208-165 win was good for the first title of his JBT career.
Alyssa Williams' debut in the JBT Women's Series title match was an auspicious one, as she blasted a 255 game for a win over Adel Wahner for the first girls' title of her career.
Thanks as always to the great team at Isleta for hosting our Tour. Want in on all the excitement? Just check out our schedule and come on down, that's all you have to do!
Isleta Fun Connection- final results and scholarship winners
4/4/2015
Scratch Division
rank
bowler
prize
1
Alex Watanabe
$215
2
Josh Helmick
$129
3
Cortez Schenck
$79
4
Jacob Gill
$40
5
Angel Ortega
$20
6
Armando Ortega
7
Zach Harvey
8
Danny Cobine
9
Curtis Lindeman
10
Ben Stedman
11
Joey Balistreri
12
Adel Wahner
13
John Ellis
14
Ahkeen Williams
15
Zach Wojciechowski
16
William Yoder
17
Mark Vigil
18
Josh Demick
19
Brad Harvey
20
Carson Opela
21
Matthew Tran
22
Iszian Zuni
23
Bree Vargas
24
Christian Apolonio
25
Trey Sledge
Handicap Division
1
Donius Jeffries II
$270
2
Trevor Hicks
$155
3
Nathan Tran
$75
4
Justin Hackney
$90
5
3lizab3th Rom3ro
$80
6
Aarin Jeffries
$40
7
James Jeffries
$60
8
Alyssa Williams
$15
9
Harlee Wilson
10
Montana Cdebaca
$10
11
Toby Cdebaca
12
Lacey Shelton
13
Quirino Sanchez
$55
14
Nathaniel Duran
$15
15
Jacob Lucero
16
Jake Helmick
17
Josiah Ficklin
18
Andrea Griego
19
Rob McClelon
$15
20
Jay Heffer
21
Lindsey Sanchez
22
Gerilynn Delegarito
$5
23
Jacob Marquis
24
Nick Sanchez
25
Destiny Johnosn
26
Isaac Duran
27
Vanessa Romero
28
Zack Long
29
Jamie Hughes
30
Aileen Linares
31
Noah Martinez
32
Katie McNeil
33
Jonah Seawright
34
Nathan Nguyen
35
Kolton Carpenter
36
James Fine
37
Abigail Marquis
38
Christina Ward
39
Dale Case
40
Jeremiah McClelon
Women's Series
1
Williams -146
2
Wahner -161
3
E Romero -174
4
Cdebaca -192
5
V Romero -194
High Games
Scratch
Handicap
1
Watanabe 256
Hicks 287
2
Helmick 248
Helmick 283
3
A Ortega 246
Williams 257
4
Schenck 237
J Jeffries 249
5
Helmick 233
Tran 248
Round Leaders
Scratch
Handicap
1
Schenck
Q Sanchez
2
Schenck
J Jeffries
3
Schenck
Hicks
4
Schenck
Hicks
5
Watanabe
Tran
TOTAL AWARDED THIS EVENT: $1,478
.