KEYSTONE LANES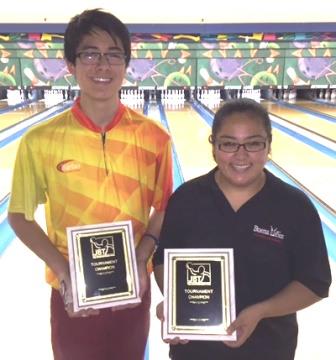 champs Cortez Schenck & Secilia Kalvelage
Cortez Schenck and Secilia Kalvelage picked up JBT titles in exciting JBT Southern California Conference action at Keystone Lanes in Norwalk.
Bowlers were tested by the 'pick yer poison' format, where higher seeded bowlers have their choice who to bowl in matchplay. Schenck put on one of the more memorable performances of his fantastic career, throwing a plastic ball from start to finish, with a low game of 227, a 252 qualifying average, and a sweep all the way to the title. His last two opponents pushed him all the way though. In the semifinal, previous day's champion Joe Grondin had a chance to steal a win away from Schenck when Cortez's 7-count left the window open, but a brutal solid-7 gave Schenck a 245-236 win. In the other semifinal match, Bobby Hornacek rolled past Austin Thompson 254-167 to set up the finale. Things looked good for Bobby when he started with the front five, but Cortez simply wasn't to be denied, finishing with a big string of his own and ending up with a 257-239 win, and the 41st title of his JBT career.
High scores were prevalent in the handicap division as well, exemplified by top seed David Schneider's 498-406 win over points leader Dawson Reese in the round of eight. #2 seed Cameron Criss and Kyle Ponzo might have had the match of the day in that same round, as #2 Cameron edged Kyle 495-492. In single game semifinal matches, Criss stopped Trevor Thompson 200-155, while Secilia Kalvelage doubled in the tenth frame to shut out Schneider in a 267-252 thriller, to set up the title match.
The title match saw both bowlers again way over their average, but this time it was the veteran Kalvelage who came up with the bigger game, defeating Criss 254-239, to earn the first title of her JBT career.
Ashley Dunn swept the weekend's Women's Series events, this time beating Sarah Schneider 202-182 for her third win of the season, making her the first bowler officially eligible for the 2015 Girls TPC!
Thanks as always to the crew at Keystone for hosting our Tour. Want in on the fun? Just check out our schedule and come on down!
Keystone Lanes- final results and scholarship winners
10/5/2014
Scratch Division
rank
bowler

prize

1
Cortez Schenck
$332
2
Bobby Hornacek
$110
3
Joe Grondin
$50
4
Austin Thompson
$30
5
Nick Pollak
$20
6
Wesley Low
7
Kennison Andrews
8
Jerome Jordan Jr
$15
9
Ashley Dunn
10
Kyle Duster
11
Kyle Andrews
12
Kirk Chui
13
Oscar Chan
14
Brandon Wanders
15
Anthony Cando
16
Clint Strawmyer
17
Derek Acuff
18
Tyler Espinola
19
Randi Speiler
$10
20
Nick Condon
21
Anthony Schanen
22
Billy Dacanay
23
Nick Caver
24
Ricardo Mendoza
25
Steven Acuff
Handicap Division
1
Secilia Kalvelage
$215
2
Cameron Criss
$190
3
David Schneider
$90
4
Trevor Thompson
$45
5
Kaitlynn Martin
$50
6
Kyle Ponzo
$35
7
Leah Zweig
8
Dawson Reese
9
Andrew Chan
10
James McGough
$15
11
Sarah Schneider
$29
12
Dante Villa
13
Ryan Galland
14
Kyle Reed
15
Amanda Atkin
16
Austin Veteto
17
Maikayla Villa
18
Zack Long
19
Marguerite Evans
20
Tyler Hedges
21
Kylie Shishima
22
Dustin Yauney
23
Michaela Buhain
24
Renee Gentry
25
Taylor Berry
26
Abby Franklin
27
Solamon Salama
28
Jacob Murray
$20
29
Alli Azvedo
30
Jackie Azvedo
31
Julian Zavala
32
Jarred Starr-Moncayo
Scratch
Handicap
1
Grondin 280
Long 276
2
Schenck 279
Chan 276
3
Ken. Andrews 279
Criss 275
4
Hornacek 278
D Schneider 267
5
J Jordan 278
Kalvelage 267
High Female
1
Dunn +83*
2
S Schneider +9
3
Speiler -42
4
Gentry -75
5
Kalvelage -123
Round Leaders
Scratch
Handicap
1
Schenck
Criss
2
Schenck
D Schneider
3
Schenck
Criss
4
Schenck
Criss
5
Schenck
D Schneider
Total Awarded This Event: $1,256