PAC NW BAKER TEAM EVENT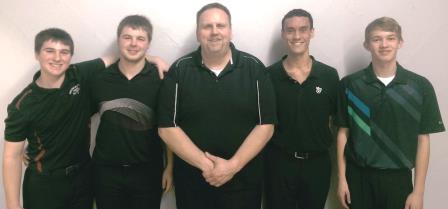 champs Tommie McNeal, Tanner Spacey, Ty Treddenbarger, Erik Vanderford, and Kyle Jonson
A talented quintet from the Puget Sound took down the title in the JBT Pac NW Baker Team event, hosted by Burien's Hiline Lanes.
After 12 qualifying Baker games, "That's not Blue" qualified first at -41 on the challenging pattern. However, the #9 seeded "Everyone Hates Chris" made five more enemies by ousting them in round two of the 2-of-3 matchplay finals. #2 "Christmas Custard" (pictured above) had the match of the day, as their deciding game against "Start With Your Left" ended tied at 161, and the ensuing one-shot rolloff between Daniel Hanson and Tanner Spacey remained tied at four strikes each before Tanner pulled out a 10-9 win in round five to move on. They won another 3-game match in the semis, this time from #11 "Evergreen Lanes" to reach the title game, which would be against none other than Everybody Hates Chris, who worked their way to the finals from the other side of the bracket.
The title match featured ten excellent bowlers going back and forth, and it too was decided by a third and final game, won by Spacey and company for the victory. It's the 7th of Tanner's career, 2nd for Tommie McNeal, and 2nd for Kyle Jonson, and they were assisted by adults Erik Vanderford and Tanner and Tommie's coach Ty Treddenbarger. Everybody Hates Chris (pictured below) settled for second, and was actually a perfectly likable team of Johnny Leggett, Caleb Hathaway, Treyshawn Culpepper, and Chris and Craig Tuholski.
Thanks as always to Pat Johns and the Hiline crew for hosting one of the most fun events of the season. Want in on all the action? Just come on out to the next JBT event, that's all you have to do!
Pac NW Baker- final results and scholarship winners
12/7/2014
rank
bowlers
prize
total
1
Tommie McNeal
$166
$500
Kyle Jonson
$166
Erik Vanderford
Ty Treddenbarger
Tanner Spacey
$166
2
Craig Tuholski
$63
$255
Chris Tuholski
Caleb Hathaway
$63
Treyshawn Culpepper
$63
Johnny Leggett
$68
3
Kyler Crevier
$37
$150
Andrew Heritage
$37
Connor Jackley
$37
Ed Bliquez
Shannon Bliquez
$37
4
Cameron Pierre
$50
$150
Candice Goldfinch
$50
Tristan Sievers
$50
Neal Goldfinch
Scott Diston
5
Tyler Boe
Josh Jackson
Perry Crowell IV
Kolby Crowell
Sheri Hill
6
Josh Alvarez
Toby Shepherd
Brian Beckmann
Corey Del Fierro
Jacob Mullen
7
Kelsey Abrahamen
Kevin Hong
Zoe Mahn
Andy Herrmann
Jason Green
8
Bob Hanson
Rob Nay
Daniel Hanson
Brian Monnette
Austin Portalski
9
Tyler Hogstrom
Jodey Rees
Erik Holbein
Daniel Johnson
$5
AJ Brockett
10
Elise Yates
Chandler Jones
Schrader White
Ryan Fauland
Gabe Bogner
11
Nick Bruketta
Bailey Peters
Maddison Durr
David Durr
Caitlyn Hayes
12
Nick Devlin
Eric Hatchett
Josh Leinassar
Brandon Myers
Evan Olson
13
Brian DeLuisa-Anderson
Mark Lackey
Tyler Harmon
Lori McFarland
Nick Perini
14
AJ Schock
$5
Cameron Nodland
Brandon Nodland
Mitch Nodland
Paul Haight
15
Rick Satter
Tyler Satter
Derek Johnson
Greg Miller
Mackenzie Brumbaugh
16
Collins Davis
Peter Davis
Saay Ault
Kris Tomer
Collin Young
17
Joey Huffman
Dayton Wickham
McKenna Jacobe
Justin Song
Kevin Obrist
18
Parker Portalski
Elisa Couch
Blake Portalski
Jeff Portalski
Cedric Scott