PAC NW DOUBLES CLASSIC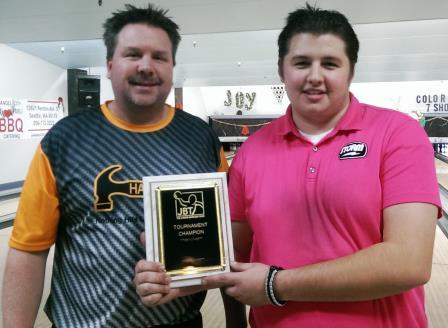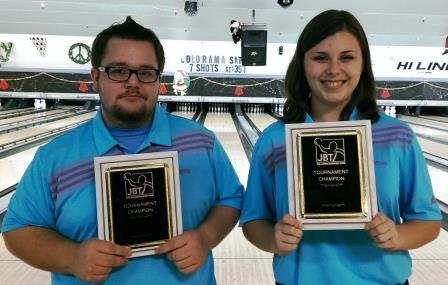 champs Kyler Crevier & Blaine Weninger, and Nick Bruketta & Maddison Durr
Four bowlers claimed JBT titles in jam-packed action at the Pac NW Doubles Classic, hosted by Hiline Lanes in Burien.
The father-son team of Peter and Collins Davis began the handicap division alternating-frame stepladder finals with a 198-192 squeaker win over the brother duo of Kyle and Zane Hays. Michael Baunsgard and Matthew Anderson then stopped the Davis duo 179-149. Michael and Matthew then stopped Jonathan Bautista and his mom Lillian 217-190 to move on to the title game.
Top seeds Nick Bruketta and Maddison Durr took over the lead from the Hays team in game four and didn't look back. They stayed in control in the title match as well, defeating Baunsgard and Anderson 208-132 for the title. It's Nick's sixth Cwin and Maddison's first of her JBT career.
JBT alumni John Jordan and current Mojave Conference star Eric Hatchett began the scratch division finals with a 234-201 win over the father-son duo of Bob and Daniel Hanson. John and Eric then beat the Oregon duo of Brandon Myers and Nick Devlin 256-201 to move on to the title game.
Kyle Crevier and Blaine Weninger made a tough adult-junior team of Oregonians, taking over the event in the semifinals. They held off Jordan and Hatchett 202-160 to top the tough field and earn the title.
Thanks as always to Pat Johns and the crew at Hiline for handling the big crowd! Want in on all the fun? Just come on down to the next JBT event, that's all you have to do!
Pac NW Doubles- final results and scholarship winners
12/6/2014
Scratch Division
rank
bowler
prize
bowler
prize
total
1
Kyler Crevier
$300
Blaine Weninger
$300
2
John Jordan
Eric Hatchett
$200
$200
3
Nick Devlin
$80
Brandon Myers
$75
$155
4
Bob Hanson
Daniel Hanson
$140
$140
5
Robby Davidson
Brian Monnette
$110
$110
6
Tyler Boe
$35
Josh Jackson
$35
7
Connor Jackley
Jason Lower
8
Kelsey Abrahamsen
Kevin Hong
9
Tanner Spacey
AJ Brockett
10
Elise Yates
Crista Vicars
11
Josh Alvarez
Corey Del Fierro
12
Joey Huffman
Kevin Obrist
13
Gabe Bogner
Jordan Yoke
14
Ty Treddenbarger
Tommie McNeal
$5
$5
15
Perry Crowell IV
Kolby Crowell
16
Derek Johnson
Greg Miller
17
Tyler Hogstrom
Tom Anderson
18
Caleb Hathaway
Ryan DeFazio
19
Sam Neves
Jake Mullen
20
Rick Satter
Tyler Satter
21
Chris Tuholski
Johnny Leggett
22
Toby Shepherd
Derek Handy
23
Parker Chui
Justin Song
Handicap Division
1
Nick Bruketta
$200
Maddison Durr
$215
$415
2
Michael Baunsgard
$125
Matthew Anderson
$125
$250
3
Jonathan Bautista
$215
Lillian Bautista
$215
4
Collins Davis
$165
Peter Davis
$165
5
Kyle Hays
$78
Zane Hays
$93
$171
6
Candice Goldfinch
$100
Scott Diston
$100
7
Bailey Peters
$30
Mikayla Hahn
$30
8
Mackenzie Brumbaugh
Derek Johnson
9
Andy Herrmann
KJ Richards
10
Nickolas Perini
Russ Perini
11
Cindy Mattingly
Mason Mattingly
12
Cameron Pierre
Jason Hoff
13
Lisa Hamel
Joey Massey
14
Jerry Koopman
Brian DeLuisa-Anderson
$5
$5
15
Andre Bennett
Faity Sylis Bennett
16
Octavio Rosales
Paul Rosales
17
Kyle Jonson
Zoe Mahn
18
Dayton Wickham
McKenna Jacobe
19
Richard Livingston
William Day
20
Russ Perini
Alex Perini
21
Alejandro Moser-Hernandez
$75
Armando Moser-Hernandez
$75
22
Tyler Harmon
Mark Lacky
23
Samm Cosby
Brendan Hopkins
24
(Nickolas Perini)
Lorie Perini
25
Bryan Gayles
Treyshawn Culpepper
26
Ariana Montagne
Reagan Lory
27
Sheri Hill
Jeff Scott
28
Bri Hemming
$5
Ron Hemming
$5
29
Michael Creel
Bob Coffey
30
Paul Haight
AJ Schock
31
Cameron Nodland
Brandon Nodland
32
Cody Tobin
Michael Tobin
33
Tyler Rasmussen
$30
Marty Rasmussen
$30
34
Sam Gritzke
Vince Sellzler
35
Ed Bliquez
Shannin Bliquez
High Games
Scratch
Handicap
1
Spacey 259
Brumbaugh 267
2
Alvarez 256
Herrmann 265
3
Myers 255
Jonson 259
4
Hatchett 255
Hahn 258
5
Spacey 248
Durr 258
Round Leaders
Scratch
Handicap
1
McNeal-Treddenbarger
Hays-Hays
2
Devlin-Myers
Hays-Hays
3
Devlin-Myers
Hays-Hays
4
Devlin-Myers
Bruketta-Durr
5
Hanson-Hanson
Bruketta-Durr
6
Crevier-Weninger
Bruketta-Durr
7
Crevier-Weninger
Bruketta-Durr
TOTAL AWARDED THIS EVENT: $2,406