PALM SPRINGS LANES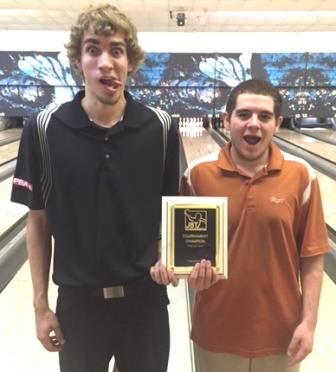 champs Ben Canfield & Marc Villalobos
Ben Canfield and Marc Villalobos captured JBT titles in exciting Southern California Conference action at Palm Springs Lanes.
Prior to the title match, Dallas Leong was the star of the scratch division stepladder, as he began a climb with a 266-237 win over Russ Oviatt in a strike-filled match. Dallas then stopped Cortez Schenck 218-206, and followed with a 218-206 win over Billy Dacanay to advance to the title match.
Top seed Canfield had squeezed out Dacanay and Schenck by only two pins for the #1 position, and given Leong's previous stepladder scores that made all the difference. Leong slowed down in the title match and Ben took advantage for a 216-173 win, and the 21st JBT title of his exceptional career.
Ryan Galland experienced a nearly identical four matches to Dallas in the handicap stepladder. He began his climb with a 257-209 win over Kyle Reed. He followed with a 226-210 win over Bex "I finish fourth a lot" Boyko, and then defeated Taylor Berry 222-192 to reach the title match.
Top seed Marc Villalobos enjoyed his career-best JBT event with great bowling all day, and didn't slow down one bit in thr final game. He stopped Ryan's run 258-182 to win the first title of his JBT career.
Ashley Dunn continued her dominance in the JBT women's series, defeating Bex Boyko 188-162 for the day's girl's crown.
Thanks as always to the crew at Palm Springs for hosting our Tour! Want in on all the fun for all ages and averages? Just check out our schedule and come on down!
Palm Springs Lanes- final results and scholarship winners
1/31/2015
Scratch Division
rank
bowler
prize
1
Ben Canfield
$200
2
Dallas Leong
$110
3
Billy Dacanay
$50
4
Cortez Schenck
$30
5
Russ Oviatt
$20
6
Matt Zweig
7
Austin Thompson
$124
8
Brandon Wanders
9
Bobby Hornacek
10
Ryan Miller
11
Jake Hilton
12
Chris Tucker
13
Anthony Cando
14
Ashley Dunn
15
Kennison Andrews
16
Kyle Andrews
17
KJ Martinez
18
Kirk Chui
19
Joe Grondin
20
Greg Adler
21
Harley Sweigart
22
Randi Speiler
23
Clint Strawmyer
Handicap Division
1
Marc Villalobos
$270
2
Ryan Galland
$100
3
Taylor Berry
$50
4
Bex Boyko
$94
5
Kyle Reed
$40
6
Jacob Murray
$20
7
Trevor Thompson
$48
8
Kyle Sidileau
9
Tyler Hedges
$14
10
Kyle Ponzo
11
Marguerite Evans
$16
12
Kyle Gilbert
$19
13
Zack Long
$48
14
Abby Franklin
$21
15
Michaela Buhain
16
Brandon Lim
$16
17
Megan Carpenter
$10
18
Kaitlynn Martin
19
Dustin Yauney
20
Hunter Brown
21
Matthew Green
22
Secilia Kalvelage
23
Leah Zweig
24
Kylie Shishima
25
James McGough
26
Austin Gilbert
27
Matthew Carpenter
28
Jarred Starr-Moncayo
29
Dante Rohe
30
Krystopher Martin
31
Dawson Reese
Scratch
Handicap
1
Canfield 278
Berry 286
2
Dacanay 269
Galland 278
3
R Miller 268
Villalobos 275
4
Thompson 267
Thompson 264
5
Leong 266
Buhain 264
High Female
1
Dunn -10*
2
Boyko -60
3
Evans -78
4
Buhain -100
5
Carpenter -126
Round Leaders
Scratch
Handicap
1
Zweig
Berry
2
Canfield
Berry
3
Canfield
Berry
4
Canfield
Berry
5
Canfield
Berry
6
Canfield
Villalobos
7
Canfield
Villalobos
8
Canfield
Villalobos
Total Awarded This Event: $1,292