BRC PREMIER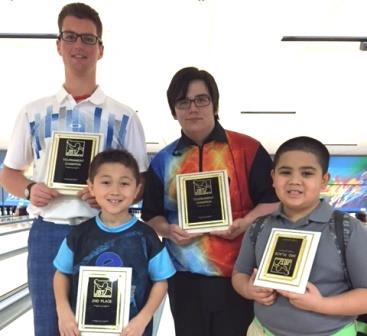 champs Harley Sweigart & Jarred Starr Moncayo w/ runners-up Tyler Hedges & Daryus Alo
Harley Sweigart and Jarred Starr-Moncayo racked up another title on their respective resumes in exciting JBT Southern California Conference action at Chula Vista's BRC Premier Lanes.
Eight scratch division survivors competed in low-bowler out matches after qualifying, and each round produced tenth frame do-or-die moments. Wesley Low commanded the qualifying round to earn the top seed, and he eventually made his way to the final four. However, in that round, Sweigart, who had had already struck in the tenth to survive an earlier round, did it again to shut out Low in a 257-236 thriller. The other semifinal came down to the tenth as well, and there Ricardo Mendoza got the mark he needed for a 212-208 win over Ben Canfield to advance and face Sweigart for the title.
Harley remained in control the entire title game, eventually winning 191-157 for the fifth title of his JBT career, and second consecutive personally, having won at Canyon in February. The runner-up finish matches Mendoza's career high.
Eighteen handicap survivors were eventually carved down to six, and in those matches, Starr-Moncayo stopped Brian King 239-215, 9 year-old Tyler Hedges beat newcomer Tim Hill 188-178, and 8 year-old Daryus Alo used a 231 scratch game to stop another rookie, Nathan Sinclair, 278-202.
This set up a three-way final match for all the marbles. Alo was unable to keep the pace from his last game, finishing at 197. Hedges rolled a solid game of 228, forcing Jarred to double in the tenth for the win. Starr-Moncayo, who had also led all five qualifying games, kept up the brilliant performance by getting the double, finishing at 232 and earning the sixth title of his JBT career with the exciting victory.
It was Randi Speiler and Ashley Dunn facing off in yet another girls' title match, and this time top seed Dunn prevailed with a 203-181 win, her tenth Women's Series victory of the season.
Thanks to the crew at Premier for hosting our event- want in on the fun? Just check out our schedule and come on down!
BRC Premier- final results and scholarship winners
3/8/2015
Scratch Division
rank
bowler
prize
1
Harley Sweigart
$200
2
Ricardo Mendoza
$100
3
Wesley Low
$120
4
Ben Canfield
$40
5
Cortez Schenck
$30
6
Ashley Dunn
7
Esteban Becera
8
Austin Thompson
9
Kennison Andrews
10
Randi Speiler
11
Greg Adler
12
Anthony Schanen
$10
13
Kirk Chui
14
Kyle Andrews
15
Brandon Wanders
16
Saul Ulloa
17
Brandon Millan Garcia
Handicap Division
1
Jarred Starr-Moncayo
$244
2
Tyler Hedges
$115
3
Daryus Alo
$70
4
Tim Hill
$60
5
Brian King
$50
6
Nathan Sinclair
$40
7
Ryan Langenhorst
8
Paulina Egana
9
Kyle Reed
10
Gael Egana
11
Zack Long
$15
12
Marguerite Evans
$30
13
Michael Abramowitz
14
Caleb Rothstein
15
Michaela Buhain
16
Brandon Lim
$15
17
Jacob Murray
18
Joshua Abigania
$15
19
Ian Versaggi
20
Ryland Pimentel
21
Trevor Thompson
22
Renee Gentry
$15
23
Dustin Yauney
24
Secilia Kalvelage
25
James McGough
26
Kyle Gilbert
$15
27
Brandon Loss
28
Maikayla Villa
29
Jose Luis Morales
30
Ryan Galland
31
Matt Carpenter
$44
32
Dante Villa
33
Matthew Green
34
Ashley Wilcox
35
Dawson Reese
Scratch
Handicap
1
Canfield 277
Starr-Moncayo 292
2
Low 268
Alo 278
3
Mendoza 259
G Egana 274
4
Schenck 259
Langenhorst 264
5
Low 258
Long 260
High Female
1
Dunn -46*
2
Speiler -87
3
Gentry -117
4
Buhain -138
5
Evans -144
Round Leaders
Scratch
Handicap
1
Canfield
Starr-Moncayo
2
Canfield
Starr-Moncayo
3
Low
Starr-Moncayo
4
Low
Starr-Moncayo
5
Low
Starr-Moncayo
Total Awarded This Event: $1,228