SAM'S TOWN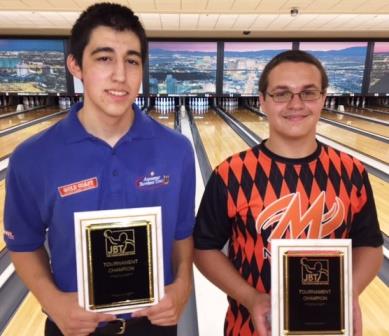 champs Eric Hatchett & Michael Rose
Eric Hatchett and Michael Rose put on impressive performances to capture JBT titles in terrific Mojave Conference action at Las Vegas' Sam's Town Bowling Center.
Bowlers in both divisions competed in the very exciting 'super survivor' format, where the lowest single game and lowest overall totals are eliminated game by game, creating do or die moments all throughout the center. Nine scratch survivors were carved down to five, and in that round Cerell Cardines bowed out with the low game (a still-nice 196), and Teagan Smale was eliminated with the low total of +54, but still made his first career scratch top 5 finish.
In the round of three, three talented Las Vegas bowlers fought it out, with Eric Hatchett (225) and Dallas Leong (244) outlasting Nick Pollak (206) to advance to the title game. The title match was a very high-level display of bowling, with 18 strikes between the two bowlers. Though Dallas bowled great, Eric was unstoppable, with only a miss in the third preventing perfection in a 277-244 win, and his 13th career JBT title. Though Leong hasn't won yet this season, he also hasn't missed the top 5, and the consistency is paying off in the points race. Meanwhile, on a sport and challenge pattern (Boardwalk and Abbey Road), it took a total of 577 (Eric's 277 and Ben Canfield's 300 the day before) to win a scratch title this weekend- these guys are GOOD!
Fifteen handicap survivors were whittled down to six, and in that round, Kyle Rendon (174) had the low game, while Jopfel Gafate (+145) and Marguerite Evans (+123) had the lowest two totals, eliminating them and advancing three players to the semifinals. In that resulting three way match, Dylan Amico (235) and Michael Rose (245) eliminated Kevin Mette (213) to set up the title game. In the finale, first-time finalist Amico struggled a bit, and settled for a career-best second place finish and Rose cruised to a 228-194 win and his second career JBT title.
Randi Speiler swept the women's series on the weekend, this time beating Brooke Martinez 238-181 for the second of three wins she needs to get into the 2015 Girls TPC.
Big thanks to Tom and everyone at Sam's Town for a flawless job hosting us. Want in on all the fun? Just check out our schedule and come see us at the next JBT event!
Sam's Town- final results and scholarship winners
10/19/2014
Scratch Division
rank
bowler

prize

1
Eric Hatchett
$210
2
Dallas Leong
$139
3
Nick Pollak
$50
4
Cerell Cardines
$30
5
Teagan Smale
$20
6
Ben Canfield
7
Isiah Chavez
8
Brendan Thomas
9
Cortez Schenck
10
Zach Martinez
$71
11
Austin Thompson
12
KJ Martinez
13
Jamison Peyton
14
Ricardo Mendoza
15
Joe Gerencser
16
Zach Hattori
17
Randi Speiler
18
Tyler Satter
19
Leah Glazer
20
Max Polhill
21
Andrew Guba
22
Nick Condon
Handicap Division
1
Michael Rose
$200
2
Dylan Amico
$100
3
Kevin Mette
$50
4
Kyle Rendon
$45
5
Jopfel Gafate
$30
6
Marguerite Evans
$107
7
Nathan Hanuscin
8
Brandon Duffy
9
James Wilson
10
Daryus Alo
11
Sebastian Polhill
12
Garrett Thompson
13
Zack Long
$29
14
Brooke Martinez
15
Alayna Purdy
16
Veronica Schleicher
17
Sergio Torres
18
Justin Freeman
19
Tyler Thomas
20
Paul Colyer
21
Dee Handley
22
Crystalene Pineda
23
Jarred Starr-Moncayo
24
Dante ROhe
25
Collin Deppe
26
Brendan Lindsey
27
Tyler Hedges
$15
28
Austin Veteto
29
April McDonnell
30
Abby Franklin
$15
31
Trevor Thompson
32
Devyn Patalina
33
Keilani Bermudez
Scratch
Handicap
1
Pollak 279
Mette 291
2
Hatchett 277
D Amico 271
3
Hatchett 269
Mette 267
4
A Thompson 268
Hanuscin 267
5
Z Martinez 265
Rendon 265
High Female
1
Speiler -121*
2
B Martinez -125
3
Evans -130
4
Glazer -135
5
Schleicher -160
Round Leaders
Scratch
Handicap
1
Leong
Mette
2
Hatchett
Rose
3
Pollak
Rose
4
Pollak
Rose
5
Pollak
Rose
Total Awarded This Event: $1,111