BRC CAMINO SECO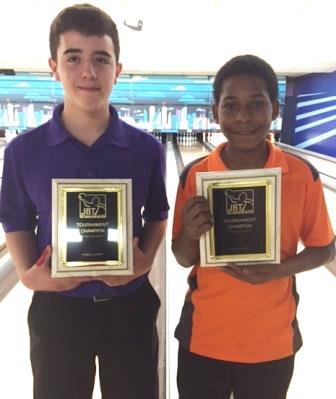 champs KJ Martinez & Rashaad Jordan
KJ Martinez broke through for his first scratch win, while Rashaad Jordan regained his winning form, in exciting action at BRC Camino Seco.
Bryan Van Sickle began the scratch division stepladder finals with a 245-187 win over fellow Tucsonan Cam Lamson. First time scratch singles finalist Jake Hilton then squeaked by Van Sickle 201-200. Cortez Schenck then stopped Hilton 234-212 to move on to the title match.
Top seed Martinez had been at or near the top of the leaderboard all day long, and had been close to breaking through for his first scratch win all season. He finally got over the hill here, beating familiar foe Schenck 229-192 for the title, which is also the 11th of his excellent JBT career.
Jordan was extremely impressive as he roared up the handicap division stepladder. He began with a 259-216 win over Justin Lawrence. Rashaad then beat Bex Boyko, who had to settle for a third straight 4th place finish, 227-204, and followed with a 213-194 win over Phillip Sauve to reach the title match.
Top seed Rob McClelon bowled awesome all day long en route to a big lead after the semifinals. However, Jordan was on a big time roll, and it only got better for him in the title game. Despite a solid game from Rob, he beat McClelon 264-234, earning the second title of his JBT career.
Gillian Coyle averaged exactly 200 in qualifying to pace the Women's Series, and defeated Rebekka Nicolay 216-182 in teh title match to capture the day's girls' crown.
Thanks to everyone at Camino Seco for a great job hosting our Tour in our first visit to the center in 13 years! Want in on the fun? Just check out our schedule and come on down!
BRC Camino Seco- final results and scholarship winners
1/24/2015
Scratch Division
rank
bowler
prize
1
KJ Martinez
$200
2
Cortez Schenck
$140
3
Jake Hilton
$50
4
Bryan Van Sickle
$90
5
Cam Lamson
$20
6
Tim Jacob
7
Jakob Butturff
8
Sven Majeske
9
Max Polhill
10
Jacob Merki
11
Keith Fung
$20
12
Anton Ebenal
13
Ken Chruschinski
14
Josh Fearing
15
Josh Demick
16
Josh Franz
Handicap Division
1
Rashaad Jordan
$200
2
Rob McClelon
$160
3
Phillip Sauve
$65
4
Bex Boyko
$144
5
Justin Lawrence
$45
6
Sebastian Polhill
$20
7
Megan Carlson
8
Destiny Johnson
9
Justus Wright
10
Sarah Halligan
11
Jarred Starr-Moncayo
12
Keith Ylvisaker
13
Gillian Coyle
14
Celeste Valdez
15
Rebekka Nicolay
16
Aaron Coleman
17
Kyle Lawrence
$15
18
Paul Colyer
19
Abby Franklin
20
Vanessa Romero
21
Matthew Garrett
22
Chad Alexander
23
Brooke Martinez
24
Jason Freeman
25
Mathew Adragna
26
Ace Ebenal
27
Nicholas Hoganson
28
Jerod Walker
$20
29
James Burke
30
Zach Rapp
31
Connor Lawrence
32
Joshua Mabry
33
Stefanny Toala
34
Logan Davison
35
Dylan Trionfo
High Games
Scratch
Handicap
1
Hilton 279
Nicolay 282
2
Lamson 267
McClelon 278
3
Van Sickle 266
Jordan 268
4
Van Sickle 257
Halligan 267
5
Van Sickle 245
Jordan 266
High Female
1
Coyle even
2
Nicolay -20
3
Boyko -59
4
Valdez -109
5
Carlson -113
Round Leaders
Scratch
Handicap
1
Van Sickle
Johnson
2
Martinez
McClelon
3
Martinez
McClelon
4
Van Sickle
Boyko
5
Van Sickle
McClelon
6
Hilton
McClelon
7
Schenck
McClelon
8
Martinez
McClelon
Total Awarded This Event: $1,189