SILVA LANES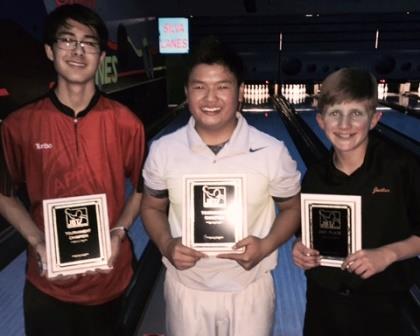 champs Cortez Schenck & Nathan Tran, with runner-up Justus Ficklin
Cortez Schenck and Nathan Tran both stayed ahead of the 'rising tide', capturing titles in exciting NM-TX Conference action at Silva Lanes in Albuquerque.
In this exciting format, an increasing number of bowlers are eliminated each round based on total pinfall, with only one survivor eventually staying above the 'tide'. In the scratch division, Schenck led qualifying at +169, giving him a big advantage as the tide eliminated all but the final four bowlers. However, each round also includes a 'life line' of bonus pins to the high game, which meant that Jacob Gill, who trailed by 59 pins headed into the final game, would only need to beat Cortez by 20, as long as he had the high game out of the four finalists. Gill came out striking, coming up with a wonderful 245 game, but Ryan Gose was completely locked in. His big 268 game was good for the high game of the round, which left Schenck's 223 enough to stay in the lead and earn the title, the 46th of his JBT career. Gill barely hung on to hold off Gose for second, while Mark Vigil rounded out the top four.
Nathan Tran held the qualifying lead in the handicap division, and also survived through to the final game, which in their case was a head to head match with newcomer Justus Ficklin. Justus had narrowed the margin to less than the 50 pins available for the high game, so the title game was winner-take-all. Both Tran and Ficklin had been way over average all night, and in the end Justus' great finish forced Nathan to strike in the tenth for the win. Tran was up to the task, shredding the rack for the strike and a 253-251 win, good for the second title of his JBT career.
Adel Wahner kept rolling along in the Women's Series, defeating Morgan Ellis for the day's girls title.
Thanks as always to the crew at Silva for a great job hosting us, and fitting us in on a busy Saturday evening. Want in on all the excitement? Just check out our schedule and come on down to the next JBT event!
Silva Lanes- final results and scholarship winners
12/6/2014
Scratch Division
rank
bowler
prize
1
Cortez Schenck
$243
2
Jacob Gill
$100
3
Ryan Gose
$50
4
Mark Vigil
$30
5
Brad Harvey
$49
6
Matthew Tran
7
Josh Helmick
8
Zach Harvey
$19
9
Adel Wahner
10
Ahkeen Williams
11
Carson Opela
12
Armando Ortega
13
Ben Stedman
14
John Ellis
15
Josh Demick
16
Angel Ortega
17
Bree Vargas
18
Doug Griffith
19
Isziah Zuni
20
Christian Apolonio
21
Alex Benavidez
Handicap Division
1
Nathan Tran
$200
2
Justus Ficklin
$105
3
Blayne Hurst
$93
4
Quirino Sanchez
$30
5
Nathaniel Duran
$34
6
Rodrigo De La O
7
Nick Sanchez
8
Donius Jeffries II
$14
9
Morgan Ellis
10
Brandon Brown
11
Montana Cdebaca
$48
12
Toby Cdebaca
$15
13
Joshua Crespin
14
Gerilynn Delegarito
15
Katie McNeil
$20
16
Justin Hackney
17
Jonah Seawright
18
Destiny Johnson
19
Brando Dalton
20
Cerra Strickland
21
Noah Martinez
22
Kelly McNeil
23
Lindsey Sanchez
24
James Fine
25
Mikie Cates
26
Lacey Shelton
27
Christina Ward
28
Jacob Marquis
29
Alyssa Williams
30
Isaac Duran
Women's Series
1
Wahner +1*
2
M Ellis -28
3
Bree Vargas -126
4
M Cdebaca -173
5
Kelly McNeil -187
High Games
Scratch
Handicap
1
Gose 268
N Tran 296
2
Schenck 268
De La O 279
3
Z Harvey 265
Hurst 275
4
Schenc k 254
Ficklin 268
5
B Harvey 247
De La O 268
Round Leaders
Scratch
Handicap
1
Schenck
N Duran
2
B Harvey
De La O
3
B Harvey
De La O
4
Schenck
N Tran
5
Schenck
N Tran
TOTAL AWARDED THIS EVENT: $1,050