SOUTH POINT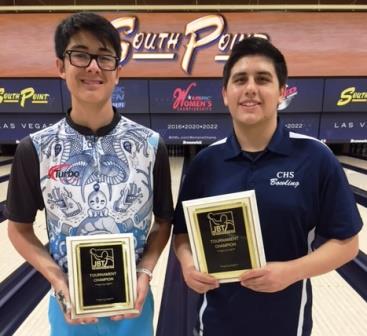 champs Cortez Schenck & Sergio Torres
Cortez Schenck and Sergio Torres earned two very different career milestones to wrap up an exciting weekend of Mojave Conference JBT action at the incredible new South Point Plaza.
For the second straight day, although the cut scores weren't abnormally high, the leaders really tore their respective fields up. All five scratch division finalists put on a clinic, beginning with Ben Canfield (who earlier shot the only 300 of the day, and his second of the weekend) defeating Teagan Smale (who fired 279-287 in a two game qualifying stretch) 257-232. Wesley Low, who had a near-miss 299 game in qualifying, then beat Canfield 268-248. Low was just as strong in the semifinal, stopping Eric Hatchett 258-227 to advance to the title game.
Top qualifier Schenck fired 750 in the semifinals to leap into the lead, but of course he had his hands full with Low, and the battle of Junior Gold champs did not disappoint. An eighth frame miss from Wesley turned out to be the difference, as Cortez won the match 257-236. Not only was that a sweep of the weekend for Schenck, but with the win he earns the 50th title of his JBT career, becoming only the second bowler in history to achieve that mark, with lots of time left to chase down (and maybe lap) Kyle King, who sits at 63.
Eight bowlers reached the handicap division stepladder, and Paul Colyer and what's left of his thumb won round one with a 241 game that beat Max Hiebl (215) and Michael Rose (197). A very tight second round ended with Sam Espiritu's 243 escaping from Colyer (240) and Brendan Lindsey (234). Sam turned it up in the next game, firing 263 to oust Amanda Atkin (232) and Cameron Criss (187) to reach the title match.
Torres, the runner-up yesterday, was torrid again today, putting up +334 through six games before slowing down. Against his Nevada High School championship teammate Espiritu, he found the look again, cruising to a 234-171 win, and a long awaited first career JBT title.
Atkin also made the Women's Series title match, and against top seed Leah Glazer (who also made the regular scratch cut), she got exactly the 9 pins in the tenth she needed for a 223-222 win, and her third girls' title of the season.
Huge thanks to everyone at South Point for welcoming our Tour to this awesome new facility! Want in on all teh action for all ages and averages? Just check out our schedule and come on down, that's all you have to do!
South Point- final results and scholarship winners
3/29/2015
Scratch Division
rank
bowler

prize

1
Cortez Schenck
$215
2
Wesley Low
$253
3
Eric Hatchett
$70
4
Ben Canfield
$60
5
Teagan Smale
$65
6
Andrew Guba
$30
7
Leah Glazer
8
Joe Grondin
9
Kyle Duster
10
Kennison Andrews
11
Cerell Cardines
12
Esteban Becerra
13
Matt Zweig
14
TJ Rock
15
Kirk Chui
16
Alex Watanabe
17
Talon Hendrickson
18
Jamison Peyton
19
Russ Oviatt
20
Randi Speiler
21
Brandon Ramos
22
Ashley Dunn
23
KJ Martinez
24
Tyler Satter
25
Nick Condon
26
Oscar Chan
27
Joe Gerencser
28
Nick Pollak
29
Brendan Thomas
30
Tyler Ottenschot
31
Max Polhill
32
Kyle Andrews
Handicap Division
1
Sergio Torres
$300
2
Sam Espiritu
$150
3
Amanda Atkin
$100
4
Cameron Criss
$134
5
Brendan Lindsey
$60
6
Paul Colyer
$50
7
Mike Rose
$40
8
Max Hiebl
$30
9
Kyle Rendon
$35
10
Zack Long
$14
11
Jopfel Gafate
12
David Galvan
13
Daryus Alo
14
Marguerite Evans
$30
15
Sebastian Polhill
16
Alayna Purdy
17
Dee Handley
$15
18
Katie Kipler
$15
19
Devyn Patalina
20
Brandon Lim
21
Andrew Chan
22
Cameron Collins
23
Abby Franklin
24
Jarred Starr-Moncayo
$20
25
April McDonnell
26
Veronica Schleicher
27
Garrett Thompson
28
Dawson Reese
$89
29
Garrett Sulzer
30
Brandon Criss
31
Marc Villalobos
32
Laurren Takahata
33
Michael Owens
34
Dante Rohe
35
LeeAnn Reyes
36
Alana Wise
37
David Rocha
38
Crystalene Pineda
39
Kendal Bennett-Jordan
40
Trevor Jhochman
41
Brett McEachern
42
Tyler Hedges
$15
43
Phillip Sauve
$15
44
Nathan Hanuscin
45
Tyler Greene
46
Brandon Duffy
47
Leah Zweig
48
Staci Villalobos
49
Zack Velosa
50
Christine Cibura
51
Kyle Gilbert
52
Randall Berkheimer
53
Tyler Thomas
54
Dylan Amico
55
Nate Farmer
$5
56
Derick Poole
57
Jason Lovejoy
58
Alex Cibura
High Games
Scratch
Handicap
1
Canfield 300
Galvan 307
2
Low 299
Rose 294
3
Smale 287
Lindsey 291
4
Becerra 279
Torres 289
5
Smale 279
Torres 288
High Female
1
Glazer +85
2
Atkin +26*
3
Speiler -39
4
Dunn -50
5
Evans -60
Round Leaders
Scratch
Handicap
1
Hatchett
Sulzer
2
Hatchett
C Criss
3
Smale
Lindsey
4
Smale
Torres
5
Smale
Torres
6
Hatchett
Torres
7
Low
Torres
8
Schenck
Torres
TOTAL AWARDED THIS EVENT: $1,760