VISTA ENTERTAINMENT CENTER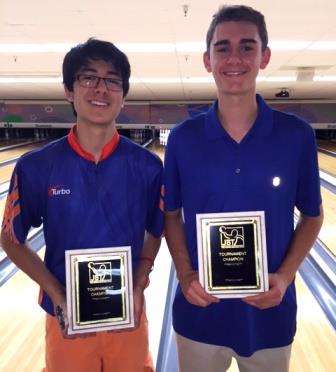 champs Cortez Schenck & Austin Gilbert
Cortez Schenck cruised along to yet another win, while Austin Gilbert tasted JBT victory for the first time, in exciting 'super survivor' action at Vista Entertainment Center.
In this unique format, after qualifying, the lowest individual game and the lowest overall totals are eliminated game by game, until only the winners remain standing, so higher total pinfalls are safer, but anyone could be eliminated at any time. In the scratch division, Schenck made sure that pinfall wouldn't be an issue, as he destroyed an easier-than-anticipated pattern to the tune of +296 for 5 games to lead qualifying, then added 773 for the next three to build an unchallenged lead.
After Steven Kampley joined Schenck in eliminating Wesley Low and Nick Pollak in the semifinals, he now faced the daunting task of finding a way to stop Schenck. Appearing in his first JBT title match since 2009, Steven struggled a little, and an early five-bagger from Cortez gave Kampley no time to do so. The 255-178 final score was good for the 42nd title of his JBT career, tying him with the great Steven Black for second place on the all-time JBT titles list!
Previous day's champ Gael Egana continued his outstanding weekend by leading handicap division qualifying, but was stunned by a first-round exit with the low game of the eighteen super-survivor qualifiers. The remaining fifteen qualifiers were then carved down to three, and the resulting semifinal game was as close as possible. Austin Gilbert's 205 advanced to the title match, but Dustin Yauney and Samantha Potter tied just one pin behind at 204! Potter won the ensuing tiebreaker to advance to the title match.
Gilbert, in just his second JBT event, and the veteran Potter engaged in a close match throughout. Needing a double to win in the tenth, Samantha couldn't get the first strike, and Kyle claimed his first JBT title with the 218-203 final score.
Ashley Dunn completed a sweep of the weekend's Women's Series events with a 221-175 win over Randi Speiler, who is still the fastest Rubik's Cube solver on Tour.
Thanks as always to the crew at Vista for hosting our Tour! Want in on all the fun and action for all ages and averages? Just check out our schedule and come on down to the next JBT event. You know you should.
Vista Ent. Center- final results and scholarship winners
11/2/2014
Scratch Division
rank
bowler
prize
1
Cortez Schenck
$288
2
Steven Kampley
$100
3
Wesley Low
$64
4
Nick Pollak
$30
5
Bryan Van Sickle
$20
6
Bobby Hornacek
7
Brandon Wanders
8
Joe Grondin
9
Saul De Ulloa
10
Ashley Dunn
11
Max Polhill
12
Austin Thompson
13
Jack Jenson
$15
14
Randi Speiler
15
TJ Buffalo
16
Nick Condon
17
Dayton Wickham
$10
18
Kirk Lasquette
19
Joseph W. Lewandowski
Handicap Division
1
Austin Gilbert
$215
2
Samantha Potter
$144
3
Dustin Yauney
$60
4
Kyle Reed
$107
5
Austin Veteto
$40
6
Brandon Loss
$30
7
James McGough
$20
8
Matthew Carpenter
$30
9
Jarred Starr-Moncayo
10
Miguel Meraz
11
Abby Franklin
12
Alberto Bernal
13
Taylor Berry
14
Renee Gentry
$15
15
Ryan Langenhorst
16
Gael Egana
17
Secilia Kalvelage
$15
18
Brandon Lim
19
Andrew Chan
20
Jacob Murray
21
Krystopher Martin
22
Harrison Cole
$15
23
Joshua Abigania
24
Marguerite Evans
25
Jacob McGough
26
Megan Carpenter
$14
27
Nicholas Dorn
28
Maikayla Villa
29
Ryan Galland
30
Justin Rico
$29
31
Dante Villa
$5
32
Kaitlynn Martin
33
Destiny Johnson
34
Trevor Thompson
35
Katelyn Abigania
36
Marco Flores
37
Zack Long
$14
38
Sebastian Polhill
$5
39
Ryland Pimentel
40
Dawson Reese
41
Tyler Hedges
42
Antoine Allmon
Scratch
Handicap
1
Low 289
Egana 298
2
Schenck 289
Egana 290
3
Wanders 289
Yauney 275
4
Schenck 287
Loss 274
5
Low 279
Veteto 268
High Female
1
Dunn +88*
2
Speiler +1
3
Gentry -5
4
Potter -95
5
M Carpenter -122
Round Leaders
Scratch
Handicap
1
Low
G Egana
2
Low
G Egana
3
Low
G Egana
4
Schenck
G Egana
5
Schenck
G Egana
Total Awarded This Event: $1,265