WILDFIRE LANES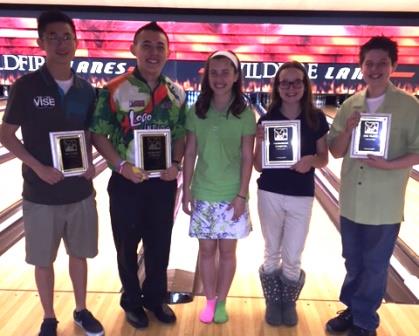 champs Dallas Leong & Samantha Conti, Women's Series champ Abby Franklin, and runners-up Wesley Low & Devyn Patalina
Dallas Leong and Smantha Conti claimed JBT titles in exciting Mojave Conference action at Wildfire Lanes in Henderson.
Cortez Schenck began the scratch division stepladder finals with a 190-172 win over Eric Hatchett. Schenck then escaped from Alex Watanabe 208-199. Dallas Leong then stopped Cortez 217-213, to move on to the title match.
Top seed Wesley Low put on a strong performance on a tough pattern to gain the #1 spot, but would have to face Leong for the second time in six days, having beaten him in Yuma last week. This time, Dallas got his revenge, beating Low 222-178, breaking a protracted string of second place finishes and earning his seventh career JBT title.
Jarred Starr-Moncayo began the handicap division stepladder finals with a 210-202 squeaker win over Dee Handley. Newcomer Samantha Conti then defeated Moncayo 202-159. In the semifinal match, Conti and Katie Cox tied at 178, with Samantha winning the rolloff 34-28 to move on to the title match.
Top seed Devyn Patalina had built a significant lead after the second round, but you still have to win the title game to win it all. Both bowlers struggled after a long day on the demanding conditions but in the end, Conti, the daughter of an east-coast JBT star, edged Patalina 168-166, for the first title of her JBT career.
Abby Franklin picked up her first Women's Series title of the season, beating Randi Speiler 191-142 for the day's crown.
Thanks to the team at Wildfire for hosting our Tour! Want in on the fun? Just come on down!
Wildfire Lanes- final results and scholarship winners
1/17/2015
Scratch Division
rank
bowler
prize
1
Dallas Leong
$212
2
Wesley Low
$174
3
Cortez Schenck
$60
4
Alex Watanabe
$30
5
Eric Hatchett
$30
6
Brendan Thomas
7
TJ Rock
8
Max Polhill
9
KJ Martinez
10
Randi Speiler
11
Jamison Peyton
12
Cerell Cardines
13
Zack Hattori
14
Joe Gerencser
15
Ricardo Mendoza
16
Jake Hilton
17
Sergio Torres
18
Nick Pollak
Handicap Division
1
Samantha Conti
$229
2
Devyn Patalina
$100
3
Katie Cox
$50
4
Jarred Starr-Moncayo
$44
5
Dee Handley
$35
6
Abby Franklin
7
Tyler Hedges
$30
8
Kyle Rendon
9
Krystal Amico
10
Paul Colyer
11
Daryus Alo
12
Justin Freeman
13
Crystalene Pineda
14
Laurren Takahata
15
Dante Rohe
$10
16
Sebastian Polhill
17
Marguerite Evans
18
April McDonnell
19
Zack Long
$5
20
Tyler Thomas
21
Destiny Johnson
22
Matthew Baker
$5
High Games
Scratch
Handicap
1
Watanabe 277
Patalina 259
2
Leong 254
Patalina 255
3
Low 252
Cox 255
4
Low 245
Moncayo 242
5
Schenck 238
Moncayo 241
High Female
1
Speiler -125
2
Franklin -140*
3
Pineda -213
4
Handley -236
5
Takahata -264
Round Leaders
Scratch
Handicap
1
Hatchett
Cox
2
Leong
Cox
3
Low
Cox
4
Low
Patalina
5
Watanabe
Patalina
6
Low
Patalina
7
Leong
Patalina
8
Low
Patalina
TOTAL AWARDED THIS EVENT: $1,015