STRIKE ZONE*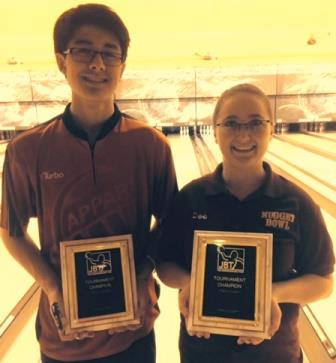 champs Cortez Schenck & Dee Handley
Two bowlers dominated their respective divisions to earn titles in exciting JBT Mojave Conference action at Sunset Station's Strike Zone Bowling Center.
Scratch division bowlers competed in the 'tennis' format for the stepladder finals, which is essentially a series of one-shot rolloffs scored like a tennis game, similar to a format being tested by many international bowling events. Eric Hatchett began the finals with a long, multi-deuce win over Dallas Leong. Round two was an easier win for Hatchett, as he was able to get by Teagan Smale in quick fashion. The semifinal match against Wesley Low went much longer, aided by a mistake from Eric, going down the middle to try and beat Wes' 8-count but only getting seven, extending the match through 3 dueces before Hatchett finally prevailed.
For all that, Hatchett's reward was to play top seed Cortez Schenck, who torched the field and the lanes all day. He opened with 300-793, and tossed a second 300 en route to a new record +586 eight-game total. But to win he'd have to out-shoot Hatchett im a bets 2-of-3 game match. Schenck won the first won in 14 points, but Eric bounced back with a game 2 win. In the deciding game, Cortez finally put Hatchett away, and earned the 43rd title of his JBT career with the victory.
In the handicap division, Dee Handley was equally dominant, leading all eight rounds as well (a rare occasion where both leaders swept the leaderboard). Abby Franklin began the stepladder finals with a win over Eric Torrence. 9 year-old Tyler Hedges then beat Franklin. Two-time winner Justin Freeman then beat Hedges to get to a fourth title match of the season.
Top seed Handley was too much for Freeman this time, winning the title match for the second title of her JBT career.
Thanks as always to the crew at Strike Zone for hosting our Tour. Want in on the fun? Just check out our schedule and come on out to the next event!
Strike Zone- final results and scholarship winners
11/15/2014
Scratch Division
rank
bowler
prize
1
Cortez Schenck
$275
2
Eric Hatchett
$100
3
Wesley Low
$50
4
Teagan Smale
$30
5
Dallas Leong
$30
6
Nick Pollak
7
Tyler Satter
8
Alex Watanabe
9
Cerell Cardines
10
Jamison Peyton
11
Brendan Thomas
12
Max Polhill
13
TJ Rock
14
Joe Grondin
15
Leah Glazer
15
KJ Martinez
16
Randi Speiler
Handicap Division
1
Dee Handley
$275
2
Justin Freeman
$100
3
Tyler Hedges
$50
4
Abby Franklin
$30
5
Eric Torrence
$20
6
Kevin Mette
7
Devyn Patalina
8
Brendan Lindsey
9
Dylan Amico
10
Zack Long
11
Daryus Alo
12
April McDonnell
13
Crystalene Pineda
14
Tyler Thomas
15
Jarred Starr-Moncayo
16
Dante Rohe
17
Sebastian Polhill
18
Trevor Thompson
19
Krystal Amico
20
Garrett Thompson
21
Destiny Johnson
22
Sergio Torres
23
Kyle Rendon
24
Paul Colyer
25
Kyle Ponzo
26
George Acurero
27
Richard Callaway
28
Kelley Johnson
29
Veronica Schleicher
30
Michael Rose
31
Cole Telford
Scratch
Handicap
1
Schenck 300
2
Schenck 300
High Female
1
Handley
2
Speiler*
Round Leaders
Scratch
Handicap
1
Schenck
Handley
2
Schenck
Handley
3
Schenck
Handley
4
Schenck
Handley
5
Schenck
Handley
6
Schenck
Handley
7
Schenck
Handley
8
Schenck
Handley
Total Awarded This Event: $1,015
***The above are reconstructed results from the event, as the US Post Office insists that these results are still "in transit" from Vegas to Seattle. If you have any information to add, please contact us by 1/30/15.