ANTELOPE LANES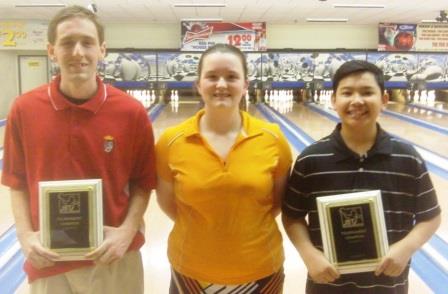 champs Joe Grondin, Adel Wahner, and Nolan Am-Khong
Three excellent bowlers claimed JBT titles, but one had the day of their career, in exciting JBT Arizona Conference action at Antelope Lanes in Prescott Valley.
25-time champ Derek Acuff opened the scratch division stepladder finals with a 222-183 win over Ryan Lee. Joe Grondin then stopped Acuff 203-194. Grondin then got by Cristian Roque, who was making his first career scratch division finals, 188-149, to advance to the title match.
Harley Sweigart was at or near the top of the leaderboard all day long with some excellent bowling, but nothing was going to stop Grondin's phenomenal day. In a close match, Joe won to claim the 8th title of his JBT career. While the win was exciting and valuable, it was only a fifth of what happened to him hours before, as he rolled the magic three shots in a row to claim the $1,000 PowerBowl jackpot, becoming the second person in seven days to do so, by far the shortest time between jackpot winners. The result was a $1,250 payday for a little ol' junior tournament- not so bad!!
Tyler Hedges began a spectacular run up the handicap stepladder with a 230-203 win over Abby Franklin. Tyler then beat Clifford Robbins 235-183, and then turned it up another notch in a 246-204 win over Sebastian Polhill to advance to the title game.
It didn't seem like anything could stop Hedges either, but top seed Nolan Am-Khong didn't feel the same way. Nolan rolled a confident game in a 226-204 win over Tyler, good for his third career JBT title.
Adel Wahner kept a season of successes rolling with a 245-201 win over Cierra Chamot, who also led the first two rounds of the main scratch division, for the day's girls' title.
Thanks as always to the crew at Antelope for a great job hosting our Tour. Want in on all this fun for all ages and averages? Just check out our schedule and come on down!
Antelope Lanes- final results and scholarship winners
3/26/2016
Scratch Division
rank
bowler
prize
1
Joe Grondin
$1,250
2
Harley Sweigart
$154
3
Cristian Roque
$75
4
Derek Acuff
$50
5
Ryan Lee
$53
6
Sergio Torres
7
Adel Wahner
8
Jerod Walker
9
Zack Long
10
Cierra Chamot
11
Josh Demick
12
Donovan Koff
13
Keith Fung
$28
14
Zach Rapp
15
KJ Martinez
16
Brandon Ramos
17
Brandon Rouse
18
Kirk Chui
19
Kyle Duster
20
Max Polhill
21
Paul Colyer
22
John Newton
23
Joey Balistreri
24
Josh Fearing
$10
25
Chris Rouse
26
Vanessa Romero
Handicap Division
1
Nolan Am-Khong
$200
2
Tyler Hedges
$125
3
Sebastian Polhill
$100
4
Clifford Robbins
$90
5
Abby Franklin
$50
6
Baylee Snow
$40
7
Amelia Mosley
$36
8
Kyle Rendon
9
Daryus Alo
10
Bella Flowers
$13
11
Rachael Berg
$15
12
Devyn Patalina
13
Ryan Zent
$45
14
CJ Todeschi
15
Kyle Lawrence
$38
16
Silas Phillips
17
Dante Rohe
18
Kyle Gilbert
19
Michael Chamot
20
Ryan Perry
$10
21
Mark Sauve
$15
22
Jacob Soulliere
23
Justin Lawrence
24
Kaylee Am-Khong
25
Rashaad Jordan
26
Tarik McMaster
27
Zack Simmons
28
Phillip Sauve
29
Amanda Atkin
30
Elijah Melchor
31
William Robbins
32
Destiny Johnson
33
Amanda Ely
34
Andrew Thomas
Women's Series
1
C Chamot +69
2
Wahner +60*
3
Berg -34
4
Mosley -78
5
K AM-Khong 109
High Games
Scratch
Handicap
1
Sweigart 279
Rendon 284
2
Roque 269
Todeschi 259
3
Torres 267
Snow 258
4
C Chamot 263
N Am-Khong 257
5
Roque 259
M Chamot 256
Round Leaders
Scratch
Handicap
1
C Chamot
N Am-Khong
2
C Chamot
Rendon
3
Sweigart
Rendon
4
Roque
Todeschi
5
Sweigart
N Am-Khong
6
Roque
Rendon
7
Sweigart
N Am-Khong
8
Sweigart
N Am-Khong
TOTAL AWARDED THIS EVENT: $2,397