BOWL EL PASO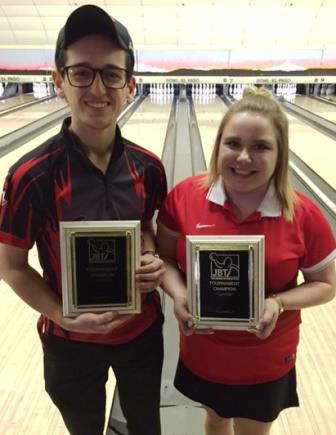 champs Stefan Wood & Marguerite Evans
Stefan Wood and Marguerite Evans survived tough fields to capture JBT titles in terrific JBT New Mexico- Texas Conference action at Bowl El Paso.
Bowlers competed in 'super survivor', where the lowest game and the lowest overall totals were eliminated game by game until only one bowler survived. The scratch division was carved from ten semifinalists down to four, and in that round Cortez Schenck was eliminated with the low game, while Carson Opela's overall total was lowest, eliminating them in third and fourth. That left Stefan Wood and William Yoder standing, and in the title game, Wood came through with a confident performance for the win and his third career JBT title.
Sixteen handicap survivors were whittled down to just five, and in that penultimate round, Luke Gartner's 144 was low game, while Kory Hetmer and Kelsey LaBier were ousted with the lowest two totals, leaving Marguerite Evans and Jacob Marquis to battle for the title.
Evans, visiting from California, has doubles titles but has been searching her whole career for that elusive singles title. A missed spare in the tenth left the result in question, but when Marquis couldn't get a tenth frame double, a relieved Marguerite finally had that first career singles title, and her third overall JBT win.
Vanessa Romero was the day's girls champ, defeating Bree Vargas in a good title game.
Thanks as always to John Murphy and the team at Bowl El Paso for another great hosting job. Want in on all the fun for all ages and averages? Just check out our schedule and come on down!
Bowl El Paso- final results and scholarship winners
3/20/2016
Scratch Division
rank
bowler
prize
1
Stefan Wood
$200
2
William Yoder
$126
3
Cortez Schenck
$93
4
Carson Opela
$30
5
Angel Ortega
$20
6
Bree Vargas
7
Brad Harvey
8
Josh Demick
$41
9
Christian Apolonio
10
Vanessa Romero
11
Zach Harvey
12
Adel Wahner
13
Jonah Seawright
$13
14
Zach Wojciechowski
15
Blayne Hurst
16
3lizab3th Rom3ro
17
Nathan Sippel
18
Noah Martinez
19
Ben Stedman
20
Chris Ortega
$15
Handicap Division
1
Marguerite Evans
$200
2
Jacob Marquis
$100
3
Kory Hetmer
$75
4
Kelsey LaBier
$60
5
Luke Gartner
$50
6
Dean Jackson Jr
$40
7
Ian Hudson
$155
8
Andrea Griego
$20
9
Nathan Nguyen
10
Toby Cdebaca
$5
11
Zach Camarillo
12
Brandon Lucero
13
Eryal Martinez
14
Gerilynn Delegarito
$13
15
Alfred Martinez
16
Steven Stophel
17
Mariano Garcia
18
Cassie Harmon
19
Lorenzo Rodriguez
20
Elliot Varela
21
Jeremiah McClelon
22
Taylor Herson
23
Donius Jeffries II
24
Alyssa Williams
25
Dusten Eichensehr
26
Ben Hindes
27
Jeffrey Breining
28
Montana Cdebaca
29
Matteo Bergonzi
30
Antonio Lara
31
Jeremy Hahnenberger
32
Daniella LaBier
$13
33
Jay Heffer
34
Mark Castro
35
Rob McClelon
36
Mikaela Flores
37
Josie Herson
38
Justin Hackney
39
Daniel Hall
40
Mateo Gonzalez
Women's Series
1
Vargas -10
2
V Romero -47*
3
Wahner -57
4
Evans -107
5
E Romero -119
High Games
Scratch
Handicap
1
Wood 266
Marquis 312
2
A Ortega 266
A Martinez 262
3
Wood 256
T Cdebaca 257
4
Seawright 247
Jackson 251
5
Schenck, A Ortega 246
Jackson 248
Round Leaders
Scratch
Handicap
1
A Ortega
Jackson
2
Schenck
Evans
3
A Ortega
Jackson
4
Schenck
Jackson
5
Schenck
A Martinez
TOTAL AWARDED THIS EVENT: $1,269