CA DOUBLES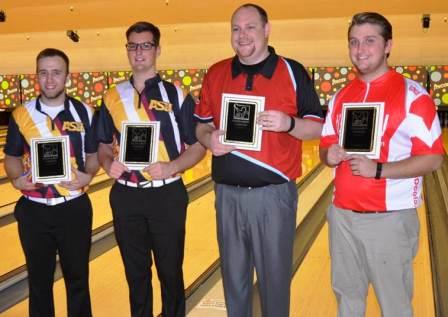 champs Nick Devlin & Harley Sweigart, and Jake Hansen & Shane Strickland
A veteran ASU team rolled to a parallel victory, while Jake Hansen teamed up to win his first title, in exciting action at the JBT So Cal Doubles Classic, hosted by the Bowlium in Montclair.
Austin Thompson teamed with 36-time JBT champ to win round one of the scratch division finals 236-180 over the ASU team of Matt Zweig and Russ Oviatt. Smith and Thompson then outlasted Zack Long and PBA West Region star Andre Eubanks 179-163. In the semifinals, Eric Hatchett and 32-time champ Jakob Butturff stopped Smith and Thompson 200-155 to advance to the title match.
Top seeds Harley Sweigart and Nick Devlin had taken over the event in game two, and never looked back, and it was more of the same in the title game. Eric and Jakob struggled a bit, and Nick and Harley took full advantage for a 245-158 win and the title. It's the 11th title each of their JBT careers.
Steven Acuff and Marguerite Evans teamed up to win round one of the Baker-style handicap finals 190-165 over Zian Sasaki and Lindsay Greim. Lindsay's brother Zach and Jeff Rodda then defeated Acuff and Evans 207-183. Jake Hansen and adult partner Shane Strickland then turned the tables with a 184-158 win over Griem and Rodda to move on to the title match.
Naomi Tanaka and Jozef Corwin had bowled fantastic all day long to earn the top seed, but struggled to find the line in the title game. Hansen and Strickland were able to cruise 202-163 for the title, the first of Hansen's JBT career.
Huge thanks to all the adults and alumni who came out to bowl with today's JBT bowlers, and of course to the great team at Bowlium for hosting us. Want in on all the fun for all ages and averages? Just check out our schedule and come on down, that's all there is to it!
So Cal Doubles- final results and scholarship winners
11/28/2015
Scratch Division
rank
bowler
prize
bowler
prize
total
1
Harley Sweigart
$229
Nick Devlin
$200
$429
2
Eric Hatchett
$200
Jakob Butturff
$200
3
Zack Long
$100
Andre Eubanks
$100
4
Matt Zweig
$88
Russ Oviatt
$45
$133
5
Austin Thompson
$80
Cameron Smith
$80
6
KJ Martinez
$14
Zach Martinez
$14
7
Cristian Roque
Dante Davis
8
Oscar Chan
Bobby Hornacek
9
Nick Pollak
Brandon Wanders
10
Sergio Torres
Mike Calderon
11
Anthony Cando
Edwin Davis
12
Derek Acuff
James Hawkins
13
Kyle Reed
$10
Mr. Reed
$10
14
Ben Canfield
Cortez Schenck
15
Jacob Camacho
Correen Lieber
16
Trevor Thompson
Darron Peters
17
Kirk Chui
Allan Mojado
18
Matthew Rico
Nolan Am-Khong
19
Reigh Abaoag
Kevin Banaag
20
Anthony Schanen
Ryan Lee
21
Miranda Morgan
Kaylee Am-Khong
22
Jerod Walker
Keyon Shelton
Handicap Division
1
Jake Hansen
$400
Shane Strickland
$400
2
Naomi Tanaka
$100
Jozef Corwin
$100
$200
3
Zach Greim
$65
Jeff Rodda
$50
$115
4
Lindsay Greim
$60
Zian Sasaki
$45
$105
5
Steven Acuff
$40
Marguerite Evans
$40
$80
6
Dante Rohe
Kyle Gilbert
7
Marco Flores
Clint Strawmyer
8
Shauna Schultz
Eileen Schultz
9
Taylor Berry
Michael Adelson
10
Dawson Reese
$74
Justin Meagher
$74
11
Andrew Yzaguirre
Pedro Cintron
12
Gael Egana
Israel Ramirez
13
Dillon Nilsen
Paul Nilsen
14
James McGough
Carlos Perez
15
Eric Phillips
Jenna Phillips
16
Jacey Opiana
Daniel Giegoldt
17
Leah Zweig
Amanda Atkin
18
Dustin Yauney
Doug Yauney
19
Nathan Griffin
Chuck Griffin
20
Brandon Matsumura
Tyler Matsumura
21
Tyler Handa
John Handa
22
Ashley Wilcox
Tim Hill
23
Ryan Galland
Saul DeUlloa
$10
24
Marc Villalobos
Brient Killings
25
Tre Mitchell
Andy Clark
High Games
Scratch
Handicap
1
Acuff 267
Corwin 291
2
Devlin 267
Corwin 279
3
Pollak 260
Reese 272
4
Abaoag 256
T Matsumura 271
5
Martinez 254
Sasaki 269
Round Leaders
Scratch
Handicap
1
Acuff-Hawkins
Acuff-Evans
2
Sweigart-Devlin
Acuff-Evans
3
Sweigart-Devlin
Tanaka-Corwin
4
Sweigart-Devlin
Tanaka-Corwin
5
Sweigart-Devlin
Tanaka-Corwin
6
SweigartDevlin
Tanaka-Corwin
7
Sweigart-Devlin
Tanaka-Corwin
TOTAL AWARDED THIS EVENT: $1,950