TENPIN ALLEY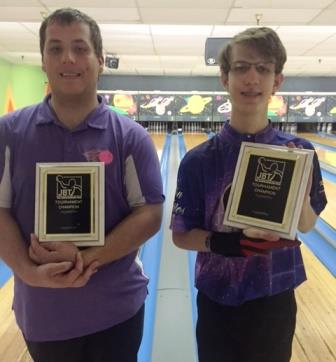 champs Jonah Seawright & Luke Gartner
Jonah Seawright broke through in the scratch division, while Luke Gartner earned his first career title, in exciting JBT NM-TX action at Tenpin Alley in Las Cruces.
Bowlers competed in the 'pick your survivor' format, where the low bowler on each pair is eliminated, but instead of us setting the matches, the highest seeds set up the pairs they want. Six scratch survivors were eventually carved down to two after early leader Mark Vigil bowed out in the round of three. That left Brad Harvey and Jonah Seawright, each appearing in their first career scratch finals. Jonah left no doubt as to the winner, as his early five-bagger was too much for Harvey to overcome. The win was his first scratch title after 7 victories in a very successful handicap division run.
Fifteen handicap division survivors were carved down to a final four, and in those matches Ian Hudson defeated Alyssa Williams, while Luke Gartner bested Jeremiah McClelon, to set up a title match between two El Paso bowlers from the same league.
Not only are they league opponents, but in a recent league session Gartner blasted a 298 game against Ian and his dad. Hudson was eager for vengeance, but it would not come here, as Luke won the title match 217-202 for his first career JBT title.
Everyone named Alyssa made the Women's Series title game, as top seed Gonzalez was bested by second seed Williams, 178-137, for the day's Girls title.
Huge thanks to Tenpin Alley for getting us in on very short notice due to the blizzard in Roswell. Want in on all the fun? Just check out our schedule and come on down!
Tenpin Alley- final results and scholarship winners
1/3/2016
Scratch Division
rank
bowler
prize
1
Jonah Seawright
$200
2
Brad Harvey
$112
3
Mark Vigil
$50
4
Carson Opela
$30
5
Chris Ortega
$20
6
Josh Demick
7
Andrew Esparza
8
Zach Harvey
9
Christian Apolonio
10
Joey Balistreri
$48
11
Ahkeen Williams
12
Ben Stedman
13
Vanessa Romero
14
Noah Martinez
$5
Handicap Division
1
Luke Gartner
$200
2
Ian Hudson
$129
3
Alyssa Williams
$79
4
Jeremiah McClelon
$45
5
Jacob Marquis
$49
6
Hannah Camarillo
7
Nathaniel Duran
$5
8
Ben Hindes
9
Donius Jeffries II
10
Alyssa Gonzalez
11
Isaac Duran
12
Elliot Varela
13
Dean Jackson Jr
14
Justin Hackney
15
Zachary Camarillo
16
Toby Cdebaca
17
Nathan Nguyen
18
Rob McClelon
19
Bernadette Davis
20
Kory Hetmer
21
Dustin Nicholls
22
Taylor Herson
23
Jake Lucero
24
Montana Cdebaca
25
Andrea Griego
26
Joliegh Murphy
$10
27
Josie Herson
Women's Series
1
A Gonzalez -106
2
A Williams -135
3
V Romero -148
4
J Murphy -211
5
M Cdebaca -256
High Games
Scratch
Handicap
1
Vigil 255
N Duran 251
2
Seawright 246
J Marquis 249
3
Esparza 246
A Williams 248
4
Demick 243
J Marquis 245
5
Opela 242
B Hindes 244
Round Leaders
Scratch
Handicap
1
Vigil
A Williams
2
Vigil
A Gonzalez
3
Vigil
A Williams
4
Vigil
J Marquis
5
B Harvey
J Marquis
TOTAL AWARDED THIS EVENT: $1,082