AMF FIREBIRD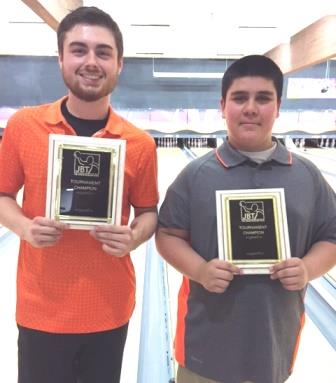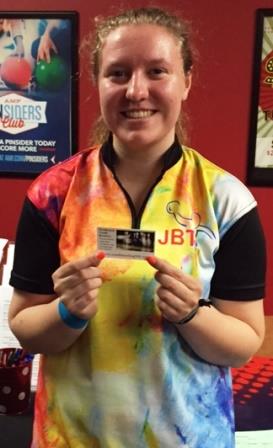 champs Ryan Nikolas & Isaac Mailkoff; girls' champ AJ Schock
Three bowlers ground out big double-points wins on a challenging pattern in an exciting day of JBT Pacific Northwest Conference competition at Salem's Firebird Lanes.
Ryan Nikolas began the scratch division stepladder finals with a 213-181 win over Jerry Jennings. Ryan then got past first-time scratch finalist AJ Schock 214-188, and followed with a 223-190 win over Jake Mullen to climb up to the title match.
Brian Monnette led the event wire to wire. He was the only bowler to average over 200 in qualifying, and then a big win over Mullen in the semifinals, who had been pushing him all the way, triggered the rest of the day for him. It was clear in the title match why Ryan and Brian are by far 1-2 in season-long points this year, as they put on great performances on the tough pattern. Nikolas started hot, while Monnette filled frames until he found the look and strung four in a row late to make Ryan mark to win. Nikolas sawed the rack on the deciding shot, and the 228-221 win gave him an important double points win, and the 8th title of his JBT career.
Isaac Mailkoff made it the second straight day a bowler had come from the first match to win an 8-person stepladder, a very difficult feat. He started with a 37 game that eliminated Celeste Johnson (188) and earlier leader Madison Bash (209). Mailkoff's then beat Evan Smith, another former leader, and Tyler Coates in round two, and followed with a semifinal win over Madison Brumbaugh and Collins Davis, who had a great run in round two, to advance to the title game.
Top seed Christian Roberts used a huge final game to jump into the lead, and was, like Mailkoff, a first time finalist. They both performed well for rookies to that spot, but when Roberts couldn't double in the tenth, Isaac escaped with a 219-211 win, and his first career JBT title.
Schock and Brumbaugh doubled their finals fun by also appearing in the girls' event title game. AJ stayed in control of that match with a 209-177 win, getting her third girls win of the season, qualifying her for the Girls TPC this summer!
Thanks very much to the team at Firebird for hosting us, doing a great job as usual. Want in on all the fun and excitement JBT offers for all ages and averages? Just check out our schedule and come on down, that's all there is to it!
AMF Firebird- final results and scholarship winners
4/10/2016
Scratch Division
rank
bowler
prize
1
Ryan Nikolas
$200
2
Brian Monnette
$208
3
Jacob Mullen
$95
4
AJ Schock
$80
5
Jerry Jennings
$50
6
Tommie McNeal
7
Jeff Jonker
8
Ryan DeFazio
9
AJ Brockett
10
Hayden Childs
$15
11
Brandon Jensen
12
Johnny Leggett
13
Andy Herrmann
$13
14
Aidghan Ziegler
15
Laura Cowling
16
Tyler Hogstrom
17
Elise Yates
18
Luke Jordan
19
Collin Young
20
Kyle Jonson
21
Chris Tuholski
22
Jonathan Bautista
23
Kelsey Abrahamsen
24
Tyler Boe
$5
25
Greg Miller
26
Brian DeLuisa-Anderson
27
Kris Tomer
28
Donovan Grubaugh
Handicap Division
1
Isaac Mailkoff
$250
2
Christian Roberts
$125
3
Collins Davis
$100
4
Mackenzie Brumbaugh
$75
5
Evan Smith
$105
6
Tyler Coates
$50
7
Madison Bash
$40
8
Celeste Johnson
$30
9
Derek Haight
$20
10
Holden Childs
11
Brendan Hopkins
12
Hannah Abney
$15
13
Molly Warshaw
$30
14
Brandon Nodland
15
Payton Edwards
16
Colt Jance
$118
17
Hannah Russell
18
Shannon Bliquez
19
Shaylie Westmorland
20
Jordan Jonker
$15
21
Reagen Lorey
22
Michelle Jensen
23
Maddi Durr
$13
24
Thomas Middleton
25
Perrin Easley-Clark
26
Candice Goldfinch
27
Seth Chilcutt
28
Fayth Stewart
29
Gracie Stewart
30
Danaiel Johnson
31
Zane Hays
32
Kyle Hays
33
Kerissa Andersen
34
Tyler Bishop
35
Lohrghan Ziegler
36
Cameron Pierre
37
Brittany Bland
38
Ryno Roberts
39
Ethen Maxwell
40
Bailey Peters
41
Olivia Kolppa
42
Sara Harris
43
Tyler DeNune
44
Andria Valdez-Hicks
45
Bryce Meisner
46
Jamas Middleton
47
Ariana Montagne
48
Silas LeBlanc
49
Austin Vik-Rae
50
Hannah Cundell
High Games
Scratch
Handicap
1
Monnette 277
C Roberts 285
2
Nikolas 256
Edwards 262
3
Jonker 254
Davis 255
4
Monnette 251
Haight 254
5
Leggett 248
Mailkoff 244
High Female
1
Schock -82*
2
Brumbaugh -105
3
Goldfinch -134
4
Bash -157
5
Cowling -166
Round Leaders
Scratch
Handicap
1
Monnette
Holden Childs
2
Monnette
Mailkoff
3
Monnette
E Smith
4
Monnette
Bash
5
Monnette
Bash
6
Monnette
Bash
7
Monnette
E Smith
8
Monnette
C Roberts
TOTAL AWARDED THIS EVENT: $1,652